GRAPEVINE, TX — Although there's an American Board of Internal Medicine exam in Advanced Heart Failure and Transplant Cardiology, that process isn't for every clinician looking for special certification in heart failure. But an alternative is in the offing and will be unveiled on September 17 at the Heart Failure Society of America 2017 Scientific Meeting, according to the society's outgoing president Dr Mandeep R Mehra (Brigham and Woman's Hospital, Boston, MA).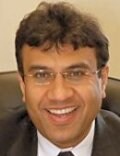 Currently, he told theheart.org | Medscape Cardiology, "there is no competency certificate available to those who have not gone through an intense cardiovascular fellowship. Nothing for clinical pharmacists, nothing for advanced-care nurses, and nothing for cardiologists in general practice who wish to create some core competency in heart failure. So HFSA is going to be launching, over the next 24 months, the first such certification initiative in heart failure."
Mehra said he will make the announcement during his lead-in to the opening plenary session Sunday morning of the meeting, which will be held in this historic, picturesque town outside Dallas and feature late-breaking clinical trials and other scientific presentations.
Reevaluating Quality Metrics
"Our opening plenary session is very much going to focus not onpure science but on processes of care and implementation and the effects of that on patients," Mehra said. The three speakers on the slate are expected to tackle that broad subject from different angles.
First on the agenda is Leah Binder, from the Leapfrog Group, Washington, DC, a nonprofit that rates hospitals and healthcare systems based on quality-improvement standards growing out of its own research.
"We've asked her to address the issue of publicly reported quality metrics for heart failure," Mehra said. For example, "Are they relevant? What is a good or a bad process measure?"
Continuing that theme, he said, "We also have a patient, a heart-transplant recipient, who will discuss his own journey."
It's hoped that the presentation by John Godwin, city manager for the town of Paris, Texas, will help people understand what its like to live with advanced heart failure, "and that the 'life-of-a-mosquito' time frame in which we adjudicate quality in heart failure is silly," said Mehra, pointing to the 30-day readmission metric, in particular. "It's a lifelong disease."
The third scheduled talk will be from an "unfettered" Dr Milton Packer (Baylor University Medical Center, Dallas, TX), Mehra said. "Giving Dr Packer a microphone can sometimes itself be quite risky. He speaks his mind, and he often helps us rethink who we are."
Packer, he said, "recently has been asking important questions like, what is the importance of a [medical] society like ours? Is it just to share knowledge, or is it to actually stand for something? How should we be rethinking the care of heart failure? How should we be promoting ourselves as heart-failure specialists? So we're looking forward to his insights as a past HFSA president and someone who can provide us with insight into the future."
Late-Breaking Finale
Careful readers of the meeting agenda may note the unusual placement of the sessions' late-breaking clinical-trials session, usually a mid-meeting high point. This year it's scheduled for the meeting's last morning, on Tuesday, September 19, in hopes of preventing an exodus of attendees before the final half day, as happens with some conferences.
"We tried to create a high-intensity anchor component to the meeting, to see if people would stay. And that certainly is an experiment that we may actually lose our shirt on," said Mehra, who has apparently already heard an earful from members who would have preferred a Sunday or Monday late-breaking trials session. "But we're keeping our fingers crossed."
Among the late-breakers this year is the Randomized Evaluation of HFpEF Patients With Acute Heart Failure and Dopamine (ROPA-DOP) trial, a rare trial in acute decompensated heart failure (ADHF) that focuses on HF with preserved ejection fraction (HFpEF). In it, patients were randomized to one of four treatment arms, furosemide given as either a bolus or continuous infusion, with vs without dopamine at 3 µg/kg/min.
Patients are followed for the primary end point of change in glomerular filtration rate over 72 hours and secondarily for volume of diuresis, global self-assessment, measures of functional capacity, and 30-day and 180-day readmissions.
Also, venturing where few randomized, controlled trials have gone before, the Geriatric Out-of-Hospital Randomized Meal Trial in Heart Failure (GOURMET-HF) randomized patients with chronic HF at three major centers to follow or not follow the sodium-restricted Dietary Approaches to Stop Hypertension (DASH-SRD) diet.
All patients received guidance on low-sodium dieting and follow-up clinic phone calls, but those on the DASH-SRD diet also received home delivery of prepackaged meals that meet the diet's nutritional requirements. The primary end point in the single-blind trial is change in Kansas City Cardiomyopathy Questionnaire (KCCQ) scores for health-related quality of life over 12 weeks.
"It's a very interesting look at the role of food in determining heart-failure outcomes, particularly in the very elderly, who often tend not just to age poorly but to age into severe frailty," Mehra said. "Some of that is essentially malnourishment. So, can a structured way of giving them scientifically modulated meals make a difference? That's what GOURMET-HF is looking at."
Also on the slate is a new analysis from the PARADIGM-HF trial looking at quality of life in its patients with chronic systolic HF randomized to receive sacubitril/valsartan (Entresto, Novartis) or enalapril.
"It's not just the effects on hard end points with Entresto, but what does the trial teach us in terms of patient well-being?" Mehta asked. Beta-blockers are a cornerstone of chronic HF therapy and "improve survival, but they do not necessarily improve quality of life. So we are keenly waiting to hear what PARADIGM-HF has taught us in that regard."
Follow Steve Stiles on Twitter: @SteveStiles2. For more from theheart.org | Medscape Cardiology, follow us on Twitter and Facebook.
Medscape Medical News © 2017

Cite this: HFSA to Unveil Heart-Failure Certification Initiative at Annual Sessions - Medscape - Sep 15, 2017.