New data are set to change the paradigm for the first-line treatment of advanced renal cell carcinoma (RCC), after a phase 3 trial showed significantly improved overall survival (OS) with immunotherapy in comparison to standard care with sunitinib (Sutent, Pfizer).
The data come from the CheckMate-214 study, which was stopped early by the data monitoring committee after it showed that patients with advanced RCC were living significantly longer when treated first line with the combination of nivolumab (Opdivo, Bristol-Myers Squibb) and ipilimumab (Yervoy, Bristol-Myers Squibb).
Until now, nothing has beaten sunitinib in a randomized phase 3 clinical trial, and it was "brave to choose it as a comparator," said Manuela Schmidinger, MD, from the Medical University of Vienna, Austria. She pointed out that this is the first phase 3 study to show a statistically significant OS benefit.
This new study changes the paradigm, and it establishes a new standard of care for the first-line treatment of advanced RCC, she commented. Dr Schmindinger was not involved in the study and acted as discussant after it was presented here in a presidential session at the European Society of Medical Oncology (ESMO) 2017 Congress.
Several others agreed with her. This is practice changing, commented Markus Joerger, MD, PhD, assistant professor of medical oncology and clinical pharmacology, St. Gallen Cancer Center, Switzerland, who chaired the ESMO press briefing at which the study was highlighted.
Reacting to the new findings, Maria de Santi, MD, the University of Warwick, United Kingdom, was enthusiastic. "This means that immunotherapy is not only a new option for these patients, it should become the standard of care," she told Medscape Medical News. The study was highly significant on two of three endpoints, she noted: response rate and OS. It did not reach the predetermined statistical significance for progression-free survival (PFS), but this is often seen with immunotherapy, she said.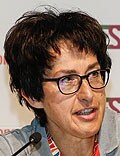 Dr De Santi also commented that immunotherapy should be considered to have trumped pazopanib (Votrient, GlaxoSmithKline), which is another standard of care in the first-line setting in advanced RCC. Although the current trial compared immunotherapy against sunitinib, she noted that pazopanib has shown similar efficacy, and she does not feel that a trial comparing immunotherapy with pazopanib used as the control was necessary.
The immunotherapy combination is not yet approved for first-line treatment of advanced RCC, but the manufacturer, Bristol-Myers Squibb, is likely to file for approval of this additional indication. At the moment, nivolumab alone is approved for second-line use in advanced RCC.
Significant Improvement in Survival
The CheckMate 214 study was conducted in 1082 patients with treatment-naive advanced or metastatic RCC. The primary endpoints were evaluated in a subpopulation of patients who were at intermediate or high risk (n = 847, around 70% of the total participants).
In the immunotherapy arm, patients received nivolumab 3 mg/kg plus ipilimumab 1 mg/kg every 3 weeks for four doses, followed by nivolumab 3 mg/kg every 2 weeks. In the control arm, patients received sunitinib 50 mg once daily for 4 weeks, followed by 2 weeks off in a 6-week cycle. Treatment continued until disease progression or unacceptable toxic effects occurred.
In the subgroup of patients with intermediate- or high-risk advanced RCC, the overall response rate was 42% with immunotherapy vs 27% for sunitinib (P < .0001). Complete responses were seen in 9.4% of patients who received the combination of nivolumab and ipilimumab, compared to only 1% with sunitinib
Mean duration of response was 18.2 months for sunitinib. It was not reached for immunotherapy, and at 24 months of follow-up, 72% vs 63% of patients continued to have ongoing responses.
"These responses are the highest that we have ever seen in advanced RCC," commented Dr Schmindinger.
The median OS was 26 months for sunitinib and has not yet been reached for the combination. With a minimum follow-up of 17.5 months, the combination reduced the risk for death by 37% (hazard ratio [HR], 0.63; P < .0001).
Median PFS was 11.6 months with the combination and 8.4 months with sunitinib (HR, 0.82; P = .0331) but did not reach the predefined statistical significance threshold of 0.009.
Nevertheless, this difference is "clinically meaningful, in my regard," commented lead investigator Bernard Escudier, MD, former chair of the genitourinary group of the Institut Gustave Roussy in Villejuif, France.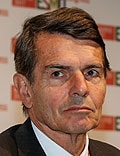 Dr Escudier noted that in the intent-to-treat analysis, the OS and response rates were also significantly improved in the whole patient population, and he concluded that the results support the use of nivolumab and ipilimumab as a new standard of care in advanced RCC.
However, the subgroup of patients who were considered to be at favorable risk did worse with immunotherapy than with sunitinib. An exploratory analysis found that in this small subgroup (n = 249), response rates were higher and PFS was longer with sunitinib than with the combination of nivolumab and ipilimumab.
Dr Schmindinger touched upon this in her discussion. She said that clinically, it is not always clear whether a patient is at favorable risk or intermediate risk (guidelines tend to address these two levels of risk together, and they address high risk as a separate category). This could lead to a question as to which is the best treatment to begin with ― immunotherapy or a VEGF-TKI inhibitor such as sunitinib.
In discussing tolerability, Dr Escudier said that patients with the immunotherapy combination had fewer grade 3-5 adverse events than those who received sunitinib (45% vs 63%), and they reported better quality of life and better control of their symptoms.
However, there were more discontinuations (15% with immunotherapy vs 7% with sunitinib) and more treatment-related deaths (7 vs 4 patients). The seven treatment-related deaths with immunotherapy were from pneumonitis, immune-mediated bronchitis, lower gastrointestinal hemorrhage, hemophagocytic syndrome, sudden death, liver toxicity, and lung infection. The four deaths with sunitinib were from cardiac arrest (n = 2), heart failure, and multiple organ failure.
The study was sponsored by Bristol-Myers Squibb and Ono Pharmaceutical.
European Society for Medical Oncology (ESMO) 2017 Congress. Abstract LBA-6, presented on September 10, 2017.
Medscape Medical News © 2017

Cite this: Immunotherapy Changes First-Line Paradigm in Advanced RCC - Medscape - Sep 11, 2017.