A handheld device could allow surgeons to differentiate between malignant and healthy tissue within 10 seconds, while the operation is ongoing, according to findings published online September 6 in Science Translational Medicine.
Pathology departments often require several days to evaluate a tissue sample, which can delay decision making during diagnostic and therapeutic procedures. In an effort to speed up the process and find a more effective method to evaluate tissue samples in real time, a team of researchers created the MasSpec Pen.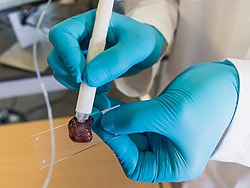 In an experimental study using samples of human tumors and tissue, the researchers found that the MasSpec Pen was able to identify cancers with 94.4% sensitivity, 96.2% specificity, and overall accuracy of 96.3%.
It was also predictive of benign and malignant thyroid tumors and could identify different histologic subtypes of lung cancer. Of note, say the researchers, led by Livia S. Eberlin, PhD, of the University of Texas, Austin, they were also able to accurately diagnose cancer in marginal tumor regions that presented with mixed histologic composition.
The MasSpec Pen, which was evaluated in mice, was able to identify tumors and not harm healthy tissue. The device is now ready for testing in clinical trials with human cancer patients, explained Dr Eberlin.
"We plan to start testing in surgeries early next year," she told Medscape Medical News. "These will be pilot clinical studies that we plan to perform with our clinical collaborators at the Texas Medical Center."
Imaging with mass spectrometry has been used successfully for molecular imaging of cancer tissue. Several ambient ionization techniques using mass spectrometry, the authors point out, have been developed for conducting rapid molecular diagnosis of cancer tissues.
However, utilization of these approaches has been somewhat limited because they require the use of harsh solvents, pressurized gasses, or high voltages, owing to the fact that they rely on tissue damage to produce molecular ions.
Dr Eberlin and her colleagues wanted to create an automated, biocompatible, disposable, handheld device that could be used for real-time sampling and molecular diagnosis and that would not destroy tissues.
The result was the MasSpec Pen, a handheld device that can gently extract molecules from tissue using tiny volumes of water (10 μL). The sample is then transferred to a mass spectrometer, which characterizes diagnostic proteins, lipids, and metabolites.
"The mass spectrometer is definitely the most expensive and larger part of the system," said Dr Eberlin. "The cost is expensive, so it would be an investment for hospitals, but less expensive than MRI and PET scan systems."
She pointed out that although the mass spectrometer that was used in the study is commercially available, they are envisioning using a smaller and cheaper mass spectrometer for these applications.
"We hope this technology will be accessible to surgeons and hospitals and become routine part of clinical practice," she said. "The mass spectrometer would be an investment, and the MasSpec Pen is disposable and very easy to use. It just requires holding against the tissue and activating the process with a foot pedal click, and in 10 seconds a predictive diagnosis is provided."
Assuming testing of the device moves forward, it is difficult to say when the device may enter the marketplace, Dr Eberlin explained. "It will be at least a few years."
High Sensitivity and Specificity
Dr Eberlin and her team developed several prototypes of a system that could minimize tissue damage while maximizing tissue-analyte extraction and solvent transfer to the mass spectrometer. The system that was tested contains three primary components: a syringe pump, which delivers a defined volume of water (4 - 10 μL) to the sampling probe through small-diameter polytetrafluoroethylene tube conduits that have been integrated with two-way pinch valves for controlled solvent transport first from the pump to the tissue and then to the mass spectrometer, and a handheld, pen-sized probe that would enable direct sampling during surgery.
To evaluate whether the MasSpec Pen molecular signatures can distinguish cancer from normal tissues, the authors created classification models using a histologically validated mass spectral database with 253 specimens that included normal and cancerous tissues from the breast, lung, thyroid, and ovary.
The sensitivity, specificity, and area under the curve (AUC) of the model were assessed for various types of cancer.
For breast cancer, it achieved an 87.5% sensitivity, 100% specificity (AUC = 1.0), and an overall accuracy of 95.6%. These results were comparable to several other validated methods of assessment.
Results were also comparable to other methods used to assess high-grade serous ovarian cancer; 100% sensitivity, 89.7% specificity, and 94.7% accuracy were achieved (AUC = 0.98).
For lung and thyroid cancer, the authors built classifiers for subgroups. In lung cancer, 97.9% sensitivity, 95.7% specificity, and 96.8% accuracy were achieved (AUC = 0.97). When predicting on the basis of subtypes, 93.8% and 92.2% accuracy were achieved for squamous cell carcinoma and adenocarcinoma, respectively.
Similar results were seen for thyroid tumor samples. A classifier was created for benign follicular thyroid adenomas (FTC) and papillary thyroid carcinomas (PTC); the accuracy was 94.7% for FTA and 97.8% for PTC.
For all four cancer types, there was 96.4% sensitivity, 96.2% specificity, and 96.3% accuracy. These "results demonstrate that the molecular information obtained from human tissue samples by the MasSpec Pen can be used to identify cancer and indicate that the statistical classifiers built are robust and may be used in an automated approach for rapid clinical diagnosis of tissue samples," write the authors.
During oncologic surgery on mice with tumors, they found that the MasSpec Pen could be used for in vivo cancer diagnosis, without causing any observable tissue harm or stress.
Sci Transl Med. Published online September 6, 2017. Abstract
Medscape Medical News © 2017

Cite this: Device Detects Cancer During Surgery in 10 Seconds - Medscape - Sep 07, 2017.