Bill Russell and his neighbors in Bay City, TX, had a decision to make: Follow authorities' advice and evacuate their town of 20,000 south of Houston, or continue to ride out Hurricane Harvey's aftermath.
The rising water was only one problem. Roads in and out of town were underwater. But Russell, 64, a senior nuclear operator, had another problem: He is on blood pressure and thyroid medication, and his supply had dwindled. He was down to his last daily dose before finding a refill Thursday.
In the wake of the storm, running out of medication is a common and potentially dangerous problem.
More than 30,000 people have been forced from their homes since the storm struck, and estimates suggest as many as 13 million people in four states are directly affected.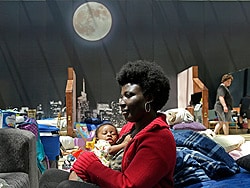 To make the situation worse, Texas is particularly ill-suited for this kind of disaster. In the Houston area alone, there are 1.3 million people without health insurance, and 22.5% of the population lives below the poverty line.
Of course, in a disaster, having health insurance won't help much if your pharmacy is underwater.
Others who depend on lifesaving services, such as dialysis, must scramble to find help if their regular clinic is closed or underwater.
Public health officials, drug makers, private companies, and others are stepping up to help.
Prescription Medications a Key Necessity
Because Gov. Greg Abbott declared a state of disaster in many Texas counties, pharmacies can be less strict about filling prescriptions. In a natural disaster like Harvey, pharmacists may dispense up to a 30-day supply of many non-narcotic drugs, without the OK of the prescribing doctor, if the drug is critical and the prescribing doctor can't be reached.
In a normal patient emergency, a pharmacist may use professional judgment in refilling a prescription for a drug (other than many narcotics) if failure to refill the medication might result in ''interruption of a therapeutic regimen or create patient suffering."
In most cases, a pharmacist is limited to giving a 72-hour supply
Now, all pharmacists in Texas are authorized to dispense up to a 30-day supply of medicine, other than a Schedule II controlled medicine, such as Oxycontin, for those affected by Hurricane Harvey.
That loosening of regulations helped Tammy Russell, 45. She lives in Corpus Christi, which was hit with widespread power outages. She needed to refill her thyroid medication and was able to get an emergency supply.
The close call has persuaded her to get medications refilled when her drugstore notifies her it's time. "I usually wait until 3 days before I am out," she says. No more, she vows.
Dialysis in a Disaster
For kidney patients on dialysis, lack of access to their regular center can be anxiety-producing.
In Harris County, where Houston is, ''we will find a way to bus or boat'' patients who need dialysis, says Elizabeth Perez, a spokeswoman for the county Department of Public Health.
People in need may call for the service at 866-407-3773.
"We will find a way to get them into treatment," Perez says.
The county has partnered with two private companies to provide the services.
Another resource is the National Kidney Foundation, which offers help finding resources. Contact it at 855-653-2273, or call the kidney community emergency response hotline at 866-901-3773.
People With Diabetes Can Get Help
The American Diabetes Association is partnering with Insulin for Life and JDRF to ship needed items to regions affected by the hurricane. The donated items include syringes, pen needles, alcohol pads, blood glucose meters, and insulin.
People with diabetes and on insulin who are unable to get their medicines may contact drugmaker Eli Lilly's call center at 800-Lilly-RX.
Eli Lilly is working with Direct Relief International to get insulin and other medicines to people who cannot get to pharmacies. And if a person's insurance plan does not have a ''disaster override" that takes care of replacing destroyed insulin, the company will provide a new 30-day supply without cost.
People who have a high-deductible plan that requires payment of full prices will also get 30 days at no cost if their medicine is destroyed in the flood.
Other Tips to Get Needed Medicines
Check RX Open, provided by Healthcare Ready (www.healthcareready.org/rxopen), to see if a nearby pharmacy is open. The information is provided at no cost during a disaster.

Reach out on social media. That helped Bill Russell. He was hoping his local Walgreens, which was closed Wednesday night, would reopen Thursday. A quick tweet to @Walgreens describing his dilemma brought a prompt response. When he returned there Thursday morning, "Walgreens handed me the prescription, and had it waiting," he says. The other medicines were ready within a few minutes. (Other chains, such as @CVS, @Walmart, are also active on Twitter, supplying information and updates.)

Check with your prescription supplier. For instance, Express Scripts (www.express-scripts.com/index.html) says mail order shipments have been delayed to areas affected by the hurricane. Customers who need medicine and have access to a nearby pharmacy can ask the pharmacy to call the Express Scripts help desk (800-496-4165).
Sources
Bill Russell, 64, Bay City, Texas.
Tammy Russell, 45, Corpus Christi, Texas.
Elizabeth Perez, spokesperson, Harris County Department of Public Health.
American Diabetes Association: "Resources and Emergency Information."
Office of the Texas Governor Greg Abbott: Press release, Aug. 23, 2017.
Lily: Help During Hurricane Harvey.
Texas Department of Health Services.
ABC News: "Hurricane Harvey wreaks historic devastation: By the numbers."
Express Scripts.
WebMD Health News © 2017

Cite this: As Harvey Exits, Water, Pain, and Need Remain - Medscape - Sep 05, 2017.