BARCELONA, SPAIN — "Triple-screening" older men for abdominal aortic aneurysm (AAA), peripheral arterial disease (PAD), and hypertension reduced 5-year mortality by 7%, randomized trial results show[1–3].
In the population-based Viborg Vascular (VIVA) trial, 65- to 74-year-old men in central Denmark were randomized to triple screening or no screening. Those found to be positive for any of these conditions then received treatment, including statins and aspirin.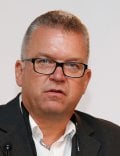 Prof Jes S Lindholt (Odense University Hospital, Denmark) presented these findings at the European Society of Cardiology (ESC) 2017, and the results were published simultaneously in the Lancet with study coauthor Dr Rikke Søgaard (Aarhus University, Denmark).
"We believe that this improvement is primarily explained by the 2.5-times higher incidence of elective aneurysm repairs and the doubled initiation rates of antithrombotic and lipid-lowering therapy in the group invited to screening," Lindholt said in a statement.
The message for clinicians is that AAA and PAD patients ought to receive statins and antiplatelets, he told a press conference here.
It is very easy to add PAD screening to existing AAA screening programs, such as those in the UK and Sweden, and the US Preventive Services Task Force recommends AAA screening for men who have ever smoked, Lindholt noted to theheart.org | Medscape Cardiology.
Women were not screened in this initial study, he said, since earlier studies done in men had shown that that up to 6% of men older than 65 years had AAA, which is higher than rates in women.
VIVA "falls very nicely" with data from COMPASS, which was also presented at the meeting, session cochair Dr Stephan Achenbach (University of Erlangen, Germany) told theheart.org | Medscape Cardiology.
COMPASS "showed that patients who have PAD have extremely high cardiovascular risk and by giving rivaroxaban [Xarelto, Bayer/Janssen Pharmaceuticals] in addition to aspirin to these patients, you can significantly lower their event rate," avoid amputations, and improve outcomes, he noted.
"I think peripheral vascular disease is underestimated by the cardiology community," Achenbach continued, and yet it is easy to detect in these high-risk patients.
Guidelines for aortic disease recommend that "if you do echo in a male patient, you should go down to the abdomen and have a quick look at the aorta because that allows you to find aortic aneurysms," he observed.
"These are all very, very simple investigations," he added, "and this trial showed that this screening actually saved [quality-adjusted] life-years at very low cost."
10-Minute Screen for Three Diseases
AAA can be easily detected using a handheld ultrasound device, and about 5% to 10% of individuals who are screened for AAA also have PAD, Lindholt said.
PAD can be diagnosed by measuring ankle and brachial blood pressures and determining the ankle-brachial index (ABI), and this determination also reveals possible hypertension.
To investigate the 5-year mortality in older men who did or did not receive triple screening, the researchers identified 50,156 men who were 65 to 74 years old in 2008 to 2011 and living in central Denmark.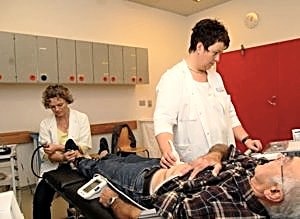 Half of the men were randomized to receive screening, and three-quarters of these men (n=18,748) accepted. The screening took 10 minutes and was carried out by teams of two trained nurses.
An AAA of 30 mm or more was detected in 616 men (3.3%), including 61 men (0.3%) who had aneurysms that were 5.5 cm or larger.
PAD, defined as ABI <0.9 or >1.4, was diagnosed in 11% of the screened men.
Suspected moderate to severe hypertension, defined as >160/100 mm Hg, was detected in 10.5% of the screened men.
Men with a diagnosis of AAA or PAD were retested and also had a blood test for cholesterol.
Of the 2506 men who were positive for AAA or PAD, 46% were already receiving sufficient medical prevention, but 37% had total cholesterol >4 mmol/L and were prescribed 40 mg/day of simvastatin and 75 mg/day of aspirin.
The others were not interested in treatment or wanted to discuss this therapy with their general practitioner.
The men positive for PAD or AAA also received advice from a nurse about diet, exercise, and smoking cessation (21% of the men smoked at baseline). They also received an annual abdominal ultrasound and ABI measurement.
Men with AAA >5 cm were referred for a CT scan and assessment by a vascular surgeon, who offered them surgical repair or surveillance.
Men with possible hypertension alone were referred to their general practitioner for diagnosis confirmation and review or initiation of antihypertensive therapy.
After a median follow-up of 4.4 years, 2566 men (10.2%) in the screened group and 2715 men (10.8%) in the nonscreened group had died.
The screening and intervention significantly reduced 5-year mortality (hazard ratio 0.93; 95% CI 0.88–0.98; P=0.01).
"After 5 years we found that this simple vascular screening effort reduces overall mortality by 7%, with a number needed to invite as low as 169 to prevent one death within 5 years," Lindholt summarized.
"This can be achieved for just €2000 per quality-adjusted life-year gained, which is cost-effective compared with existing cancer-screening programs," he said
"For clinicians, whether or not to treat asymptomatic peripheral arterial disease or abdominal aortic aneurysm with low-dose aspirin and statins has long been controversial," the authors write.
However, this study showed that the observed major benefit in survival persisted after removing the effect of hypertension screening, so "the major benefit is probably due to the general cardiovascular preventive actions taken in men diagnosed with AAA or PAD, including initiation of statins and antiplatelets," they conclude.
Overdiagnosis and overtreatment are unavoidable but "seem much smaller than what is accepted in, for example, cancer screening, and the overall balance between benefit and harm seem to be in favor of screening."
The trial was funded by the 7th European Framework Programme, the Central Denmark Region, Viborg Hospital, and the Danish Council for Independent Research. The authors have no relevant financial relationships.
For more from theheart.org | Medscape Cardiology, follow us on Twitter and Facebook.
Medscape Medical News © 2017

Cite this: 'Triple' Screening for AAA, PAD, High BP Reduces Mortality - Medscape - Aug 31, 2017.