Loss of the neurotransmitter serotonin may drive cognitive decline rather than simply being a by-product of memory problems, according to new findings that have potential implications for the prevention and treatment of mild cognitive impairment (MCI).
Studies have consistently shown that serotonin degeneration occurs in normal aging and Alzheimer's disease (AD), but evidence for degeneration of the serotonin system in MCI is limited.
The new study suggests that the serotonin system is affected in the early stages, before memory problems are severe enough to meet criteria for dementia.
"The results suggest that the serotonin system may be an effective target for treatment, given the role of the serotonin system in both memory problems and neuropsychiatric symptoms, such as depression and irritability, that often occur before memory problems can be detected," Gwenn Smith, PhD, director of geriatric psychiatry and neuropsychiatry at Johns Hopkins University School of Medicine in Baltimore, Maryland, told Medscape Medical News.
The study is published in the September issue of Neurobiology of Disease.
"Substantial Impact on Brain Function
Study participants included 28 adults (mean age, 66.6 years; 16 men) with MCI and 28 healthy, cognitively normal, demographically matched control persons (mean age, 66.2 years; 15 men) who underwent various neuroimaging studies.
In comparison with control participants, for patients with MCI, levels of serotonin transporters were lower in cortical and limbic areas that are typically affected by pathologic processes in AD. Levels were also lower in sensory and motor areas, the striatum, and the thalamus, which are relatively spared in AD, the researchers report.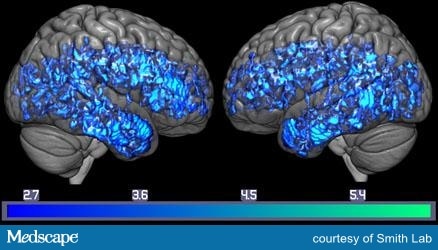 The magnitude of the reduction in serotonin transporter levels in patients with MCI relative to control persons ranged from 10% to 19% in cortical regions and the raphe nuclei and from 10% to 38% in the striatum and the thalamus.
Lower levels of cortical serotonin transporters were associated with worse performance on tests of auditory-verbal and visual-spatial memory in MCI patients. This finding supports other studies that have shown deficits in verbal and visual-spatial memory with damage to the serotonin system that decrease serotonin transporter levels, the researchers note.
The investigators also observed gray matter atrophy and reduced regional cerebral blood flow in temporal and parietal cortices in MCI patients relative to healthy control persons, which is also consistent with reports in the literature.
The researchers note that the loss of serotonin transporters in MCI may have a "substantial impact on brain function and behavior," given their widespread distribution in the brain and evidence that serotonin modulates other neurotransmitters implicated in AD and, potentially, MCI.
Therefore, the serotonin system may represent "an important target for prevention and treatment," they write.
Exciting Possibility
"Serotonergic agents could be used, potentially, to prevent cognitive decline and the emergence of neuropsychiatric symptoms. While there are compelling clinical data to support the serotonin system as a treatment target, further investigation is needed to understand the role of serotonin degeneration with respect to whether it is a downstream effect of AD pathology or plays a causative role," they add.
Studies are underway to determine whether serotonin degeneration may be involved in the transition from MCI to dementia and to relate serotonin degeneration to other aspects of AD neuropathology, including beta-amyloid and tau, they note.
Commenting on the findings for Medscape Medical News, Ron Petersen, MD, PhD, from the Mayo Clinic, Rochester, Minnesota, said this study is "interesting, well done, and sheds light on a neurotransmitter that might be affected in MCI and presumed early Alzheimer's disease, and ― I think, importantly, perhaps ― indicates that some therapies may be available using the serotonergic mechanisms. There are some drugs under investigation right now looking at that, so I think that's an exciting possibility.
"Most of the work on serotonin has been in established Alzheimer's dementia, so I think finding it early on in the disease is important," Dr Petersen added.
The study was supported by the National Institutes of Health. The authors have disclosed no relevant financial relationships.
Neurobiol Dis. 2017;105:33-41. Abstract
Medscape Medical News © 2017

Cite this: Serotonin Loss May Drive Cognitive Decline - Medscape - Aug 22, 2017.