Mental health organizations are applauding the US Senate's recent confirmation of psychiatrist Elinore McCance-Katz, MD, PhD, as the first assistant secretary for mental health and substance use in the US Department of Health and Human Services (HHS).
Dubbed the "mental health czar," the newly created position will help to bring together all presidential cabinet positions that deal with mental health and substance use, Saul Levin, MD, CEO and medical director of the American Psychiatric Association (APA), told Medscape Medical News.

It may also lead to a "merging of finding streams so that there becomes a lot more seamless way of doing things, which will help our nation and our patients," said Dr Levin.
"We've not had a physician-psychiatrist in this sort of position since 1988 to 1992. APA fully supported Dr McCance-Katz, and I think it's really a good choice on behalf of [HHS] Secretary Tom Price and the president," he added. "We look forward to working with her."
"Hallejuiah!" exclaimed former APA President Jeffrey Lieberman, MD, professor and chair of psychiatry at Columbia University and chief at the New York–Presbyterian Hospital Columbia Medical Center, New York City, when asked about Dr McCance-Katz's Senate confirmation.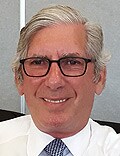 "This is a very welcome development. Ellie Katz is a great choice, as she's someone who has been committed to public service and has a background in psychiatry and substance use and in government work," he said.
"We don't have all that many things to celebrate in an unqualified way, but this appointment falls into that category," added Dr Lieberman.
Dr McCance-Katz recently served as chief medical officer for the Rhode Island Department of Behavioral Healthcare, Developmental Disabilities and Hospitals and as a professor of psychiatry and human behavior at Brown University, Providence. She also served as chief medical officer of the Substance Abuse and Mental Health Services Administration (SAMHSA) from 2013 to 2015.
Applause, Applause
In a press release, the National Alliance on Mental Illness (NAMI) said it "applauds" her confirmation.
"Dr McCance-Katz has both federal and local experience and a history of working closely with people with mental illness and their families in implementing policies," said Mary Giliberti, CEO of NAMI, in the release.
"And, as an assistant secretary who reports directly to Secretary Price, she will be well positioned to coordinate the priorities and actions of all of HHS agencies that touch the lives of people who live with mental illness," added Giliberti.
The American Society of Addiction Medicine (ASAM) also released a statement saying the organization "applauds" the appointment.
"Dr McCance-Katz brings exceptional clinical expertise and leadership experience to this important role, and ASAM looks forward to working with her and supporting her success," said ASAM President Kelly Clark, MD.
The organization added that she has "demonstrated her capability as an effective executive and civil servant" and that her background in providing medication-assisted treatment "will be especially valuable to this administration as it seeks to combat the current epidemic of opioid addiction and overdose deaths."
The new federal position was created as part of the 21st Century Cures Act of 2016 and will oversee SAMHSA, as well as coordinate mental health services at other federal agencies.
Dr McCance-Katz was endorsed for the position by both the APA and NAMI – and breezed through a Senate confirmation hearing on August 2.
There, she noted the importance of finding a balance between providing early treatment and ensuring that services are available for at-risk populations. In addition, she discussed the need for solutions for current mental health workforce shortages.
Full Senate Approval
The next day, she received full approval from the Senate along with Jerome Adams, MD, as surgeon general; Lance Robertson as assistant secretary for aging; Robert Kadler, MD, as assistant secretary for preparedness and response; and Brett Giroir, MD, as assistant secretary for health.
Before his Senate confirmation, Dr Adams said that the current opioid epidemic will be one of his first priorities as surgeon general. As reported by Medscape Medical News, President Trump said last week that he will be declaring the opioid crisis a national emergency.
Dr Levin noted that Dr McCance-Katz's expertise in addiction will dovetail with the surgeon general's agenda.
"Her core training was as a psychiatrist, but then she's super specialized in addiction. So we've got a double gift with her being appointed," he said. Regarding the opioid crisis, "she has lived and breathed that for many of her professional years. I think this is a timely appointment for her and for the nation."
"She is definitely the right person for the job and has all of the expertise and qualifications," agreed Dr Lieberman. "But it's trying to do something in a position that is in its inaugural phase and in an administration where everything is so fractious.
"The question now is, how effective will she be allowed to be? Nevertheless, it's still a great achievement to have gotten to this point," he said. "All of us in the mental health field should congratulate her and offer our full support."
Medscape Medical News reached out to the HHS for comment, but a representative said a statement would be forthcoming only after Dr McCance-Katz is sworn in.
Follow Deborah Brauser on Twitter: @MedscapeDeb . For more Medscape Psychiatry news, join us on Facebook and Twitter .
Medscape Medical News © 2017

Cite this: Psychiatrist's Appointment as US 'Mental Health Czar' Praised - Medscape - Aug 15, 2017.