Indulging in the Ultimate Fantasy
For plenty of doctors, across all specialties, the practice of medicine has become increasingly exasperating. The paperwork, meddling from insurers, threat of a lawsuit, and increasing demands all have conspired to make medicine a grind for scores of physicians who long to get off the treadmill.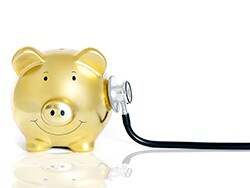 If you've thought about stopping practicing before the traditional retirement age of 65, you're far from alone. Plenty of doctors dream of retiring early, but there are leaky roofs to replace, car loans to pay, kids to put through college, and still more bills.
But financial planners insist that you can retire early if, and only if, you take a hard look at your cash flow, debt, and investments and make some critical adjustments.
With that in mind, let's examine three scenarios for early retirement at age 50, at age 55, and at age 60, including what you need to do to get there plus tips for how to make your money last after you've decided to call it a day.
Retire at Age 50: Younger and Burned Out
Retiring at 50 is a real long shot, financial experts say. That's because you'll only have worked about 20 years and may need to support yourself for another 30 or 40. "A doctor could easily run into problems at age 65 or 70 and be unable to go back to earning an income in the practice of medicine at that point," cautions Joel Greenwald, MD, CFP, a financial adviser in St. Louis Park, Minnesota.
Even though there are significant hurdles, you may be able to retire at 50 if you've been serious about investing and have lived very frugally. You'll also need to be carrying no debt when you quit medicine for good and have enough socked away to cover the considerable expense of private health insurance until Medicare kicks in (unless, of course, you can stay on a spouse's policy).
If this doesn't describe you, don't despair. If you're younger than 50 — say, 10 to 20 years younger — you've got time to get aggressive about saving. And when we say "saving," we mean saving until it hurts: 30% or more of your gross income. Unless you're in a high-paying surgical specialty, that will likely mean buying an older home, forgoing fancy cars, shopping at Target instead of Talbots, and sending the kids to public schools. You have a better shot at retiring early, financial experts say, if you can track and control your spending now.
Physicians who retire at age 50 can expect to live roughly another 30 years, according to the government's latest life expectancy data. That means your investments will need to earn enough to both beat inflation and provide the income you'll need in retirement.
And that's the big question: How much will you need? Think of it this way: What sort of lifestyle do you envision for yourself? Are you going to putter around the house, or do you want to travel? Will your hobbies be relatively inexpensive (writing, cooking, gardening, volunteering) or pricey (skiing, skeet shooting, boating, golfing)?
Medscape Business of Medicine © 2017 WebMD, LLC

Any views expressed above are the author's own and do not necessarily reflect the views of WebMD or Medscape.
Cite this: Dennis G. Murray. Retire by 50: How to Manage Your Finances to Retire Early - Medscape - Aug 16, 2017.