This story is also available in Spanish and Portuguese.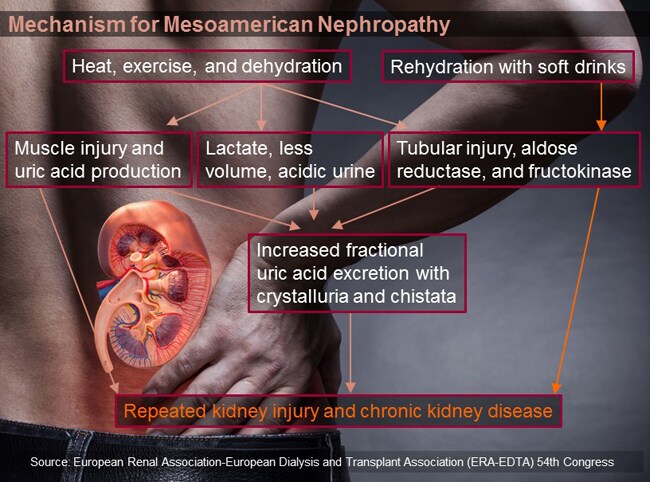 MADRID — An epidemic of chronic kidney disease not associated with any of the usual risk factors, such as hypertension and diabetes, could be due to kidney damage related to recurrent dehydration, said an expert here at the European Renal Association and European Dialysis and Transplant Association 54th Congress
From the podium, Richard Johnson, MD, from the University of Colorado Hospital in Aurora, reported that people, primarily men, who work outdoors in hot spots around the world are dying of kidney failure, and pathways point to heat stress as being a major risk factor.
To test his theory, Dr Johnson and his colleagues developed a mouse model of recurrent dehydration brought on by heat exposure. "These mice developed impaired renal function and tubulointerstitial fibrosis after 5 weeks," they reported (Kidney Int. 2014;86:294-302).
One pathway implicated in renal injury is an enzyme system in the proximal tubules.
This enzyme system converts glucose into fructose, which is then metabolized by the fructokinase enzyme, releasing oxidative stress and uric acid, both of which can cause local tubular injury. The researchers point out that knockout mice that did not carry the fructokinase enzyme were protected from renal injury despite being exposed to recurrent dehydration.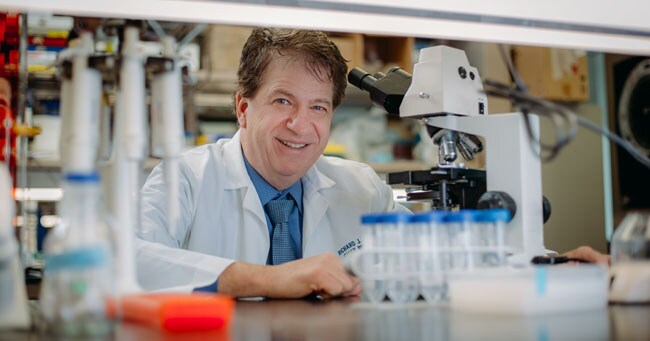 This research could have implications for at-risk workers. Kidney injury was prevented if the mice were rehydrated immediately after each cycle of dehydration, but not if the mice were given the same amount of hydration at the end of the day, the team explain.
"Exercise under heat stress is known to cause subclinical rhabdomyolysis, which is associated with the release of nucleotides and a rise in serum uric acid," Dr Johnson noted. In fact, hyperuricemia is commonly found in individuals with heat stress nephropathy.
In a study of 189 sugarcane workers in El Salvador that Dr Johnson was involved in, the mean serum uric acid level was 6.5 mg/dL in the morning, when the ambient temperature was relatively cool, and 7.2 mg/dL in the afternoon, after workers had been out in the hot sun for much of the day (Am J Kidney Dis. 2016;67:20-30).
"Hyperuricemia is common in sugarcane workers and often worsens during the course of the workday," the researchers conclude.
Pilot data from the same Salvadoran sugarcane workers showed that urine pH decreased as the day progressed. But "when corrected for pH, the rise in urine uric acid is dramatic," Dr Johnson reported.
In fact, some sugarcane workers developed levels of uric acid in their urine similar to those seen in patients who suffer acute kidney injury after chemotherapy, he added, noting that hyperuricemia is a recognized risk factor for acute and chronic renal injury.
The dysuria frequently reported by these workers might be related to early stone formation, given that urate crystals are commonly seen in their urine.
"Mesoamerican nephropathy may be caused by repeated episodes of hyperuricosuria and urate crystal formation that occurs through hard work on hot days when hydration is limited or delayed," the researchers say.
In a recent study designed to test the effect of a water, rest, and shade intervention among sugarcane workers, researchers found changes in biomarkers that indicated dehydration and a reduced estimated glomerular filtration rate over the working day (Scand J Work Environ Health. Published online July 7, 2017). The changes were less pronounced in the intervention group — which had access to portable water reservoirs, mobile shaded tents, and scheduled rest periods — than in the group that received no intervention. More work needs to be done to determine whether this reduction correlates with a reduced risk for kidney disease, the researchers note.
Dr Johnson is a member of the Colorado Research Partners, which is developing inhibitors of fructose metabolism, and is a member of the scientific board and holds shares in XORT Therapeutics.
European Renal Association-European Dialysis and Transplant Association (ERA-EDTA) 54th Congress. Presented June 5, 2017.
Follow Medscape Nephrology on Twitter @MedscapeKidney
Medscape Medical News © 2017 WebMD, LLC

Send comments and news tips to news@medscape.net.
Cite this: Proposed Mechanism for Kidney Disease of Unknown Etiology - Medscape - Aug 18, 2017.