Cancer Doesn't Care If You're a Fighter
It is very common when learning that someone has been newly diagnosed with a life-threatening cancer that well-meaning family and friends weigh in with encouragement to fight. It is also unfortunate.
Cancer could not care less whether you are a fighter or not. What evidence there is does not show that adopting a fighting stance helps in terms of survival. I have seen many fighters die of cancer, and some who chose not to be seen as fighters live longer than others who did.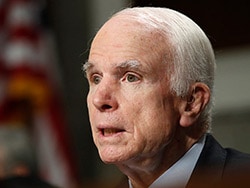 And there is an implication that if you are not a fighter, then you must be a coward or worse. This suggests that the only option available to anyone who is courageous is to choose to fight—to utilize every surgery, complementary medicine, chemotherapy, and experimental option. This is unfortunate as well, because it takes courage to decide not to battle fatal cancers, but rather to enjoy a better quality of life in the time that remains.
The latest example of this "you must be a fighter" ethic is John McCain.
The senator from Arizona just found out he has a glioblastoma, a very nasty form of brain cancer. Upon announcing his diagnosis, McCain was greeted by a chorus of friends and admirers urging him to fight and calling on him to be courageous in taking on the cancer. This is advice McCain does not need.
Medscape Business of Medicine © 2017 WebMD, LLC

Any views expressed above are the author's own and do not necessarily reflect the views of WebMD or Medscape.
Cite this: Don't Tell John McCain to Fight His Cancer - Medscape - Jul 25, 2017.