PARIS — For the first time in the history of the HIV/AIDS epidemic, more than half the people in the world living with HIV have access to antiretroviral treatment.
So why does Michel Sidibé, executive director of UNAIDS, say "it would be dishonest" not to acknowledge that "we are failing"?
Scale-up has been unequal, he explained here at the International AIDS Society 2017 Conference. Some parts of the world have ready access to funding, medications, and political will, whereas other parts — even in the United States — languish.
A UNAIDS progress report on the 90-90-90 goals is full of good news: in 2016, more than 66% of people living with HIV knew they were infected, 77% of those had access to treatment, and 82% of those were virally suppressed.
Progress Toward 90-90-90
Around the world, 19.5 million people — which is 53% of the HIV-positive population — now have access to HIV treatment, Sidibé reported. "We were able to put 2.4 million more people on treatment over 1 year. Who would have believed that a few years ago? That is your success story."
Coupled with increased HIV testing, which connects patients with prevention or treatment, deaths from AIDS-defining illnesses have dropped by 32%.
The challenge now is to expand the successes of 90-90-90 and PrEP implementation programs from early adopters and wealthy areas to places with large epidemics but no means or political will to do so.
"We cannot accept a two-speed type of approach," Sidibé said, where wealthy areas tout success but everywhere else gets left behind.
This two-speed approach also exists in the United States, said Wendy Armstrong, MD, from Emory University in Atlanta. For example, a young black man living in the American South who has sex with men has a 50–50 chance of acquiring HIV in his life, she reported.
"The epidemic in Africa is, frankly, more similar to our epidemic in the Southern United States than the epidemics in places like New York City, San Francisco, Seattle, or DC," Dr Armstrong told Medscape Medical News. "We are not anywhere over the hump. In a clinic with 6000 patients, almost all of them have an AIDS diagnosis. We are struggling deeply."
A Physician's Tool for Scaling Up PrEP
Earlier in the day, a PrEP implementation tool was introduced during a noncommercial satellite hosted by the World Health Organization (WHO). The tool consists of 11 modules — each developed for specific populations, such as pharmacists, counselors, and PrEP users.
The first one, though, is for physicians.
It has been 6 years since large-scale datasets on PrEP became available, so "it's very clear that the ship is being built while it has already started sailing," said Gottfried Hirnschall, MD, director of the HIV/AIDS Department and the Global Hepatitis Programme at the WHO.
We can't say we will fight and end AIDS by 2030 while people are still not accessing treatment.
The tool "is a suggestion rather than a recommendation," stressed Rachel Baggaley, MD, also from the WHO. It is based on successful full-scale PrEP implementation, notably in France, South Africa, and Kenya, as previously reported by Medscape Medical News.
It offers simple pocket cards for physicians that describe ways to identify someone at substantial risk for HIV, and includes local HIV epidemiology. It also provides information to help physicians talk to or about the partners of people living with HIV who are not on highly effective treatment.
"Physicians are crucial to the roll out and introduction of PrEP," said Nanlestra Pilgrim, PhD, from the Population Council in Washington, DC.
"In the United States, it's still a relatively new intervention," she told Medscape Medical News, so it is key that physicians understand who should be offered the prophylaxis.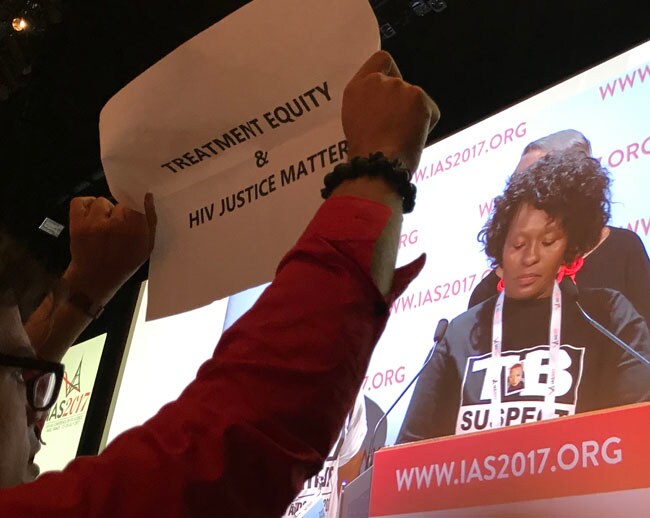 Sibongile Emily Tshabalala, a South African woman living with HIV, took the stage during the opening session to demand that the world's most notable scientists, researchers, and clinicians commit to universal implementation, even in places where the innovative treatments being discussed at the conference are not available.
"We can't say that we will fight and end AIDS by 2030 while other people are still not accessing their treatment," Tshabalala told Medscape Medical News.
As a human wall of protesters held signs reading, "End TB, End HIV Deaths," and "Heroes for the Ages Die in Unequal Times," Tshabalala eulogized activist Prudence Mabele — the first black woman in South Africa to announce her HIV status publicly — who, after living for years with the virus, died of pneumonia earlier this month at the age of 46.
"We never expected this, especially since she was out with us the month before. She was fine," Tshabalala said. "As people living with HIV, it makes us ask ourselves, who's next?"
Mr Sidibé, Dr Hirnschall, Dr Baggaley, Ms Pilgrim, Dr Armstrong, and Ms Tshabalala have disclosed no relevant financial relationships.
International AIDS Society (IAS) 2017 Conference: Abstract SUPL0104. Presented July 23, 2017.
Follow Medscape on Twitter @Medscape and Heather Boerner @HeatherBoerner
Medscape Medical News © 2017 WebMD, LLC

Send comments and news tips to news@medscape.net.
Cite this: HIV Care Improving but Still 'Fails' Many - Medscape - Jul 24, 2017.