Significant advances in the clinical practice of hepatology were addressed at this year's Digestive Disease Week. This review focuses on the effect of obesity and its hepatic consequence: nonalcoholic fatty liver disease (NAFLD).
Noninvasive Evaluation of Hepatic Steatosis
The spectrum of fatty liver disease varies from simple steatosis to nonalcoholic steatohepatitis, with clinical relevance ranging from relatively benign to a high risk for progression to cirrhosis. Although liver biopsy remains the gold standard for grading and fibrosis staging, noninvasive alternative methods have been aggressively sought.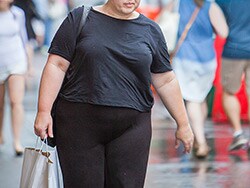 Shin and colleagues[1] analyzed the diagnostic accuracy of controlled attenuation parameter (CAP), a noninvasive process based on transient elastography, for detecting hepatic steatosis. CAP's accuracy was compared against that obtained with liver biopsy in 143 participants with chronic liver disease. The degree of hepatic steatosis found on biopsy was categorized as S0 (<5% of hepatocytes), S1 (5% - 33%), S2 (34% - 66%), and S3 (>66%). The relative degree of steatosis detected was S0 in 69% of biopsies, S1 in 21%, S2 in 7%, and S3 in 3%. The mean CAP increased gradually, along with the steatosis grade (208 dB/m in patients with S0, 255 dB/m in those with S1, 272 dB/m in those with S2, and 319 dB/m in those with S3; P < .001) and was significantly correlated with body mass index, body weight, and total serum cholesterol and triglyceride levels. The ability of CAP to detect hepatic steatosis was compared with histological data, using area under receiver operative characteristics curves, which were 0.818 for S1 or higher (P < .001), 0.842 for S2 or higher (P < .001), and 0.923 for S3 or higher (P = .004). For the maximum sum of sensitivity and specificity, the optimal cut-off value of CAP was 234.5 dB/m for S1 or higher, 241 dB/m for S2 or higher, and 252 dB/m for S3 or higher.
In a separate study, Dakhoul and colleagues[2] prospectively investigated the value of vibration-controlled transient elastography, along with simultaneous liver stiffness measurement (LSM) and CAP in 114 patients with NAFLD. An abnormal CAP was defined as a value of at least 225 dB/m, and an abnormal LSM as more than 6.5 kPa. A liver biopsy was recommended for those with an abnormal LSM, irrespective of the CAP result. The median LSM in the study cohort was 8.6 kPa, and the median CAP was 334 dB/m. Overall, 93% of the patients had NAFLD based on CAP criteria, and an abnormal LSM was observed in 69% of the cohort. Of the patients who underwent liver biopsy, 55% had clinically significant fibrosis (≥F2), and 14% had stage 4 fibrosis (cirrhosis). The area under receiver operative characteristics curve of LSM for fibrosis assessment was 0.68 for clinically significant fibrosis and 0.89 for cirrhosis. The LSM cut-off for cirrhosis with a specificity of 90% was 16.9 kPa. The area under receiver operative characteristics curve of CAP for steatosis assessment was 0.978 for diagnosis of S1 or higher, and the CAP cutoff value with a specificity of 90% was 401 dB/m.
These studies suggest that both LSM and CAP may be of value in the evaluation of patients with fatty liver disease. These methods seem to offer reliable and reproducible diagnostic accuracy for evaluation of liver fibrosis and steatosis. Vibration-controlled transient elastography can be used to exclude cirrhosis with high accuracy. However, valid cutoff values will need to be established based on larger study populations.
Medscape Gastroenterology © 2017 WebMD, LLC

Any views expressed above are the author's own and do not necessarily reflect the views of WebMD or Medscape.
Cite this: Seeking Less-Invasive Care in Obesity-Related Liver Disease - Medscape - Jul 28, 2017.