Significant advances in the clinical practice of hepatology were addressed during this year's Digestive Disease Week. This review focuses on the concerns related to the apparent increase in the incidence of hepatocellular carcinoma (HCC).
HCC Risk and Direct-Acting Antivirals
The advent of direct-acting antivirals (DAAs) has clearly brought good news, as it may now be possible to achieve a sustained virologic response (SVR)—a "virologic cure"—in the majority of patients with chronic hepatitis C virus (HCV). However, emerging data suggest that the risk for HCC may persist or even be increased by DAA administration. This concern was addressed by two studies.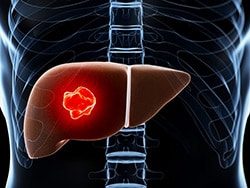 Kanwal and coworkers[1] studied patients (N= 22,579) who received DAAs in the national Veterans Affairs healthcare system. At baseline, 34% of patients had cirrhosis, 44% had diabetes, and 61% had a history of alcohol use. For 87% of the patients, DAA administration resulted in an SVR12, defined as negative HCV RNA > 12 weeks after treatment completion. During a mean follow-up of over 1 year, 369 patients developed HCC (88 during and 281 following treatment), an incidence rate of 1.28 per 100 patient-years. The risk of developing HCC was significantly lower in the patients who achieved an SVR compared with those who had not (0.95 vs 3.47 per 100 patient-years). This reduced risk persisted after exclusion of patients who developed HCC during treatment (0.89 vs 3.65 per 100 patient-years in those reaching an SVR compared with those who did not, respectively; P < .0001). Among patients successfully treated, the risk for HCC was higher in those with cirrhosis and a history of alcohol use.
Ali and colleagues[2] analyzed 140 consecutive patients with HCV-related cirrhosis and no prior documented HCC. Following treatment with an interferon-free DAA-based regimen, SVR12 was achieved by 94% of the patients. The incidence of HCC after achieving virologic cure was 3.5%, and the mean time to diagnosis of HCC after starting DAA therapy was 443 days. All newly diagnosed cases of HCC were within the Milan Criteria for HCC; thus, none of the cases had a tumor burden that made them ineligible for curative treatment. Multivariate analysis did not uncover any factors that predicted development of HCC.
These studies indicate that a DAA-induced SVR is associated with a significant reduction in the risk for HCC, both during and after completion of treatment, compared with those who did not achieve an SVR.
The incidence of HCC remains high, however, especially in the presence of cirrhosis or a history of alcohol use at the time of DAA treatment. This risk is high enough to warrant ongoing surveillance for HCC, as per current American Association for the Study of Liver Diseases guidelines.
Medscape Gastroenterology © 2017 WebMD, LLC

Any views expressed above are the author's own and do not necessarily reflect the views of WebMD or Medscape.
Cite this: With Hepatitis C Virus on the Run, Meet the New Challenge: Hepatocellular Carcinoma - Medscape - Jul 26, 2017.