LONDON – A hybrid diet that is aimed at preserving brain health may be key in maintaining cognition and reducing dementia risk, new research suggests.
Encouraging findings from two studies of the MIND diet were presented here at the Alzheimer's Association International Conference (AAIC) 2017. "MIND" is an acronym for Mediterranean-DASH (Dietary Approaches to Stop Hypertension) Intervention for Neurodegenerative Delay.
The Mediterranean diet emphasizes fish, fruits, and vegetables, with olive oil as the main source of fat. DASH is a low-sodium diet that encourages consumption of foods rich in nutrients such as potassium and calcium magnesium that help lower blood pressure.
The MIND diet was developed by Martha Claire Morris, PhD, a nutritional epidemiologist at Rush University, Chicago, Illinois, and colleagues. It is "targeted toward dementia prevention," lead author Claire T. McEvoy, PhD, RD, University of California, San Francisco, told Medscape Medical News.
Protective Effect on Cognition
The MIND diet includes 10 "brain-healthy" food groups consisting of green leafy vegetables, other vegetables, nuts, berries, beans, whole grains, fish, poultry, olive oil, and wine. It excludes red meat, butter, margarine, cheese, pastries, sweets, and fried or fast food.
In a study published in 2015 in Alzheimer's and Dementia, the MIND diet lowered the risk for Alzheimer's disease by 53% in participants who rigorously adhered to it and by 35% in those who followed it moderately well.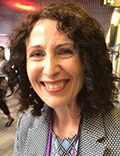 In one of the new studies presented at the Alzheimer's Association International Conference (AAIC) 2017, investigators led by Dr McEvoy examined the cross-sectional association between cognitive performance and adherence to the MIND diet and to the Mediterranean diet.
The study included 5907 cognitively intact, community-dwelling adults (mean age, 68 years) from the Health and Retirement Study, a representative sample of the US population.
From food frequency questionnaires, researchers generated scores for the Mediterranean diet (range, 0 to 55) and the MIND diet (0 to 15), with higher scores indicating better adherence.
To assess cognition, the researchers used a composite test score of global cognitive function (range, 0 to 27), with poor performance defined as less than one standard deviation below the population mean.
After adjusting for factors that might affect cognition, including age, sex, race, low education, obesity, hypertension, diabetes, depression, smoking, physical activity, and energy intake, the analysis showed that adherence to either diet appeared to protect cognition.
Compared to those with a low score on the Mediterranean diet, participants with mid-range and high scores were significantly less likely to have a poor cognitive performance (odds ratio [OR], 0.82; 95% confidence interval [CI], 0.68 - 0.99; P = .03 and OR, 0.60; 95% CI, 0.49 - 0.75; P < .001, respectively).
Results were similar for the MIND diet. Compared to those with a low score, participants with a mid-range score had a significantly lower risk for poor cognitive performance (OR, 0.82; 95% CI, 0.68 - 0.99; P = .03), as did those with a high score (OR, 0.65; 95% CI, 0.53 - 0.80; P < .001).
Controlling for socioeconomic status "slightly attenuated the results, but they are still very significant," said Dr McEvoy.
Most Promising Approach
There is currently little robust evidence linking diet to cognition. Although some research has shown that the Mediterranean diet has "profound effects" on the vascular system, "there are no clinical trials out there looking at brain health outcomes," Dr McEvoy said.
Population-based studies show mixed results, and many of these studies were conducted "in very specific population groups, like females or older or white people."
The next step is to carry out clinical trials to test the effects of the MIND diet on brain health, said Dr McEvoy.
She noted that dietary trials are difficult to conduct because compliance may be a problem, given that healthy diets can be relatively expensive.
"There are challenges with dietary intervention studies that are different than for drug trials, but these studies are very important because we don't have any treatments for Alzheimer's disease, and the most promising approach is prevention," said Dr McEvoy.
"We have to know what works for people and how feasible it is for people to change lifestyle behaviors."
Lower Dementia Risk
The second study presented provides additional evidence that the MIND diet may reduce dementia risk. It showed that dietary patterns closely aligned to this diet were associated with a lower risk for probable dementia.
Researchers used food frequency questionnaire data from 7057 Women's Health Initiative Memory Study participants (mean age, 71 years) to calculate MIND diet scores. They then categorized these scores into quartiles.
During an average of 9.7 years of follow-up, the investigators identified 615 probable dementia cases, as determined on the basis of clinical data and annual neurocognitive assessments, as well as informant questionnaires and health history.
Compared with the lowest MIND diet quartile, the hazard ratios for the other quartiles (from lowest to highest scores) were as follows: 0.76 (95% CI, 0.62 - 0.94), 0.79 (95% CI, 0.62 - 0.99), and 0.66 (95% CI, 0.50 - 0.86; P for trend, .01), after adjusting for numerous factors potentially affecting cognition.
It is possible that the diet of the study participants changed over time, because evaluations were conducted only at baseline, the researchers note.
"I can't say anything about how subjects continued to eat; these results are just observational and based on self-reported history of diet at baseline," lead researcher Kathleen M. Hayden, PhD, Wake Forest School of Medicine, Winston-Salem, North Carolina, told Medscape Medical News.
Dr Hayden noted that individuals who adhere to a healthy diet tend to be more attentive to their health in general. "In our study, women who were most adherent to the diet had lower BMI and exercised more and were less likely to be smokers."
Although the investigators adjusted for as many such factors as they could, "there may be things that study participants did to take care of their health that we didn't measure, for example, seeing the doctor," said Dr Hayden.
Another Option?
A third study presented at the meeting showed that adherence to a Nordic diet may be a relatively good predictor of preserved cognitive function. The Nordic diet includes more frequent consumption of nonroot vegetables, apples/pears/peaches, pasta/rice, poultry, fish, vegetable oils (mainly rapeseed oil), tea, and water, with light to moderate wine intake. It also involves fewer potatoes and other root vegetables, refined grains/cereals, butter/margarine, sugar/sweets/pastries, and fruit juices.
Taken together, the results of these studies suggest that preserving cognition is "overall probably about making good healthy food choices," Keith Fargo, PhD, director of scientific programs at the Alzheimer's Association, told Medscape Medical News.
"If you're filling up on a Mediterranean diet or DASH or the Nordic diet, you're not eating a lot of candy bars and you're not drinking a lot of soda, so you're not getting a lot of empty calories," said Dr Fargo. "It's probably not about a particular recipe, if you will, or a specific diet; it's probably more about just making wise eating choices on a regular basis."
None of the study authors have disclosed any relevant financial relationships.
Alzheimer's Association International Conference (AAIC) 2017. Abstracts P2-546, P2-555, and P2-599, presented Monday, July 17, 2017.
Medscape Medical News © 2017

Cite this: Hybrid MIND Diet May Preserve Cognition, Cut Dementia Risk - Medscape - Jul 19, 2017.