On June 1, as the world celebrated the International Day of the Child, Save the Children issued a sobering landmark document titled Stolen Childhoods: End of Childhood Report 2017. In this report, Save the Children examined the life events that often signal the end of childhood for too many of the world's most vulnerable and disadvantaged kids: girls, refugees, street children, and children with disabilities.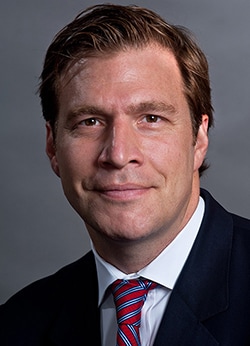 The End of Childhood Index compares data for 172 countries, ranking the places where childhood is most or least threatened around the world. The top 10 nations (those in which childhood was least threatened) were all in Europe, with the exception of South Korea, which was tied for 10th place; the bottom 10 were all in Africa.

The organization also issued a complementary report examining issues that affect children in the United States, such as poverty, violence, teen parenting, and education, and compiling a state-by-state ranking.
Medscape spoke with Richard Bland, JD, Save the Children's National Director of Policy, Advocacy, and Development, about the key messages in this report for healthcare professionals.
What Are the Events That End Childhood?
Medscape: The Save the Children report examines eight life events that end childhood. Death before the age of 5 years is the most extreme example. On the positive side, Save the Children noted that worldwide, half as many children younger than 5 years now die of preventable causes compared with 1990, thanks to immunizations, better nutrition, and improved access to care. Although that is heartening, the sad reality is that 16,000 children younger than 5 years still die every day. Where do you see the biggest challenges remaining?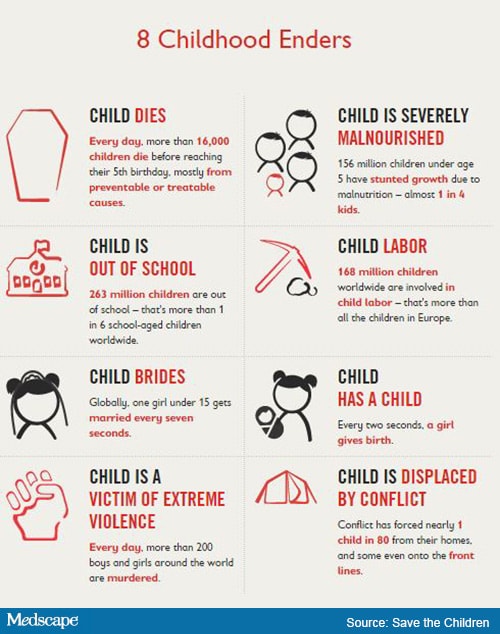 Mr Bland: I think it's important to take a step back and emphasize that Save the Children believes that childhood should be a time to learn, play, grow, and be protected. Every last child deserves a healthy start, the opportunity to learn, and protection from harm. And yet, 1 in 4 children worldwide are missing out on the childhoods they deserve. The eight childhood-enders in aggregate account for 700 million children around the world, including here in the United States, having their childhood end too soon. Millions of children are being robbed of their childhood because they've encountered one or more of these enders.
What we mean by "childhood-ender" is an event or circumstance that has brought their childhood to a premature end; these include malnutrition, entering the workforce prematurely, pregnancy, exposure to violence, and more.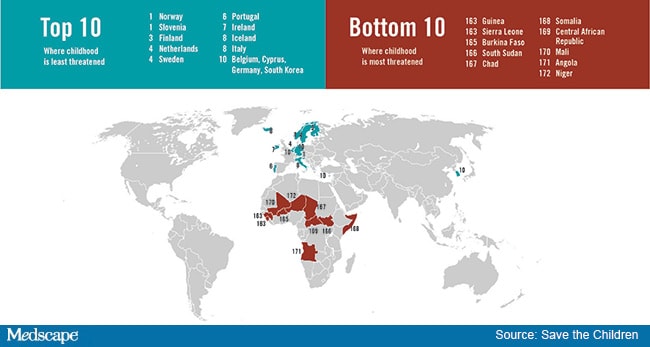 There is no greater end to a childhood than death. Nearly 6 million children younger than 5 years die each year worldwide. Many of the world's poorest children are too vulnerable to preventable and treatable conditions.
Basic medical services are not accessible because they are too expensive, and potentially because the family or the child doesn't have geographic access to those kind of services. So they're left susceptible to deadly diseases that are treatable. We know how to prevent infant mortality. Yet, too many children are dying every day because they are drinking unsafe water and have poor diets that stymie growth.
Premature birth and birth complications are two of the top three leading causes of death for children under the age of 5. But those first two make up 30% of all deaths—nearly 2 million deaths in 2015. Pneumonia is the third leading cause of death, and that, too, is largely preventable and treatable.
A key element to eliminating these preventable deaths is increasing access to maternity care before, during, and after a pregnancy, with the timing around labor and delivery really being most critical. In countries at the bottom of the childhood index, 1 out of 10 kids do not reach their fifth birthday because medical care is unavailable, too far away, or too expensive. That rate is at least 40 times the rate found in countries that are keeping childhood intact, where less than 0.3% of children die before age 5 years.
Around the globe, where countries are investing in childhood, keeping childhood intact, and particularly tackling the issue of infant mortality, you have 40 times fewer infants dying than where, unfortunately, childhood is most at risk. Increasing access to health services for expectant mothers and their infants would go a long way toward reducing these eye-opening figures.
Medscape Pediatrics © 2017 WebMD, LLC

Any views expressed above are the author's own and do not necessarily reflect the views of WebMD or Medscape.
Cite this: The 8 Things That End Childhood Too Soon: What Clinicians Should Know - Medscape - Jun 30, 2017.