VANCOUVER — An online visual test may identify patients with Parkinson's disease (PD) at highest risk for dementia, results of a new study suggest.
The analysis showed that patients with PD did worse than controls on tests of specific aspects of visual processing related to object recognition, which could be a clue that cognition is affected.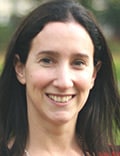 Such tests may in future help select patients for clinical trials testing preventive treatments, lead researcher Rimona S. Weil, PhD, Wellcome Trust clinician scientist and consultant neurologist at the Dementia Research Center, University College London, United Kingdom, told Medscape Medical News.
Dr Weil presented this research here at the International Congress of Parkinson's Disease and Movement Disorders (MDS) 2017.
Dementia affects up to half of patients with PD within 10 years of diagnosis. Studies show that patients with visual processing deficits are at highest risk for dementia.
"There is evidence that if you have Parkinson's disease, and if the bits of your brain that are involved in processing visual information are affected, you may have a more aggressive form of the disease," said Dr Weil.
Autopsy studies of patients with PD confirm that this area of the brain — the infero-temporal and parieto-occipital cortex — is affected, she noted. "So we already know that there is some clue that the visual processing part of the brain is important."
Current visuo-perceptual tests measure only one or two aspects of visual processing and tend to be "too easy," said Dr Weil. "Everyone does very well on them and by the time they do badly, their disease may have progressed quite a bit. We need trickier tests."
As well, current tests measure visual processing only in small numbers of patients. Online testing enables access to large numbers of patients.
Cats and Dogs
In this analysis, Dr Weil and her colleagues studied various online visual tests in patients with PD and age-matched controls.
In one test, distorted or skewed pictures of cats and dogs were quickly flashed on a screen. Participants indicated whether the image was a cat or a dog by pressing the appropriate computer key.
The images were distorted by different degrees, which allowed the researchers to determine what level of distortion affected participants.
"Everyone finds it easy when the images are not distorted, and everyone finds it difficult when the images are very distorted, but it's the middle bit, when there's just a bit of distortion, where we see differences," said Dr Weil.
She and her colleagues found that the patients with PD did worse than the controls in identifying skewed cats and dogs.
The study results suggest that those who have difficulty with this distortion test might be at higher risk for cognitive problems. But Dr Weil stressed that this needs to be determined over time and that it has not yet undergone peer review.
"We want to see if the people who do badly now are the ones who get dementia or get thinking and memory problems later."
The other tests — including a "find the horses" test and another testing recognition of animals in peripheral vision — used different ways to test how the brain processes visual information.
"We want to know which tests are going to be useful," although so far the "cats and dogs" test is turning out to be the best, said Dr Weil.
The difference between patients and controls was not due to vision, which was tested in study participants. "The visual acuity of PD patients is pretty good; we think this is not about their eyes, but about their brain," said Dr Weil.
"People think of PD as a disorder of movement but it's much more complex and affects much more than just movement."
A key question then, she said, is how does PD affect the brain? "Whatever it is that causes PD doesn't just involve the deep part of the brain, but also involves the thinking and memory parts, and the fact that people have trouble with these tests suggests that those bits are involved."
Trial Candidates
If these study results are verified, patients with PD who do worse on the tests might be ideal candidates for clinical trials testing therapeutic approaches that might delay onset of dementia.
Dr Weil noted that dementia in PD is distinguishable from Alzheimer's disease dementia, which involves a different pattern of brain involvement. "We think that this is not likely to be useful for other types of dementia."
Asked to comment, Nikolaus McFarland, MD, PhD, assistant professor, neurology, and acting chief of the Movement Disorders Division, University of Florida, Gainesville, who did not attend the MDS meeting, said that he's hesitant to provide a formal comment based on an abstract but that the research "does sound like a neat idea."
It's unclear from the abstract, though, how the researchers correlated looking at cat and dog pictures with cognitive performance, he said.
And it's unclear whether the patients with PD viewing the skewed pictures online were cognitively impaired to begin with.
Dr Weil is supported by a UCL Excellence Fellowship, the Academy of Medical Sciences, and NIHR Biomedical Research Center funding scheme.
International Congress of Parkinson's Disease and Movement Disorders (MDS) 2017. Abstract 955. Presented June 7, 2017.
For more Medscape Neurology news, join us on Facebook and Twitter
Medscape Medical News © 2017

Cite this: Visual Test May Flag Risk for Parkinson's Dementia - Medscape - Jun 20, 2017.