Previous adverse experiences such as abuse, violence, or neglect – either as a child or in adulthood – are associated with a significantly increased risk for bilateral oophorectomy before menopause, new research shows.
Investigators at the Mayo Clinic in Rochester, Minnesota, found that 53.1% of women who underwent oophorectomy had experienced previous trauma compared to 40.6% of those who did not undergo oophorectomy.
"These events may significantly impact the sexual and reproductive life of the victims and may lead to symptoms and conditions in the premenopausal years," Walter Rocca, MD, a neurologist and epidemiologist and codirector of the Rochester Epidemiology Project, told Medscape Medical News.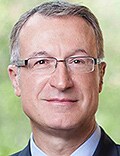 Psychiatrists and other physicians should be more aware of the psychological and emotional components of gynecologic symptoms, especially symptoms that do not correspond to any recognizable pathology, said Dr Rocca.
The study was published online June 7 in BMJ Open.
Unnecessary Surgery?
Previous research by Dr Rocca and others has shown that undergoing bilateral oophorectomy before menopause may have long-term negative health effects, including an increased risk for dementia.
In their article, the investigators note that this study was prompted by two observations. First, while reviewing medical records for a cohort study that examined bilateral oophorectomy and the risk of developing multimorbidity, the investigators noted that a majority of women presented with gynecologic symptoms that did not correspond to a major identifiable pathology and that they requested a hysterectomy.
Second, they noted that as part of a psychiatric evaluation, some of these women reported a history of either adverse childhood experiences or abuse during adult life.
The researchers report that "these women also expressed the belief that their sexual and reproductive life had been a source of continuous distress. However, for many women, this pertinent history was not discussed during the evaluation for the gynecological symptoms that led to the hysterectomy and oophorectomy."
The investigators set out to determine whether adverse experiences of abuse, violence, or neglect during childhood or abuse in adulthood increased the likelihood of undergoing bilateral oophorectomy in conjunction with hysterectomy before menopause.
The case-control study included 128 women from the Mayo Clinic Cohort Study of Oophorectomy and Aging-2 (MOA-2) who had undergone oophorectomy between January 1, 1988, and December 31, 2007, before age 50 years and before entering menopause. The study also included 128 age-matched control patients.
Women who underwent bilateral oophorectomy for ovarian cancer or for another estrogen-sensitive malignancy or because they had a high genetic risk for ovarian cancer were excluded from the study.
Researchers divided the participants into those with a benign ovarian condition such as a cyst, endometriosis, or benign tumor and those without a benign indication.
They used the Rochester Epidemiology Project (REP) records linkage system, which allowed them to access medical records with direct documentation of events that took place 40 or more years before the time of the oophorectomy. Study participants had to have medical records dating back to at least age 15 years.
Strongest Link to Child Abuse
Investigators gathered data on reports of adverse experiences such as abuse, violence, and neglect between birth and age 19 years. Such experiences were classified as childhood experiences and included factors in the previously validated 10-item Adverse Childhood Experiences (ACE) questionnaire.
They also collected information on verbal, emotional, physical, or sexual abuse that occurred between age 19 years and the index date.
The researchers found that women who underwent bilateral oophorectomy were more likely to have experienced suicidal ideation or suicide attempts (18.0%) compared to control patients (7.8%); P = .02)
In an analysis comparing childhood events in the surgery vs nonsurgery groups, 8 of the 10 ACE items had an odds ratio (OR) greater than 1.0. The OR reached statistical significance for verbal or emotional abuse, physical abuse, and substance abuse in the household.
Childhood physical abuse had the strongest association, with an OR of 5.75 (95% confidence interval [CI], 1.99 - 16.63; P = .001).
The association was also statistically significant for any abuse in childhood. The OR for an ACE score of 1 or greater was 3.23 (95% CI, 1.73 - 6.02; P < 0.001).
In analyses for cumulative experiences, defined as those occurring any time between birth and the index date, only physical abuse reached statistical significance.
When researchers stratified the cohort by age, 5 of the 10 ACE score items had an OR that was greater in women younger than 40 years; the OR for physical abuse reached statistical significance in this age category. However, these differences did not reach statistical significance in the comparison across age strata.
Causal Link?
In analyses of abuse experienced in adulthood, the OR reached statistical significance for women younger than 40 years for physical abuse (OR, 4.33; 95% CI, 1.23 - 15.21; P = .02); the difference across age strata was statistically significant.
As in analyses for cumulative experiences, the OR reached statistical significance for women younger than 40 years for physical abuse and for any abuse. The difference across age strata was significant for physical abuse.
The association with previous adverse experiences was stronger in the 49.2% of women who did not undergo oophorectomy for a specified ovarian indication. Some of these patients also had no recognised uterine condition. The only indication for the surgery in these women was idiopathic chronic pelvic pain, abnormal uterine bleeding, or both.
The ORs did not change noticeably in analyses exploring possible confounders, including smoking status and years of education.
"If the results are not due to chance or confounding and are not mediated through the several psychosocial or medical variables that we explored, they may suggest a causal link between the adverse childhood or adult experiences and gynecological symptoms prompting a bilateral oophorectomy," the authors write.
"The underlying mechanism could be partly biological and partly emotional or psychodynamic," they add.
One possible biological mechanism is that adverse experiences in early life may cause epigenetic modifications, increasing the response of the hypothalamic-pituitary-adrenal and hypothalamic-pituitary-ovarian axes to stress. Related changes may result in increased production of progesterone, a hormone linked to symptomatic uterine fibroids.
"In women, uterine fibroids may cause chronic pelvic pain and excessive bleeding that may prompt the women to seek gynecological care," the authors note.
Psychodynamic mechanisms may lead women to view their gynecologic symptoms as particularly bothersome. These women may not understand that some of their symptoms may be related to experiences in childhood, adolescence, or during the reproductive years, said Dr Rocca.
"This lack of awareness and the inability of some care providers to offer a solution to the problem or advice for psychological treatment may lead women to take more dramatic treatment decisions, such as asking for the removal of the reproductive organs as a 'definitive solution.' "
Cascade of Harmful Consequences
The surgery will not resolve the psychological and emotional problems but may cause "a cascade of harmful physical and mental consequences," said Dr Rocco.
Removing the ovaries before natural menopause results in an abrupt and complete deficiency of estrogen and other hormones produced by the ovary.
"These ovarian hormones have been shown to modify the speed of aging of the body, so a premature lack of hormones will cause accelerated aging of all tissues and organs of the body," said Dr Rocca
"As a result, women will start experiencing symptoms of cardiovascular and metabolic diseases such as hyperlipidemia, cardiac arrhythmias, coronary artery disease leading to myocardial infarction, and of asthma, chronic obstructive pulmonary disease, arthritis, osteoporosis, and other conditions."
Removal of the ovaries has also been linked to depression, anxiety, Parkinson's disease, stroke, and cognitive decline and dementia, he said.
Physicians may be unaware of the possible psychological origin of the symptoms experienced by patients and of the need for psychological or psychiatric treatment, said Dr Rocca.
Even a superficial psychiatric evaluation may completely miss the problem, he said.
"If asked directly and abruptly about physical or sexual abuse, women may at first deny it. It may take a number of treatment sessions before the past history of adverse events can be retrieved from memory and discussed."
It is likely that the study underestimated the frequency of adverse experiences, say the authors. A 2004 meta-analysis that summarized evidence about the reliability of adult reporting of childhood abuse and neglect found that both women and men tend to underreport adverse childhood events, especially if their life experiences at the time of the study were positive.
Important Clinical Issue
Commenting on the findings for Medscape Medical News, Idan Shalev, PhD, assistant professor of biobehavioral health, Pennsylvania State University, in State College, described the study as intriguing and said that it "raises important questions about the impact of trauma exposure on reproductive health."
Research has shown that childhood abuse can increase the risk for a range of poor health outcomes, including reproductive health problems such as sexually transmitted diseases.
"This study suggests that early trauma can also influence decisions about undergoing bilateral oophorectomy in the absence of a major clinical indication. That these associations held despite controlling for known confounding factors is surprising and calls for further investigation of the underlying mechanisms," said Dr Shalev, whose research interests include the effects of childhood stress on mental health.
She stressed that cross-sectional associations limit strong causal inferences.
"Nevertheless, this study highlights the need for clinicians and patients to consider trauma exposure in routine clinical assessments, including reproductive and mental health evaluations, and for taking more informed and conscientious decisions about their health."
The study used the resources of the Rochester Epidemiology Project, which is supported by the National Institute on Aging, the National Institutes of Health. It also received support from the Mayo Clinic Research Committee. The authors have disclosed no relevant financial relationships.
BMJ Open. Published online June 7, 2017. Full text
Medscape Medical News © 2017

Cite this: History of Trauma Ups Early Oophorectomy Risk - Medscape - Jun 13, 2017.