SAN DIEGO — The sodium–glucose cotransporter 2 (SGLT2) inhibitor canagliflozin (Invokana, Janssen Pharmaceuticals) reduces cardiovascular events by 14% and cuts the rate of renal decline by 40% but also doubles the risk for lower-limb amputation, new cardiovascular-outcomes trial data indicate.
Combined results from the Canagliflozin Cardiovascular Assessment Study (CANVAS) and the CANVAS renal-end-points trial (CANVAS-R) were presented here at the American Diabetes Association (ADA) 2017 Scientific Sessions today and were simultaneously published in the New England Journal of Medicine.
These data represent the second time cardiovascular benefit has been demonstrated in a US Food and Drug Administration–mandated cardiovascular outcomes trial for an SGLT2 inhibitor, with the first being the landmark Empagliflozin Cardiovascular Outcome Event Trial in Type 2 Diabetes Mellitus Patients (EMPA-REG OUTCOME), which demonstrated a major reduction in both all-cause and cardiovascular death among high-risk patients taking empagliflozin (Jardiance, Boehringer Ingelheim/Lilly) in September 2015.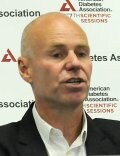 Now, the CANVAS data suggest that cardiovascular and renal benefits are a class effect, lead investigator Bruce Neal, MB, ChB, PhD, professor of medicine, University of New South Wales Sydney, and senior director, the George Institute for Global Health, Sydney, Australia, told Medscape Medical News.
"Here's a second drug with clear protection. Things bounce around in terms of the individual outcomes, as you'd expect with relatively small numbers, but I think it will be viewed — and should be viewed — as a big piece of new evidence that basically says this is a great class of drugs for people with diabetes."
However, the CANVAS data also revealed a significant doubling in the risk for amputations, primarily of the toe or metatarsal (6.3 vs 3.4 cases per 1000 patient-years; hazard ratio, 1.97). That risk, already identified, led to a boxed warning for canagliflozin from the US Food and Drug Administration, and a warning on the labels of all SGLT2 inhibitors by the European Medicines Agency.
In addition, cardiovascular death was not significantly reduced in CANVAS, as it was in both EMPA-REG and the Liraglutide Effect and Action in Diabetes: Evaluation of Cardiovascular Outcome Results—A Long Term Evaluation (LEADER) trial of the glucagonlike peptide-1 (GLP-1) agonist liraglutide (Victoza, Novo Nordisk)
"Prescribers and patients will need to balance the positive and negative events from the CANVAS trial in clinical decision-making. Certainly it is a more complicated calculus than with the results of the EMPA-REG trial," LEADER principal investigator John Buse, MD, of the University of North Carolina, Chapel Hill, told Medscape Medical News.
Cardiovascular Protection, but at a Cost?
The so-called "CANVAS program" combined data from two trials, CANVAS and CANVAS-R, involving a total 10,142 patients with type 2 diabetes and high cardiovascular risk. The CANVAS patients were randomized 1:1:1 to canagliflozin 300 mg or 100 mg or placebo, and the CANVAS-R patients to 100 mg (with option to increase to 300 mg after week 13) or placebo. Mean follow-up was 188 weeks (median, 126.1 weeks).
Unlike EMPA-REG and LEADER, in which all subjects had established cardiovascular disease, in CANVAS two-thirds did and the rest did not.
CANVAS Program Primary and Secondary Outcomes
| Outcome | Canagliflozina (n=5795) | Placeboa (n=4347) | Hazard ratio | 95% CI | P |
| --- | --- | --- | --- | --- | --- |
| Primary outcome (CV death, nonfatal MI, or nonfatal stroke | 26.9 | 31.5 | 0.86 | 0.75–0.97 | 0.02 for superiorityb |
| All-cause death | 17.3 | 19.5 | 0.87 | 0.74–1.01 | |
| CV death | 11.6 | 12.8 | 0.87 | 0.72–1.06 | |
| Hospitalization for heart failure | 5.5 | 8.7 | 0.67 | 0.52–0.87 | |
| Albuminuria progression | 89.4 | 128.7 | 0.73 | 0.67–0.79 | |
| Renal composite (40% eGFR reduction, renal replacement therapy, or death) | 5.5 | 9.0 | 0.60 | 0.47–0.77 | |
| Amputationsc | 6.3 | 3.4 | 1.97 | 1.41–2.75 | Not tested |
a. Number of participants per 1000 patient-year
b. P < .001 for noninferiority
c. Primarily at the toe or metatarsal level
Dr Neal presented an analysis indicating that use of canagliflozin reduces the risk of major cardiovascular adverse events (MACE) per 1000 patients over 5 years by 23, risk of hospitalization for heart failure by 17 per 1000, and renal events by 16.
At the same time, amputations will occur in 15 more patients per 1000 over 5 years.
"It's fair to say we're clearly preventing more major cardiovascular events than we're going to be causing amputations. I think the balance of benefits vs risks is going to fall pretty heavily in favor of SGLT2 inhibition, even with an amputation risk," Dr Neal told Medscape Medical News.
Whether the amputation risk is a class effect is still an open question. Amputation data weren't reported in EMPA-REG, although a post hoc analysis has not detected a signal with empagliflozin compared with placebo, according to the study's lead investigator Silvio Inzucchi, MD, of Yale University, New Haven, Connecticut.
But Dr Neal pointed out that it's a relatively infrequent complication and "certainly something under intense scrutiny." He also said that "there might be challenges collecting the data retrospectively" from EMPA-REG.
In February 2017, the European Medicines Association said in a statement: "An increased [amputation] risk has not been seen in studies with other medicines in the same class, dapagliflozin and empagliflozin. However, data available to date are limited and the risk may also apply to these other medicines. Further data are expected from ongoing studies with canagliflozin, dapagliflozin, and empagliflozin."
Further discussion of the CANVAS results will appear in a future report on Medscape.
Dr Neal reports grants from Janssen, during the conduct of the study; other from Abbott, other from Janssen, other from Novartis, other from Pfizer, grants and other from Roche, grants and other from Servier, grants from Merck Schering Plough, and grants from National Health and Medical Research Council, outside the submitted work . Disclosures for the coauthors are listed on the journal website.
For more diabetes and endocrinology news, follow us on Twitter and on Facebook.
New Engl J Med. Published online June 12, 2017. Article
Medscape Medical News © 2017

Cite this: CANVAS: Canagliflozin Reduces CV Events, but at Cost of Amputations - Medscape - Jun 12, 2017.