SAN DIEGO — First data on use of a proprotein convertase subtilisin kexin 9 (PCSK9) inhibitor specifically in patients with diabetes failed to excite here at the American Diabetes Association (ADA) 2017 Scientific Sessions .
Alirocumab (Praluent, Sanofi/Regeneron Pharmaceuticals) met its primary efficacy end points of reducing LDL cholesterol in the ODYSSEY DM-Insulin study and reducing non-HDL cholesterol in the ODYSSEY DM-Dyslipidemia study, both out to 24 weeks. The therapy was also safe, as assessed at 32 weeks.
But "I think the data to some extent are underwhelming," session chair Robert H Eckel, MD, University of Colorado, Anschutz Medical Campus, Aurora, told Medscape Medical News. "The results that were presented were kind of what was expected and the [short-term] safety issue was fulfilled."
Although long-term efficacy and safety is unclear, "it's presumed that efficacy would continue," he noted. "I think an outcome trial now in patients with diabetes, meeting the criteria of entrance here, would be important."
A cardiologist who blogs for theheart.org on Medscape, John Mandrola, MD, of Baptist Medical Associates, Louisville, Kentucky, agrees. The ODYSSEY results "simply show something we already know: that PCSK9 inhibitors improve lipid profiles."
"What would be better is to show a reduction of outcomes. But it took many thousands of patients in the Further Cardiovascular Outcomes Research With PCSK9 Inhibition in Subjects With Elevated Risk (FOURIER) trial to show a small decrease in nonfatal events," Dr Mandrola pointed out.
FOURIER was a large outcomes trial conducted with a different PCSK9 inhibitor, evolocumab (Repatha, Amgen) in more than 27,000 participants with atherosclerotic disease already receiving statins, which was reported at the ACC meeting to great fanfare earlier this year.
But the absolute risk reduction was modest, at 1.5%, and the authors estimated that 74 patients would need to take evolocumab to prevent a cardiovascular event. Furthermore, evolocumab did not reduce cardiovascular death or death from any cause.
And most important, the cost of this class of drugs is currently approaching $15,000 a year and "we can't afford PCSK9 inhibitors at their current price," said Dr Mandrola at the time the FOURIER results were reported.
ODYSSEY DM-Insulin: Alirocumab Did Not Affect HbA1c
Results from 441 patients with type 2 diabetes who were part of the ODYSSEY DM-Insulin trial were presented by Lawrence Leiter MD, from St Michael's Hospital, Toronto, Ontario. The trial also included 76 participants with type 1 diabetes, but data for these patients were not presented.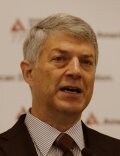 At baseline, all the type 2 diabetes patients were on insulin and had LDL cholesterol ≥70 mg/dL on maximum tolerated statin therapy (some were unable to tolerate statins at all), and they also had established cardiovascular (CV) disease or at least one additional CV risk factor.
They were randomized 2:1 to 24 weeks of alirocumab 75 mg subcutaneously every 2 weeks or placebo. Alirocumab-treated patients who still had LDL cholesterol ≥70 mg/dL at week 8 were titrated up to double the dose at week 12. Most patients (80%) continued on their starting alirocumab dose.
At 24 weeks, compared with patients in the placebo group, those who received alirocumab had a greater percentage decrease in LDL cholesterol — the primary efficacy outcome — by 48.2%, vs a 0.8% increase, for a mean difference between the two treatment arms of 49% (P < .0001).
Patients who received alirocumab also had an improved overall lipid profile, including significantly reduced non-HDL cholesterol, apolipoprotein B (apoB), and triglycerides.
Treatment emergent adverse events were similar in both groups and included nasopharyngitis, myalgia, arthralgia, and cough. There was no new safety signal with the concomitant use of alirocumab and insulin.
And "Importantly, alirocumab did not affect HbA1c,"Dr Leiter said.
ODYSSEY DM-Dyslipidemia
Meanwhile Robert Henry, MD, from the University of California, San Diego, presented results from the ODYSSEY DM-Dyslipidemia study in patients with type 2 diabetes and mixed dyslipidemia.
That trial randomized 413 patients with type 2 diabetes and mixed dyslipidemia at high cardiovascular risk who did not have not adequately controlled lipids with maximally tolerated statins.
Patients were randomized in a 2:1 ratio to receive alirocumab or usual care (which included statin, ezetimibe, fenofibrate, or other lipid-lowering therapy).
The primary end point was percentage change in non-HDL cholesterol [total cholesterol minus HDL cholesterol] from baseline to week 24.
At 24 weeks, non-HDL cholesterol was lowered more among patients in the alirocumab group than those in the usual-care group (37.3% lower vs 4.7% lower, for a mean difference of 32.5%; P < .0001).
Similarly, LDL cholesterol was lowered in the alirocumab group by 43.3%, vs a 0.3% increase in the usual-care group (P < .0001).
The most frequent treatment emergent adverse events were urinary-tract infection, diarrhea, and nasopharyngitis.
As in the other trial, fasting plasma glucose and HbA1c levels remained stable in both treatment groups.
"These studies demonstrate no new safety signal" and "superiority in reducing non-HDL cholesterol vs usual care, as well as an improvement in levels of other lipids vs usual care," Dr Henry said.
Third-Party Payer Makes Final Decision
Expanding upon his thoughts, Dr Eckel said whether this class of PCSK9 inhibitor drugs — alirocumab or its "kissing cousin" evolocumab — are going to be effective in reducing cardiovascular risk over time remains to be seen.
And "the idea of additional modification of lipoprotein in diabetes is an unanswered question," he added.
Moreover, "I'm always concerned when you're modifying multiple lipoproteins at the same time....Is it really the additional LDL lowering, or is it in fact these other particles that are remnants and/or VLDL-cholesterol-carrying particles that are contributing to the benefit?"
PCSK9 inhibitors are currently approved for patients who have familial hypercholesterolemia (LDL cholesterol consistently above 190 mg/dL) or for those who have atherosclerotic cardiovascular disease (such as a previous heart attack or stroke) and LDL cholesterol that is insufficiently lowered by current therapy, he noted. The patient could be on a maximum statin dose or no statin at all if they are intolerant.
"But the final decision is made by the third-party payer, because these drugs cost [around] $14,000 to $15,000 dollars a year," he reiterated.
Dr Leiter is on the advisory panel and is a speaker for AstraZeneca, Boehringer Ingelheim, Eli Lilly, Janssen, Merck, Novo Nordisk, Sanofi, Servier, and Takeda. He receives research support and is a speaker for AstraZeneca, Boehringer Ingelheim, Eli Lilly, GlaxoSmithKline, Janssen, Merck, Novo Nordisk, Pfizer, Sanofi, and Servier. He is on the speaker's bureau for AstraZeneca, Boehringer Ingelheim, Eli Lilly, Janssen, Merck, Novo Nordisk, Sanofi, and Servier. Dr Henry is on the advisory panel and is a speaker for AstraZeneca, Boehringer Ingelheim, Elcelyx, Intarcia, Janssen, and Johnson & Johnson. He is a consultant and speaker for Alere, AstraZeneca, Intarcia, Ionis, Janssen, Johnson & Johnson, REMD Biotherapeutics, and Sanofi. He receives research support from and is a speaker for Eli Lilly, Hitachi, Lexicon, Novo Nordisk, ViaCyte, and AstraReal.
For more diabetes and endocrinology news, follow us on Twitter and on Facebook.
American Diabetes Association 2017 Scientific Sessions; June 11, 2016.
Medscape Medical News © 2017

Cite this: Alirocumab 'Underwhelming' in ODYSSEY Trials in Diabetes - Medscape - Jun 11, 2017.