In this continuing series on leading-edge developments in the field of infectious diseases, Dr John Bartlett comments on the wide array of infectious disease threats to human health that appeared in 2016 and have continued to be problematic in 2017. This article reviews what we know to date about the human microbiome, its role in preventing diseases, and how knowledge about the microbiome is leading to cures for many severe chronic conditions.
The Human Microbiome
The human microbiome consists of organisms that usually live in a commensal relationship within the human body. It is estimated that these microbes outnumber human cells by about 10 to one. The best studied microbiomes are those of the skin, respiratory tract, gastrointestinal tract, and the female genital tract.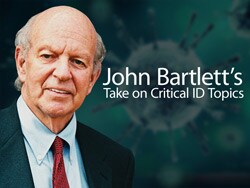 The National Institutes of Health (NIH) launched "The Human Genome Study" a decade ago and have remained an important resource for this work.[1,2] The data show that multiple organ systems are colonized by unique combinations of microbes that are considered "ecological niches." Most of the microbial components of the human microbiome cannot be cultivated using standard aerobic and anaerobic microbiologic methods and are defined by nucleic acid sequencing.[2]
The intestinal flora play a potentially important role in immune competence and protection against invasion by selected pathogens.[3,4] In spite of a decade of research, most studies have been descriptive with limited clinical application. A notable exception is the use of fecal transplantation as the preferred treatment for patients with multiple relapses of Clostridium difficile infection (CDI).
Fecal transplant from healthy donors appears to be the best method to achieve definitive cure of this complication.[5,6,7] Byproducts of this work include the demonstration of the benefit of fecal transplant to eradicate antibiotic-resistant pathogens from an intestinal reservoir[8] and a possible role in addressing conditions that are associated with the intestinal flora, such as obesity, diabetes, and the metabolic syndrome.[9]
Fecal Microbiota Transplantation
Fecal microbiota transplantation (FMT) has been used since 1980 for the treatment of antibiotic-associated gastrointestinal lesions, initially for Staphylococcus aureus enterocolitis, followed by "clindamycin colitis," and, more recently, for patients with multiple relapses of CDI, a complication of the use of fluoroquinolones, second- and third-generation cephalosporins, and clindamycin.
The rationale for the effectiveness of FMT is supported by pathophysiologic principles, and the general endorsement of clinicians has been achieved following multiple reports that showed good outcomes.[5,6,7,10,11,12] The assumption is that the normal colonic flora control C difficile, so the inducing antibiotic needs to be discontinued, and the antibiotic-altered colonic flora need to be replaced.
The initial reports of FMT success were anecdotal, but the results were consistently impressive. In the early years, FMT was performed using stool from patient-selected donors, usually relatives. More recently, this procedure has been standardized and is now widely accepted as the standard care for patients with multiple relapses of CDI.
The future plans for fecal transplantation have been summarized by Cohen and Maharshak.[13] Two categories of conditions that might benefit from FMT are considered. The first includes conditions that are supported by research. Publications that support the use of FMT include many reports with low-quality evidence (eg, case reports, pilot trials, and observational or uncontrolled trials). The second category comprises conditions that are being studied in controlled clinical trials (planned or ongoing, registered at www.clinicaltrials.gov) to determine the level of supporting evidence for FMT (Table).
Table. Conditions Studied for Benefit of Fecal Transplantation[13]
Case Reports/Series
Pilot Studies,
Observational, Uncontrolled Trials
Single Case Reports Only
Double-Blind,
Placebo-Controlled Trials
Ongoing Controlled Clinical Trials
Irritable bowel syndrome
Hepatic encephalopathy
Metabolic syndrome*
Nonalcoholic steatohepatitis
Pouchitis
Sepsis
HIV infection
Chronic hepatitis B virus infection
Myoclonus dystonia
Primary sclerosing cholangitis
Eradication of drug-resistant bacteria
Immune thrombocytopenia
Irritable bowel syndrome
Multiple sclerosis
Pancreatitis
Autism
Eradication of multidrug-resistant colonic bacteria
Graft-host disease
Metabolic syndrome
Diabetes
Obesity
Obesity
Diabetes
* Blinded, placebo-controlled trial in 18 patients
Recent data also support the role of FMT in patients with refractory flares of ulcerative colitis, and there are multiple other potential uses that are under investigation.[14,15,16]
The Experience of OpenBiome
OpenBiome is a nonprofit organization based in Somerville, Massachusetts. They provide stool from highly selected donors; frozen specimens are shipped to 50 states and seven countries at the current price of $485/specimen. Donors are carefully screened to avoid those with infectious and microbiome-associated diseases such as diabetes, obesity, or the metabolic syndrome.
More recently, the specimens have also been screened for highly resistant bacteria including vancomycin-resistant Enterococcus, methicillin-resistant Staphylococcus aureus, extended-spectrum beta lactamase gram-negative bacilli, and carbapenemase-producing gram-negative bacilli. Only 2.8%[17] of donor applicants are chosen based on this rigorous screening process and their ability to meet the obligation of delivering three specimens weekly.
OpenBiome also reported their experience with providing donor stool for transplantation over a 3-year period. These results, from 2050 patients with multiple relapsing CDI and CDI unresponsive to standard therapy at 482 hospitals and clinics, showed prevention of recurrent CDI ("cure rate") of 87.0% for FMT delivered via the lower gastrointestinal tract.[18]
The obvious advantage of this service is the rigorous screening of donors and the use of a standardized inoculum that can be delivered from above (through a nasoenteric tube) or below (through colonoscopy/enema) or by mouth using gelatin capsules. Moreover, this service addresses a high medical priority based on cost and clinical consequences of CDI.[5,10]
Future plans at OpenBiome include two major projects (Z. Kassam, personal communication, March 29, 2017). First is a potential collaboration with the American Gastroenterological Association[19] with NIH funding to assess the long-term results of FMT with specific attention to important clinical outcomes that might be associated with the colonic microbiome including diabetes, obesity, and the metabolic syndrome. These outcomes may pose a benefit or risk to the patient, although the rigid screening program limits probability of donor-related harm.
The second major new activity at OpenBiome is their partnership with Finch Therapeutics to develop a US Food and Drug Administration-approved, standardized microbial inoculum to be tested in a controlled, multicenter clinical trial. Both projects should substantially advance the field by defining and standardizing the product.
Medscape Infectious Diseases © 2017 WebMD, LLC

Any views expressed above are the author's own and do not necessarily reflect the views of WebMD or Medscape.
Cite this: John Bartlett's Take on Critical Infectious Disease Topics: Part 3 - Medscape - Jun 14, 2017.