Doctors Are Interested in Getting Promoted
A sizeable number of employed physicians want to get ahead within their organizations, contrary to a common perception that employed physicians just want to treat patients and not get involved with anything else.
In Medscape's 2017 Medscape Physician Compensation Report,[1] almost one half of the more than 19,000 respondents (43%) said they were seeking a promotion, and women were slightly more interested in promotion than men (45% vs 42%).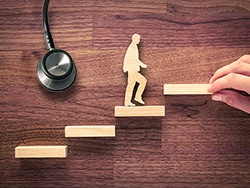 There are a variety of incentives for doctors to want to take on leadership positions. The incentives to get involved in administration include making sure management meets physicians' concerns, looking for a higher income, and simply enjoying the work.
Physician-administrators are able to work "on a larger stage" than their own clinical work, says Peter Angood, MD, president and CEO of the American Association for Physician Leadership in Tampa, Florida (formerly the American College of Physician Executives). For example, he says they make their mark by leading an initiative to improve infection rates or integrating a group practice into the system.
Some physicians probably see promotion as a way to make more money. In Medscape's 2016 Employed Doctors Report,[2] 34% of respondents indicated they were unhappy with their income potential.
However, going into administration doesn't necessarily mean making more money. According to a 2014 New York Times survey,[3] hospital administrators, a level where many doctors end up, earned $237,000. That figure was below the $306,000 average for surgeons' income, though it was well above the $165,300 average for family physicians, the Times said.
Moreover, doctors typically enter administrative posts that don't pay extra. "Making extra money only comes when you become a full-time administrator," says Brooke Buckley, MD, chief of the division of general surgery at 380-bed Anne Arundel Medical Center in Annapolis, Maryland.
A more common incentive for administrative work seems to be making sure that the organization adopts the policies that doctors want, which is important work because many doctors aren't happy with some policies. In Medscape's Employed Doctors Report, 61% indicated they disagreed with administration either occasionally (47%) or frequently (14%).
"It behooves us to participate in the system," Dr Buckley says. "Administrative decisions affect your clinical practice, and these decisions often involve input from committees where doctors serve."
Medscape Business of Medicine © 2017 WebMD, LLC

Any views expressed above are the author's own and do not necessarily reflect the views of WebMD or Medscape.
Cite this: Leigh Page. How to Kick Your Medical Career Up a Notch - Medscape - Oct 25, 2017.