The Growing Anti-MOC Movement
Although many things make doctors angry, only one issue has made them angry enough to join together in a unified effort to demand relief from their medical societies and representatives in state legislatures: mandatory maintenance of certification (MOC), particularly for hospital credentialing and insurance network membership.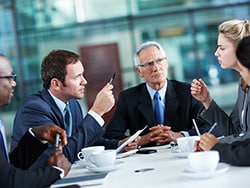 Pressing state lawmakers to enact anti-MOC legislation has become a cause célèbre for disparate grassroots doctor organizations that have sprung up from Florida to California. Among them are the National Board of Physicians and Surgeons (NBPAS), American Association of Physicians and Surgeons (AAPS), Practicing Physicians of America (PPA), and the Association of Independent Doctors (AID).
"We have amassed almost 50,000 physicians who are communicating about this on Facebook," claims Westby Fisher, MD, director of cardiac electrophysiology at NorthShore University Health System in Evanston, Illinois. Dr Fisher is a cofounder and treasurer of PPA. Formed this year, PPA is a coalition of grassroots physician groups.
These groups are joined by a growing cadre of physician bloggers, some claiming to have tens of thousands of readers. Dr Fisher, who is author of the blog Dr Wes, in which he posts regular updates on the progress of anti-MOC legislation, says he has almost 17,000 followers on Twitter.
Individual doctors are also emailing, writing, and calling their state medical societies and legislators to demand relief from MOC.
Together, these forces have coalesced into a movement that has been influential in spurring medical societies to propose legislation to ban mandatory MOC requirements by hospitals and insurers in at least 17 states this year.
"What these groups have in common is that their members are exhausted by the liberties taken by unaccountable organizations, at the expense of patients and physicians," says Marni Jamison-Carey, executive director of AID.[1]
Formidable MOC Proponents
Seeking to block anti-MOC legislation, say movement leaders, are the American Board of Medical Specialties (ABMS), which sets the standards for physician certification in partnership with 34 member boards, and some hospitals and health insurers operating in a given state.
These pro-MOC forces have mounted lobbying campaigns to convince state legislators that hospitals requiring MOC for physician credentialing and insurers requiring MOC for physician reimbursement and network participation should be permitted to continue in the interest of quality of care and patient safety, say physician-legislators who have sponsored anti-MOC legislation.
"It's a David vs Goliath battle," Dr Fisher says.
As to why MOC should remain mandatory, Susan Morris, ABMS director of communications, sent the board's rationale to Medscape in an email:
Patients rely on certification by an ABMS Member Board as an indicator that their physician has the knowledge, skills, and professionalism to practice in a specialty. The ABMS Boards concluded decades ago, based on substantial evidence, that ongoing assessment is necessary to assure that their knowledge and clinical judgment are up to date in their specialty.

Legislation being introduced in states across the country seeks to remove requirements that physicians demonstrate that they are up to date in their specialty. Some of these bills would prevent hospitals or health plans from requiring physicians to hold a current certificate. Others would regulate private, voluntary certification programs to lower competency standards for medical specialists.

ABMS believes that this legislation puts patients at risk. Patients deserve to know that their physicians are up to date. Faced with a physician who was initially certified after residency but who has not kept the certificate current, patients will be in the dark. They will not know whether that physician chose not to participate, or failed to earn recertification, or was denied the certificate for unprofessional behavior.
But doctors in the anti-MOC movement charge that whereas initial board certification is a legitimate requirement, MOC has evolved into a money-making scheme that forces them to pay recertification testing fees that are too costly and are required too often.
"ABMS has been desperate to maintain the monopoly of their testing cartel using strongman tactics against us," contends Dr Fisher. "The fight against the onerous and expensive ABMS continuous certification requirement that was born of an insatiable thirst for physician testing and educational fees in the name of healthcare 'quality' was the catalyst that finally sparked the war between these opposing forces."
"Every time you reach into your wallet to get $2800 to pay for recertification every 10 years, you start thinking, 'Why am I doing this?'" Dr Fisher says. "I have recertified three times. Each time, it has gotten more laborious, with more time away from my patients and family. Who are these people to tell me how to practice medicine? I've been doing this for 30 years. They have no idea of what we do in our individual practice settings."
ABMS has tried to meet the doctors halfway. "Physicians have raised several legitimate concerns about the MOC process and the ABMS Member Boards have adopted several changes that lower the costs, increase the relevance of the process to practice, increase flexibility for meeting the standards, and make the whole process more convenient," the email from Morris explained.
Among the changes ABMS cites are remote proctoring or online assessment and other innovations that eliminate the expense and time cost of the exam; the use of resources to simulate the way physicians practice at the bedside; new testing approaches that are more customized to practice and more formative, to help doctors focus their learning; a focus on clinical judgment and decision-making rather than recall of medical facts; and more convenient access to practice-relevant learning and improvement activities.
However, none of these attempts at appeasement, or anything short of making MOC nonmandatory, is stopping doctors in the anti-MOC movement from seeking legislative relief. How successful have their efforts been? Let's take a look.
Medscape Business of Medicine © 2017 WebMD, LLC

Any views expressed above are the author's own and do not necessarily reflect the views of WebMD or Medscape.
Cite this: Neil Chesanow. The War Over MOC Heats Up - Medscape - Jun 21, 2017.