Many Depressed Doctors Avoid Professional Help
Physicians face unique circumstances during their careers that may lead to depression; these include bullying, hazing, sleep deprivation, overwork, and medical board investigations—plus the repeated near-daily exposure to suffering and death. However, doctors also experience depression for the same reasons the general public does, says Pamela Wible, MD, Ideal Medical Care, Eugene, Oregon.
Dr Wible has been running a physician suicide hotline since 2012 and has had the opportunity to help hundreds of depressed and suicidal doctors. She also interviewed 200 physicians who have experienced depression during their careers. She asked what treatment they pursued and found that 33% chose professional help, 27% pursued self-care, 14% engaged in self-destructive behaviors, 10% did nothing, 6% changed jobs, 5% self-prescribed medication, and 5% chose other activities.
"Most physicians tried multiple treatments. Sadly, the majority of doctors I spoke with did nothing for months to years until they finally decided to take action—sometimes self-harm. Professional help was not generally first-line therapy," said Dr Wible.
In a recent Medscape article on physicians and depression (Doctors and Depression: Suffering in Silence), Dr Wible described her findings. Her article sparked about 100 emotional responses from physicians, many of whom talked about their own struggles.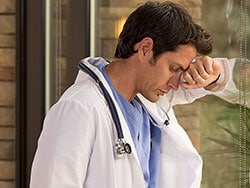 "Owing to the punitive nature of physician treatment programs, such as physician health programs (PHPs), and the prevalence of intrusive mental health questions on physician licensing, hospital privilege, and insurance credentialing applications, many doctors avoid seeking needed care," says Dr Wible.
Sadly, many doctors continue to suffer with untreated or poorly treated depression.
Medscape Family Medicine © 2017 WebMD, LLC

Any views expressed above are the author's own and do not necessarily reflect the views of WebMD or Medscape.
Cite this: Sandra Levy. Why Do Depressed Doctors Suffer in Silence? - Medscape - Jun 27, 2017.