BOSTON — A light-weight disposable skin patch detects obstructive sleep apnea across all severity levels with accuracy on par with that of polysomnography (PSG), a new study shows.
Results of the study using the SomnaPatch (Somnarus Inc) were presented by company CEO Maria Merchant, PhD, here at SLEEP 2017: 31st Annual Meeting of the Associated Professional Sleep Societies. The findings will be the basis for an application for approval from the US Food and Drug Administration.
In an interview with Medscape Medical News, Dr Merchant noted that current home sleep monitors are "cumbersome and have multiple wires that need to be connected." The SomnaPatch sleep monitor "utilizes the trends in miniaturization technologies and also wearable devices and is very comfortable for patients and easy to use," she explained.
The patch weighs less than 1 ounce and records nasal pressure, blood oxygen saturation, pulse rate, respiratory effort, sleep time, and body position.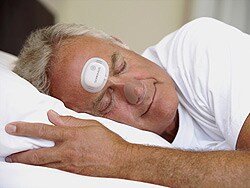 The study included 179 adults (mean age, 54 years; 55% male) previously tested with PSG to ensure even representation of apnea-hypopnea index (AHI) ranges. Simultaneous in-lab PSG and patch recordings were obtained. To compare the AHI of the diagnostic patch with that of PSG, all recordings were auto-scored with the Somnolyzer software (Respironics).
"Promising" Data
Dual overnight recordings from 174 patients were included in the final analysis. For the optimal threshold of AHI of 15 or greater, sensitivity, specificity, and accuracy of the patch were 0.86, 0.83, and 0.85, respectively, Dr Merchant reported. The rate of clinical agreement between the patch and PSG recordings was 87.4% (95% confidence interval, 81.4% to 91.9%).
Overall, the accuracy of the patch compared "very favorably" with that of PSG, Dr Merchant told Medscape Medical News. "We met all the guidelines for portable sleep monitors and exceeded some of them."
The diagnostic patch was also effective in detecting respiratory effort and distinguishing central apneic events from obstructive apneic events, Dr Merchant said.
In a "home usability" study, 38 of 39 users were successful in activating the device and collecting at least 4 hours of sleep data while relying only on instructions included with patch. Most users said the patch was easy to use, was comfortable, and did not disturb their sleep.
Approached for comment on the patch, Nitun Verma, MD, spokesperson for the American Academy of Sleep Medicine, noted that "Most people with apnea never get diagnosed and treated, so any validated way of helping reduce this gap is important."
Apnea is an important condition, and accurate diagnosis is critical, Dr Verma told Medscape Medical News. "Cautiously, the study is promising, but it'll be important to validate the patch with all kinds of patients."
The study was supported by the National Institutes of Health. Dr Merchant is an employee of Somnarus Inc. Dr Verma has disclosed no relevant financial relationships.
SLEEP 2017: 31st Annual Meeting of the Associated Professional Sleep Societies. Abstract 0448. Presented June 5, 2017.
For more Medscape Neurology news, join us on Facebook and Twitter
Medscape Medical News © 2017

Cite this: Disposable Skin Patch Detects Sleep Apnea at Home - Medscape - Jun 06, 2017.