A novel targeted drug that shows remarkable responses in every cancer type in which it has been tested has been hailed as the "first oral tumor-agnostic therapy."
The investigational drug, larotrectinib (under development by LOXO), is selective for tropomyosin receptor kinase (TRK) fusions, which are found across a range of different cancer types, including both rare and common cancers. The drug has shown unprecedented high response rates in all 17 tumor types in which it has been tested so far.
The new data were presented here at the American Society of Clinical Oncology (ASCO) 2017 Annual Meeting.
The overall response rate was 76%, which is "quite unusual for a targeted therapy," and complete responses were seen in 12% of patients, all of whom had advanced cancers, which is "nearly unheard of," commented discussant for the paper, Trever Bivona, MD, PhD, from the University of California, San Francisco. "These are very striking results," he commented, and several delegates in the overflowing room congratulated Dr Hyman on an "outstanding presentation" and the "spectacular results."
These data on larotrectinib are "every investigator's dream come true," commented Patricia LoRusso, DO, associate director of innovative medicine and professor of medicine at Yale Cancer Center, New Haven, Connecticut, speaking at an ASCO Highlights of the Day session.
"TRK fusions are rare but occur in many different cancer types. In fact, at this point it is hard to find a cancer type where TRK fusions have not been reported," said lead study author, David Hyman, MD, chief of early drug development at Memorial Sloan Kettering Cancer Center in New York City.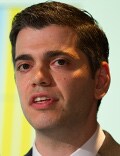 "We believe that the dramatic response of tumors with TRK fusions to larotrectinib supports widespread genetic testing in patients with advanced cancer to see if they have this abnormality," he said.
The new drug "brings us into a new era, where treatment is truly based on mutation, not location," commented ASCO expert Sumanta Kumar Pal, MD, from City of Hope's comprehensive cancer center near Los Angeles, California.
"When I was in training, which wasn't too long ago, it would have been a pipe dream to think that we could treat cancers independent of their site of origin," Dr Pal commented. Breast cancer was treated with breast cancer drugs, and so on. But with this new data, "we may now be poised to treat many cancers in a manner that is agnostic of their site of origin and is instead based on molecular criteria."
This has been the dream of precision medicine, but so far it hasn't really panned out, as some mutations show activity in certain cancer types but not others. An example is BRAF inhibitors, which work in BRAF-mutated melanoma and thyroid cancer, but not BRAF-mutated colorectal cancer.
This is not quite the first tumor agnostic therapy — that claim goes to the recent approval of pembrolizumab (Keytruda, Merck) for tumors with microsatellite instability, as reported by Medscape Medical News. This was the first approval for a genetic defect, not a tumor type, as noted by the US Food and Drug Administration (FDA). But pembrolizumab is an immunotherapy and is administered intravenously; the new drug is a targeted agent taken orally.
Together, these two new tumor agnostic biomarkers — the TRK fusion targeted by larotrectinib and the microsatellite instability that responds to pembrolizumab — are probably found in about 5% of all cancers, estimated Dr Hyman.
Thus, it is more important than ever to test patients with cancer to find the ones who harbor these genetic defects so that they can benefit from these therapies, he said.
Finding the Patients Who Benefit
Clinicians should be testing all patients with advanced cancer for these biomarkers, Dr Hyman told Medscape Medical News.
Information on testing for TRK fusions can be found on the TK testing.com website, he said.
TRK fusions can also be found by using next-generation sequencing panels, such as the FoundationOne (Foundation Medicine) and the Oncomine (ThermoFisher Scientific) tests, he said. Both of these are already commercially available, but they are also undergoing FDA review. When ordering these tests, it is important to request fusion detection so that the labs do the extra step of RNA sequencing.
TRK fusions are thought to occur in about 0.5% to 1% of many common cancers, including lung, colon, breast, and thyroid cancer, as well as melanoma. But they are also seen in more than 90% of certain rare cancers, including salivary gland cancer, a form of juvenile breast cancer, and infantile fibrosarcoma.
All cancer types with TRK fusion showed a similar response to larotrectinib, Dr Hyman said.
At the meeting, Dr Hyman presented results from 55 patients with TRK fusions enrolled in three ongoing phase 1 and phase 2 clinical trials. All patients (12 children and 43 adults) had locally advanced or metastatic cancer, including colon, lung, pancreatic, thyroid, salivary, and gastrointestinal cancers, as well as melanoma and sarcoma.
This is the dataset that the company plans to submit for approval, he noted. "If approved, larotrectinib could become the first therapy of any kind to be developed and approved simultaneously in adults and children, and the first targeted therapy to be indicated for a molecular definition of cancer that spans all traditionally defined types of tumors," said Dr Hyman.
He noted that among the first 50 patients who have been receiving the study long enough to undergo at least two scans, 38 (76%) patients had a response.
Of those, 3 patients with pediatric sarcomas previously not amenable to surgery went on to receive potentially curable surgery after larotrectinib shrank the tumors.
One of the patients who responded was a 2-year-old with infantile fibrosarcoma behind the knee, which would have led to amputation of the leg had the tumor not responded, Dr Hyman said. He also showed photographs of another response, in a 14-year-old girl with a huge secretory breast tumor, reaching down to her abdomen, which shrank to a barely visible lesion..
The median duration of treatment response has not yet been reached, as the majority of patients are still responding to treatment: 93% of responding patients and 75% of all patients remain on treatment or have undergone surgery with curative intent, he said.
To date, the longest duration of treatment response has been 25 months and the responses are ongoing.
Typically, targeted therapy in the past has run into problems in that patients eventually stop responding as they acquire resistance mutations. And this has happened with larotrectinib.
Six patients have become resistant to treatment, and all were found to have acquired a resistance mutation, TRKAG 595R. Two of these patients were treated with a follow-on compound (LOXO195), and both had objective responses, Dr Hyman noted.
No patient discontinued therapy because of side effects, and 5 (11%) patients required dose reductions. The most common side effects seen with the new drugs were fatigue (in 30% of patients), nausea (28%), and dizziness (28%); dizziness would be expected because the normal TRK protein has a role in controlling balance, Dr Hyman commented.
"Because larotrectinib was designed to target only TRK, it has been very well tolerated and does not cause many of the side effects associated with chemotherapy and multitargeted therapy," said Dr Hyman.
Where Will It Fit In?
"The real challenge moving ahead is for oncologists to determine where larotrectinib would sit in existing treatment algorithms," commented Dr Pal. "For rare cancers for which there is no established standard of care, such as salivary gland tumors, for instance, there may be a call to screen for relevant mutations straight away."
However, for more common cancer types, such as breast or prostate cancers, which already have established standards of care, "we will have to determine where larotrectinib sits regarding existing standards," and this will determine at which juncture molecular testing should be offered, he said.
"There are increasing calls to obtain molecular profiling in a wide variety of scenarios," he added. "It will be important to develop guidelines around obtaining molecular testing for these expanding indications."
The study was funded by LOXO Oncology. Dr Hyman reports a consulting or advisory role for Atara Biotherapeutics, Chugai Pharma, and CytomX Therapeutics and research funding from Astra Zeneca and Puma Biotechnology. Dr Pal reports honoraria from Astellas Pharma, Medivation, and Novartis; consulting for Astellas Pharma, Aveo, Bristol-Myers Squibb, Exelixis, Genentech, Myriad Pharmaceuticals, Novartis, and Pfizer; and research funding from Medivation.
American Society of Clinical Oncology (ASCO) 2017 Annual Meeting. Presented June 4, 2017. Abstract LBA2501 .
Follow Medscape Oncology on Twitter: @MedscapeOnc
Medscape Medical News © 2017

Cite this: 'Striking Results' in All Cancer Types: Larotrectinib - Medscape - Jun 04, 2017.