SAN DIEGO, California – A brief course in yoga significantly reduces depression severity, new research shows.
Results of a small, randomized controlled trial conducted by investigators at the University of California, San Francisco (UCSF) showed that for adults with mild to moderate depression, an 8-week course of hatha yoga resulted in statistically and clinically significant reductions in depression severity.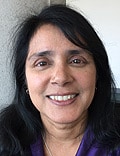 "We were heartened to see that in fact we were still able to detect a fairly significant effect size for the yoga practice itself," study investigator Sudha Prathikanti, MD, clinical professor at UCSF, told Medscape Medical News.
The study, which was presented here at the American Psychiatric Association (APA) 2017 Annual Meeting, was also recently published in the journal PLOS ONE.
Scientific Rigor
Yoga — which has become extremely popular in the United States — has often been posited a cure-all, especially for depression, but most studies have not rigorously determined that it does indeed have a positive effect.
Dr Prathikanti wanted to bring a new level of scientific rigor to the study of yoga as a treatment for depression. In surveys, Americans have said they use yoga to maintain wellness and to treat health conditions, with depression being among the leading conditions cited.
The percentage of Americans who said they had participated in yoga within the past 6 months roughly doubled during the past decade, from 7.5% to 15%, said Dr Prathikanti. Yoga's popularity may be due in part to the fact that it can be easily adapted for people of varying ages and functional abilities, she said.
In what was essentially a pilot study, the UCSF researchers did what they could to eliminate potential confounders and were pleased by what they saw, said Dr Prathikanti.
The study included 38 adults who met criteria for mild to moderate depression, as determined by structured psychiatric interview and by having scores of 14 to 28 on the Beck Depression Inventory-II (BDI). Of the participants, 68% were women. The mean age was 43 years, and the mean BDI score was 22.4.
Individuals who were undergoing psychotherapy, receiving antidepressant medication, engaging in herbal or nutraceutical mood therapies, or participating in mind-body practices, including yoga, were excluded. Also excluded were individuals with cognitive impairment; those who had been diagnosed with any Axis I disorder other than unipolar major depression; those who had been diagnosed with a substance use disorders within prior 3 months; those who were experiencing current suicidal ideation; and those who had attempted suicide in the past or who had symptoms of severe depression symptoms (BDI score > 28).
Twenty participants were randomly assigned to a group that practiced hatha yoga twice weekly for 8 weeks; each session lasted 90 minutes. Eighteen patients were randomly assigned to a group that received twice-weekly 90-minute attention control education sessions for a period of 8 weeks. The sessions focused on the history, evolution, and philosophy of yoga. This group served as the control group for the study. Certified yoga instructors delivered both interventions at UCSF's integrative care clinic.
In an intent-to-treat analysis, those who practiced yoga had a significantly greater 8-week decline in BDI scores compared to control participants (P = .034).
Yoga participants were more likely to achieve remission, defined as a final BDI score of ≤9 (P = .018). The effect size of yoga in reducing BDI was large (per Cohen's d = -0.96; 95% confidence interval, -1.81 to -0.12). The yoga group experienced an improvement equal to one standard deviation from the control group in terms of depression severity, Dr Prathikanti said.
In an analysis of secondary outcomes, there was no difference between the yoga group and the control group regarding self-efficacy and self-esteem, as measured by scores on the General Self-Efficacy Scale and the Rosenberg Self-Esteem Scale at baseline and at 8 weeks.
The UCSF study is one of the first to investigate the effects of yoga on depression in a general population in the United States, said Dr Prathikanti. In previous studies, many participants did not meet inclusion criteria because of having a mood disorder or severe depression.
In previous research, there were also problems with confounding factors, because in those studies, participants were allowed to continue usual care — such as therapy or the use of medications — and there was little documentation of the specific type of yoga employed.
It is difficult to conduct mind-body trials without introducing some type of bias, because of difficulty in blinding participants and providers, said Dr Prathikanti. In addition, yoga can have nonspecific effects on mood. Taking up yoga changes people's usual routines; it increases socialization, and participants can be given individual attention. These things "might be nonspecific factors that can produce positive effects but have nothing to do with the yoga itself," she said.
The UCSF researchers attempted to minimize potential pitfalls with its trial design. Getting a good control group was the most difficult. They found that psychoeducation would likely provide the least amount of bias. It has a small positive effect and no negative effect, said Dr Prathikanti. The outcomes assessors were blinded, and the intent-to-treat analysis was conducted to give further rigor to the effect size.
No Definitive Answer...Yet
Commenting on the findings, Ron Winchel, MD, assistant clinical professor of psychiatry, Columbia University, in New York City, said the UCSF study was rigorous, but not rigorous enough to give a definitive answer about whether yoga is an effective treatment for depression.
"What would make it more rigorous would be a larger sample and repetition," Dr Winchel told Medscape Medical News.
Dr Prathikanti said her group is planning a larger trial. The ideal would be a four-arm study that compared yoga with treatment with antidepressant medications, placebo medications, and an education intervention.
It is not likely that the current study would influence those who already use yoga as an aid to treat depression, she said. "The people that see mood benefit from yoga, they're going to practice it no matter what the science says," she said. But the study might speak to researchers and clinicians who are more skeptical of nonpharmacologic interventions, Dr Prathikanti added.
She noted that the majority of individuals with depression do not seek help. Yoga could be prescribed as a tool, she said. Yoga may be a way of engaging such patients in care and providing them with a practice that could alleviate their symptoms.
Dr Winchel said that in his practice, he considers yoga a part of his armamentarium. For some patients, yoga "is very important for giving them a sense of empowerment and control over their symptoms," said Dr Winchel. It is also a good alternative for people who are nervous about pharmacologic interventions, he said.
Furthermore, it helps build a better relationship with patients. "To see I'm willing and interested in prescribing things that are not just purely factory-produced chemicals to go into their body helps them experience me as more of a support person truly interested in their well-being and not just somebody who has only a hammer and, therefore, every problem becomes a nail," said Dr Winchel.
The study was funded by grants from the Mental Insight Foundation, the Pritzker Family Foundation, and the Mt. Zion Health Fund. Dr Prathikanti and Dr Winchel have disclosed no relevant financial relationships.
American Psychiatric Association (APA) 2017 Annual Meeting. Abstract 2, Rapid Fire Talks: Focus on Bipolar and Related Disorders. Presented May 22, 2017.
Medscape Medical News © 2017

Cite this: Yoga May Be Effective for Mild to Moderate Depression - Medscape - Jun 01, 2017.