Is antibiotic therapy a safe and effective replacement for standard surgical appendectomy? After reviewing 772 reports, the authors of a study published in Annals of Surgery[1] performed a meta-analysis based on four randomized trials and four cohort studies, which included 897 antibiotic-treated and 1113 surgically treated patients. Endpoints were the eventual need for appendectomy, complications, length of stay in hospital, and cost.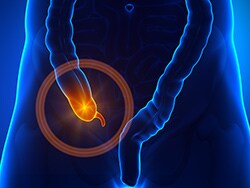 The results strongly favor appendectomy: Treatment was judged to be effective in >99% of operated patients versus 72.6% of antibiotic-treated patients. (P < .001). In both groups, when surgery was necessary, the postoperative complication rates were similar. (P = .91).
Viewpoint
This report adds valuable information to the continuing debate about antibiotics versus standard appendectomy for the initial treatment of appendicitis. From a patient's viewpoint, antibiotic treatment (if it avoids surgery about 75% of the time) seems like an attractive option.
However, the lifetime risk for appendicitis is around 5%-10%, so that initial success does not preclude a subsequent attack of appendicitis. With follow-up times of about a year, the reports in this meta-analysis cannot provide information about the risk for eventual appendicitis in the antibiotic-treated patients.
Also, does antibiotic treatment of a subsequent bout of appendicitis have a similar success rate as the initial antibiotic treatment? And what about the age of a patient at the first attack? Is that an important variable? Should surgery be favored for younger patients, with use of antibiotics reserved for older patients with shorter life expectancy? Antibiotics may have a role to play in the management of appendicitis, but there are still many unresolved questions, indicating that for now surgery will continue to be a dominant treatment strategy.
Medscape General Surgery © 2017 WebMD, LLC

Any views expressed above are the author's own and do not necessarily reflect the views of WebMD or Medscape.
Cite this: Antibiotics Versus Surgery: Equally Effective in Treating Appendicitis? - Medscape - Jun 02, 2017.