How Does a Malpractice Lawsuit Change Doctors' Lives?
Getting sued changes some physicians' lives and the way they view patients. When doctors are sued for malpractice, they often feel anxiety, anguish, depression, a sense of betrayal, and shame. The emotional distress they experience can last a lifetime.
A lawsuit can drag on for months, or even years. When the case is pending, many physicians suffer. They don't eat well, they don't sleep well, and they are frequently depressed.
After the lawsuit is settled or resolved, many doctors leave their practice, retire early, practice defensive medicine, and look at patients as potential adversaries for the remainder of their careers. Even when doctors win their court case, they may have lost substantial earnings in time away from their practices during court depositions and hearings. Physicians may also suffer in their personal lives.
Spurred by a recent article in Medscape, in which five doctors described the emotional stress they went through during their malpractice trials, a lively discussion ensued.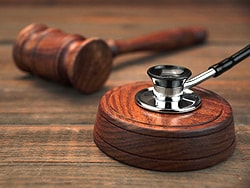 "Three close college friends were never the same after their stupid lawsuits. It has to be a variant of post-traumatic stress disorder (PTSD), and while we're having a shortage of docs (especially primary care...), our legal system is removing good docs from the front line," said an internist.
Sued More Than Once
An ob/gyn who was sued three times expressed the emotional toil that ensued:
All cases were settled, mainly because it was cheaper and because I was not sure that I could tolerate the emotional effects of a trial. I did continue to practice and didn't always see patients as adversaries, but I do think it took its toll. I retired at 60 after practicing for 30 years in ob/gyn with a main hospital that serviced an underprivileged community. I retired from exhaustion and burnout. I loved my work, and if it were possible to practice with shortened hours and without risk for lawsuits, I would still be working.
Yet another physician who has experienced more than one lawsuit said:
I was sued for something that was done by another medical provider without my knowledge. After over 3 years of stress, I was found not liable and dismissed. Two years later, I was just starting to feel like my life was getting back on track. Another suit was filed by the relatives of a deceased nursing home patient who had a court-appointed guardian. I cared for that patient for several years. Those relatives never once came to see him. The suit was dismissed, but my anger remains. Now it is no longer enough to provide good care and relate well with patients and families. Apparently, we are now supposed to relate well to family members we do not even know exist. I am actively planning for retirement and now work primarily on administration. If I had it to do over again, I would never have gone to medical school.
A cardiologist who worries about lawsuits said:
Now that I'm in private practice, I have fear of being sued, which does force me to spend extra hours every day to make sure I documented well. Between this and the pressure of sustaining productivity in private practice, it does affect other aspects of my life. I do ask myself whether I did the correct thing going into medicine...but my answer is "yes, I did"...the problem is, maybe I'm practicing in the wrong country. It's almost impossible to get sued in other countries, and it is based on true medical neglect. Unfortunately, it doesn't work that way in this country, and this is why we have sky-high medical costs, medical fraud, and sometimes a lack of trust in your own patients.
Medscape Family Medicine © 2017 WebMD, LLC

Any views expressed above are the author's own and do not necessarily reflect the views of WebMD or Medscape.
Cite this: Sandra Levy. Physicians React: Life After a Lawsuit - Medscape - Jun 14, 2017.