PRAGUE, Czech Republic — A 0.4-mg/kg bolus dose of tenecteplase (TNKase, Genentech) was associated with functional outcomes and safety similar to those seen with the standard of care, alteplase infusion (tissue plasminogen activator [tPA]; Activase, Genentech) in the largest study to date comparing the two agents in ischemic stroke.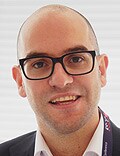 The NOR-TEST trial was presented this week at the 3rd European Stroke Organisation Conference (ESOC) 2017 by Nicola Logallo, MD, Haukeland University Hospital, Bergen, Norway.
Dr Logallo noted that tenecteplase has several pharmacologic advantages over alteplase: It has a higher fibrin specificity, it is longer acting, and it can be given as one single bolus injection.
"We tend to use tenecteplase as it is simple to administer as one bolus injection. You don't need a continuous infusion after the bolus as you do with alteplase, so you can be sure the patient gets the full dose," he said. "Based on these latest findings from NOR-TEST, physicians may choose to use tenecteplase because of its convenience."
Dr Logallo noted that previous studies comparing the two agents have shown mixed results. An early dose-ranging study of tenecteplase suggested a increased risk for symptomatic intracerebral hemorrhage (ICH) with the 0.4-mg/kg dose and was stooped prematurely. Subsequent studies with lower doses of tenecteplase suggested results similar to or better than seen with alteplase. However, all the studies so far conducted have been small and have enrolled highly selected patients.
In contrast, the NOR-TEST trial was a pragmatic multicenter phase 3 trial and enrolled all patients eligible for standard alteplase treatment, so it should apply to a general population of patients with ischemic stroke, Dr Logallo said.
In the NOR-TEST design paper, the investigators note that "there is no strong evidence that the 0.4 mg/kg dose of tenecteplase increases the risk of hemorrhagic transformation, and in order to maximize the thrombolytic effect, NOR-TEST therefore was designed with a high tenecteplase dose together with careful safety monitoring of major bleeding."
For the study, 1107 patients with ischemic stroke were randomly assigned within 4.5 hours of symptom onset to tenecteplase, 0.4 mg/kg bolus, or alteplase, 0.9 mg/kg infusion. Patients with an increased bleeding risk and those with a prestroke modified Rankin Scale (mRS) score of 3 or more were excluded.
Results showed that the primary endpoint — an excellent outcome (mRS score of 0 - 1) at 3 months — did not significantly differ between the two groups. The secondary outcome of neurologic improvement (as measured by the National Institutes of Health Stroke Scale [NIHSS] score) at 24 hours was also similar in the two groups.
Table 1. NOR-TEST Efficacy Endpoints
Endpoint
Tenecteplase (%)
Alteplase (%)
Odds Ratio (95% Confidence Interval)
P Value
MRS score of 0 - 1 at 3 moa
64.5
62.6
1.08 (0.84 - 1.38)
.52
NIHSS score of 0 or improvement of ≥4 at 24 h
41.7
38.8
1.12 (0.89 - 1.43)
.97
aPrimary endpoint.
In terms of safety, rates of symptomatic ICH or any ICH did not differ between the two thrombolytics.
Table 2. NOR-TEST Safety Endpoints
| Endpoint | Tenecteplase (%) | Alteplase (%) | Odds Ratio (95% Confidence Interval) | P Value |
| --- | --- | --- | --- | --- |
| Any ICH | 8.6 | 9.1 | 0.94 (0.60 - 1.45) | 0.82 |
| Symptomatic ICH | 2.7 | 2.4 | 1.16 (0.51 - 2.68) | 0.70 |
Noting that both groups had low rates of symptomatic ICH, Dr Logallo suggested that this was probably because the patients enrolled had low NIHSS scores at baseline. "Patients had minor strokes so were not at high risk of ICH with a thrombolytic."
Commenting on the results for Medscape Medical News, Andrew Demchuk, MD, University of Calgary, Alberta, Canada, said, "It appears there is very little difference between the 0.4-mg/kg dose of TNKase and the standard 0.9-mg/kg tPA infusion. But I would like to see more details, such as the mRS distribution in the results, so I will wait for the publication to fully digest these data.
"There are some other trials underway with lower-dose tenecteplase because it is thought that will be safer, but whether or not the lower doses will retain efficacy is not known," Dr Demchuk added. "I would like to wait and see what they show. And then it will come down to cost and availability. In some countries tenecteplase is cheaper than alteplase, so it could be a very attractive option in those places."
Yvo Roos, MD, PhD, Academic Medical Center University of Amsterdam, the Netherlands, pointed out that a single-bolus thrombolytic is particularly appealing now in the new era of endovascular therapy.
"We often have to 'drip and ship' patients to the comprehensive stroke center, and with alteplase this means they are 'dripping' in the ambulance. A bolus dose of thrombolytic would be much more convenient as it could be given quickly and easily before transport. So this gives us a new drive now to find out if tenecteplase is as good as alteplase."
Professor Roos says he will also wait for other trials with tenecteplase to report before making a decision to switch. "If further trials give confirmation of this result, then I would be happy to change from alteplase to tenecteplase for the convenience issue."
NOR-TEST is funded by the Research Council of Norway. The investigators have disclosed no relevant financial relationships.
3rd European Stroke Organisation Conference (ESOC) 2017. Session PL01. Presented May 16, 2017.
For more Medscape Neurology news, join us on Facebook and Twitter
Medscape Medical News © 2017

Cite this: NOR-TEST: Tenecteplase Similar to Alteplase in Stroke - Medscape - May 19, 2017.