LAS VEGAS — The possibilities being opened up by technology are only beginning to be realized in the field of medicine, according to one expert, who acknowledged that it can often be a source of frustration and burnout.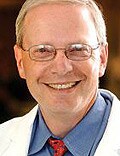 Initial hopes for the integration of technology into medicine were high, as they had been in other industries, said Robert Wachter, MD, chair of the Department of Medicine at the University of California, San Francisco.
However, the usual pattern has been 5 years of failure to meet expectations, and then a resolution of issues at 10 years, he explained here at Society of Hospital Medicine 2017 Annual Meeting.
For medicine, it will likely be 15 years, given the complexity of the field and tough regulatory requirements, Dr Wachter pointed out.
But the end is in sight, he reassured the audience. "If it's 15, we're now 5 to 10 years away."
Technology in Practice
In about 5 years, Dr Wachter predicted, a physician will be able to dictate a patient note into a computer, and the computer — using artificial intelligence — will review the chart and the literature and offer a likely diagnosis or care path.
"Maybe the computer will say, 'Sounds like this patient may have heart failure. I didn't hear you ask about weight gain'," he said.
Some of the research made possible by technology is the big-data analysis of Clostridium difficile transmission — by Sara Murray, MD, a hospitalist at the University of California, San Francisco, and her colleagues — which won the top prize at the conference for oral presentation, research abstracts.
That team used data from electronic health records to track more than 86,000 patients as they were transferred from room to room to pinpoint the origin of C difficile infection. They were able to trace the source to a CT scanner in the emergency department.
And a hospital study of sleep disruptions used heat sensors connected to hand sanitizers to monitor how many people entered patient rooms, as reported by Medscape Medical News. That study — by Vineet Arora, MD, a hospitalist at the University of Chicago, and her colleagues — was also was presented at the meeting.
"The innovative use of digital tools has clearly blossomed to improve value and improve transitions," Dr Wachter said.
But mission creep among hospitalists and the pressure for physicians to focus on the social determinants of health is a worry, he explained.
Hospitalists should care about social determinants because they can help predict who will be admitted or who will have trouble after discharge, and because leaders might start to divert resources from hospitals to nonacute settings as they look for ways to manage populations.
I'd rather you concentrate on improving inpatient value than community housing.
And, perhaps most important, "because we're decent human beings," he added.
However, "I'd rather you concentrate on improving inpatient value than community housing," he told the audience. "You could argue with that, but I think we all have a limited amount of personal and institutional bandwidth."
Hospitals are so complex "that we need a group of physicians to focus like a laser on how to take care of people in the hospital," Dr Wachter explained.
Hitting the Target, but Missing the Point
Although measuring performance is a good thing, Dr Wachter said he is concerned whether medicine is consistently measuring the right things.
For example, measuring central-line-acquired bloodstream infections is important and has saved lives and money, but "they are far less important than diagnostic errors," he explained.
And "preventing readmissions is important, but it's really not more important than compassionate care or some other things we do. We focus on readmissions because we're being measured on them," he added.
As the saying goes, "there's a risk of hitting the target and missing the point," Dr Wachter said.
We're getting measured not on what we feel matters, but on what we can measure.
"Bob Wachter is one of those people who can see what's going on now and project into the future," said Kathleen Finn, MD, assistant professor of medicine at Massachusetts General Hospital and Harvard Medical School in Boston, who is incoming course director for the 2018 conference.
"That's a gift most of us don't have," she told Medscape Medical News.
His point about missing the target resonated with her because "we're getting measured not on what we feel matters, but on what we can measure."
Dr Finn said she shares Dr Wachter's optimism that the promise of technology will be realized.
"We will get there," she said, but noted that current data-entry demands keep her from being used to her maximum potential, and she sometimes finds it hard to see the benefit to patients.
Dr Wachter's talk was entertaining and inspiring, said Jose Yongco, MD, from Envision Physician Services in Santa Barbara, California.
He said he especially appreciated the timeline illustrating how medicine has changed since publication of the 1999 landmark Institute of Medicine report, entitled To Err is Human: Building a Safer Health System.
In fact, Dr Wachter pointed out that the sea change in healthcare has happened under two Democratic and two Republican presidents.
During the presentation, "I felt how daunting the task is ahead of me, being at the leading edge of healthcare delivery," Dr Yongco told Medscape Medical News. "But at the same time, I felt challenged to rise up and say, 'I got this'."
Dr Wachter is the author of the book entitled Digital Doctor: Hope, Hype, and Harm at the Dawn of Medicine's Computer Age. Dr Finn and Dr Yongco have disclosed no relevant financial relationships.
Society of Hospital Medicine (HM) 2017 Annual Meeting. Presented May 4, 2017.
Follow Medscape on Twitter @Medscape and Marcia Frellick @mfrellick
Medscape Medical News © 2017 WebMD, LLC

Send comments and news tips to news@medscape.net.
Cite this: Wachter: EHRs Still Frustrate, But Their Potential Is Unfolding - Medscape - May 11, 2017.