BOSTON — Distinct structural alterations in cingulo-insular areas may be found in patients with symptoms of functional neurologic disorders (FNDs), as well as in those with post-traumatic stress disorder (PTSD) and/or those who experienced childhood adverse events, suggests new neuroimaging research.
The small observational study of 23 patients with FND showed a significant inverse association between anterior cingulate cortex (ACC) volume and PTSD symptom severity, and between left hippocampal volume and cumulative scores on a life event burden measure.
In addition, sex-specific subanalysis showed significant inverse associations in the 18 female participants between volume in the left anterior insula and FND symptoms, according to two measures, and level of abuse during childhood.
"While this is an early study that requires replication across different centers and with larger sample sizes, we were pleased that in an area that binds together cognitive functions, sensory motor functions, and affective functions, we found observations that linked how severe patients' symptoms were to volumetric reductions," David L. Perez, MD, Departments of Neurology and Psychiatry at Massachusetts General Hospital in Boston, told Medscape Medical News.

The findings "at least suggest" that experiences such as childhood abuse, may ultimately lead to structural changes that drive the development of FND, he added. "I imagine there are several mitigating factors and other variables that we have yet to fully understand, but I think this is a good first pass at this effort."
Dr Perez presented the results here at the American Academy of Neurology 2017 Annual Meeting (AAN). They were also published online April 17 in the Journal of Neurology, Neurosurgery, and Psychiatry.
Referrals Second Only to Headache
While FND, also known as conversion disorder, "is common and imposes significant healthcare costs, the neuropathophysiology of this condition remains poorly understood," write the investigators. They add that symptoms from this disorder make up 16% of outpatient neurology referrals — making it second only to headache referrals.
The "unexplained sensory and motor symptoms" among these patients include difficulties with gait and movement abnormalities, nonepileptic seizures, fatigue, pain, and limb weakness.
"This public health problem is heightened by observations that FND is a neglected condition at the intersection between neurology and psychiatry," note the researchers.
"While neurologists are frustrated in caring for this population and lack a neurobiological understanding of FND, psychiatrists are similarly uncomfortable treating patients whose chief complaint is physical," they write.
The study participants (mean age, 41.6 years) had a mean illness duration of 3.7 years. Twelve of the 23 had functional movement disorders, 11 had functional weakness, and 6 had documented nonepileptic seizures. A dual-trained neurologist and psychiatrist conducted a clinical evaluation to determine FND diagnoses.
Self-report measures included the Patient Health Questionnaire-15 (PHQ-15) and the Screening for Somatoform Symptoms-Conversion Disorder (SOMS: CD) subscale for symptoms of FND; the Childhood Trauma Questionnaire (CTQ), which includes cumulative incidents of sexual, physical and emotional abuse; the PTSD Checklist-5; the Life Events Checklist-5 (LEC); the Beck Depression Inventory-II (BDI); and the Spielberger Trait Anxiety Inventory (STAI-T).
All of the participants also underwent one session of three-dimensional MRI. Prepossessing was also done via Statistical Parametric Mapping 8 and VBM toolbox to segment gray matter, white matter, and cerebrospinal fluid tissue.
Strong Associations for Women
Results showed that women had significant inverse associations between gray matter volume and FND symptoms, childhood abuse, PTSD avoidance scores, and a lifetime of adverse events, as measured on LEC-"Happened to Me" scores.
Table. Associations Between Gray Matter Volume and Clinical Measures in Women With FND
| | | |
| --- | --- | --- |
| Symptom Measure | Cerebral Region | P Value |
| PHQ-15 | Left anterior insula | .03 |
| SOMS-CD | Left anterior insula | <.04 |
| CTQ-Abuse | Left anterior insula | .02 |
| PTSD-Avoidance | Right dorsal/perigenual ACC | <.05 |
| LEC-"Happened to Me" | Left hippocampus | .005 |
The associations with decreased volumes remained significant for the PTSD-Avoidance and LEC-"Happened to Me" scores even after adjustment for depressive symptoms on the BDI (P = .01 and .009, respectively) and for anxiety symptoms on the STAI-T (P = .02 and .006, respectively).
In addition, the full group of participants showed significant associations between the following:
Decreased dorsal ACC volume and symptom severity on PTSD-Hyperarousal subscores (P = .01), and

Decreased left hippocampal volume and LEC-"Happened to Me" scores (P = .01).
Both associations also stayed significant after adjustment for BDI (P = .001 and .02, respectively) and STAI-T (P = .006 and .02) scores.
Overall, the study findings "may advance our understanding of FND," write the investigators. "Potential biological convergence between stress-related neuroplasticity, functional neurological symptoms and reduced insular volume was identified."
They add that the insula, which is "implicated in viscerosomatic, visceromotor, homeostatic, affective and cognitive processes, is well positioned to play a central role in the multiplicity of symptoms experienced by patients with FND." The ACC, which is also a paralimbic region, also appears to play a role.
"Understanding the pathophysiology of this is the first key step to developing evidence-based treatments," said Dr Perez.
"I think the take-home message is: this is a biological, brain-based disorder. And leading with that on the clinical and research ends can be, I think, impactful."
A Step Closer to the "Fun Part"
"I think this study is fascinating and shows really great stuff," session co-moderator, H. Branch Coslett, MD, professor at the Center for Cognitive Neuroscience and co-director at the Laboratory for Cognition and Neural Stimulation at the University of Pennsylvania School of Medicine in Philadelphia, told Medscape Medical News.
"We have seen patients with these [FNDs] for a hundred years, but the neuro basis for these really disabling and crippling disorders is not understood at all," said Dr Coslett. "So understanding what part of the brain may be involved is extremely important. Then, getting to an intervention will be the fun part."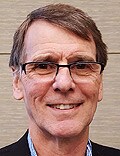 Dr Coslett noted that he does both transcranial magnetic stimulation (TMS) and transcranial direct-current stimulation (tDCS) at his center. And one question he had for Dr Perez was whether noninvasive brain stimulation could have been used to modulate performance.
"The insula is hard to get to with TMS, but with tDCS, it shouldn't be a problem. If there's downregulation at the level of the insula, potentially tDCS could be a help."
During a later conversation between the two doctors, Dr Perez noted surprise about the tDCS information but said he'll keep it in mind when the investigators go further in defining neurocircuitry in their ongoing work to build up their cohort.
Dr Perez was funded by Dupont Warren & Livingston Fellowships, a Young Investigator Grant from the Sidney R Baer Jr Foundation, and a Massachusetts General Hospital Physician-Scientist Development Award. Dr Perez, the other study authors, and Dr Coslett have disclosed no relevant financial relationships.
American Academy of Neurology 2017 Annual Meeting (AAN). Abstract S18.008. Presented April 24, 2017.
J Neurol Neurosurg Psychiatry. Published online April 17, 2017. Abstract
Follow Deborah Brauser on Twitter: @MedscapeDeb. For more Medscape Neurology news, join us on Facebook and Twitter.
Medscape Medical News © 2017

Cite this: Brain Alterations Linked With Symptoms of PTSD, Functional Neurologic Disorders - Medscape - May 02, 2017.