Renowned British neurosurgeon Henry Marsh, CBE, FRCS, is back in the news with the publishing of his second volume of memoirs, in which he reminisces on 40 years of resecting brain tumors, as well as performing other complex neurosurgery procedures.
His latest book, Admissions: A Life in Brain Surgery , comes 4 years after his first book, Do No Harm: Stories of Life, Death and Brain Surgery , was published in 2014 to wide acclaim, with glowing reviews in the Economist, the New Yorker, and the New Statesman .
Both contain reminiscences of the surgeries that he performed during the past 40 years, but in particular, he discusses the cases that went wrong. "As I approach the end of my career I feel an increasing obligation to bear witness to past mistakes I have made," he writes.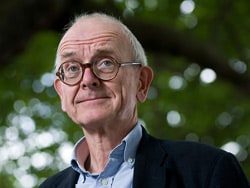 When he retired in 2015, Mr Marsh (surgeons in England are traditionally addressed as Mr or Ms rather than Dr) was a senior consultant at St George's Hospital, London, where he worked at the Atkinson Morley Wing, one of the country's largest specialist brain surgery units.
His specialty was operating on the brain under local anesthesia, while the patient remained awake, in order to minimize damage to neural structures ― a technique that was portrayed in an award-wining 2004 television documentary that broadcast as part of the BBC series, Your Life in Their Hands.
He was also featured in another documentary, The English Surgeon, which portrayed the pro bono work in Kiev, Ukraine, that he carried out for decades.
In Favor of Assisted Dying
In his latest book, Mr Marsh shares some thoughts on death with dignity, or physician-assisted dying, a topic very much in the news these days. Several American states now allow this, and the views of the medical profession have reached a turning point, as suggested in a special edition of JAMA last year.
In England, however, the Assisted Dying Bill was defeated in September 2015, and the vote was not even close, with 330 votes against and 180 votes for.
Mr Marsh was exasperated, and in an interview with the Sunday Times that accompanied an extract from his new book, he described the arguments from the anti-euthanasia group as being "grotesque."
"They argue that grannies will be made to commit suicide," he said. "Even if a few grannies get bullied into it, isn't that the price worth praying for all the people who could die with dignity?"
In the book, he argues that "a doctor's duty is to relieve suffering as well as to prolong life, although I suspect this truth is often forgotten in modern medicine."
He also graphically describes the prolonged suffering of patients upon whom operated and who then died. One case from early in his career involved abdominal surgery. The patient developed multiple fecal fistulae through the abdominal wall. "The smell was truly awful.... You had to take a deep breath before going in," Mr Marsh writes. "He was, of course, wide awake and fully aware of what was happening, slowly dying. He must have seen the involuntary expressions on our faces as we entered his room, steeling ourselves to brave the stench.
"We started a morphine drip 'to keep him comfortable,' and over a period of many days he died," Mr Marsh writes.
Both books contain other stories of patients who died, and Mr Marsh quotes the French doctor René Leriche, who said: "Every surgeon carries within himself a small cemetery, where from time to time he goes to pray."
Has a Suicide Kit
Having faced death so many times over his career, it is no wonder that he has also thought about his own (he is 67 years old).
"I like to joke that among my most precious possessions...is my suicide kit, which I keep hidden at home," Mr Marsh writes. "It consists of a few drugs that I have managed to acquire over the years.
"I have to admit that I'm not at all sure that I would ever dare to use the drugs when – and it may happen quite soon – I am faced with the early signs of dementia, or if I develop some incurable illness, such as one of the malignant brain tumors with which I am so familiar from my work," he writes.
In the Sunday Times interview, he adds that "it's a sort of joke, but it's a serious joke.... It's something I know that concerns everyone my age and it's a new problem because we all live too long."
That brings him to the issue of when and whether to treat. "By the time we are in our late seventies or eighties, what is the probability that intensive treatment will succeed? And what does success mean? We have the choice of dying unpleasantly soon or postponing it a bit with treatment. There's no option to die with dignity."
With respect to cancer, he again questions the idea of treatment. "Cancer is essentially a disease of old age. If the money we spend on keeping old people with cancer alive went on children and better upbringings, more breastfeeding and better education, you would save far more lives," he argues controversially in the interview.
"Obviously, it's out of the question," he states, adding jokingly that the gray-haired literati who follow him to book fairs "would be horrified."
Nothing After Death
Having pondered death, he has also pondered what lies beyond it, and has decided that nothing does.
"I do not believe in an afterlife," Mr Marsh writes. "I am a neurosurgeon. I know that everything that I am, everything that I think and feel, consciously or unconsciously, is the electrochemical activity of my billions of brain cells, joined together with a near infinite number of synapses (or however many of them are left as I get older).
"When my brain dies, 'I' will die," he concludes.
Medscape Medical News © 2017

Cite this: Renowned Neurosurgeon on Assisted Dying and His 'Suicide Kit' - Medscape - Apr 27, 2017.