WASHINGTON — Physicians added their voices, their presence, and their passion to the thousands of people who spent a rainy Saturday here in support of the principles and practice of science.
The March for Science, held in conjunction with Earth Day in Washington, DC, and an estimated 600 satellite marches worldwide, is "the first step of a global movement to defend the vital role science plays in our health, safety, economies, and governments," according to the site's website.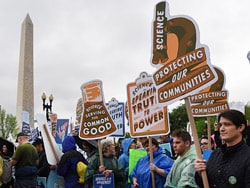 In a rally held prior to the DC march from the Washington Monument to Congress, more than 50 speakers representing all realms of science — from climate to space to science education to nature conservancy to biological and chemical science — exhorted the crowd to continue to press for science funding and against the anti-science attitudes and "alternative facts" some have said are coming from the Trump administration.
Ignore Science at "Own Peril"
Georges Benjamin, MD, executive director of the American Public Health Association, was among a handful of physician speakers. "Public health science is the heart of so many successes that have prolonged our lives and improved our well-being," he said in his remarks, listing seat belts, vaccines, and a reduction in the threat of second-hand tobacco smoke as examples.
"A nation that ignores science, that denies science, that underfunds science, does so at its own peril. We cannot allow this to happen. We need to ensure that data and evidence drive policy-making, not uninformed ideology," he said in his speech.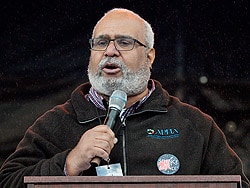 In an interview with Medscape Medical News, Dr Benjamin emphasized the importance of government funding for health research. "Our public dollars are the engines that drive innovation and research. The private sector then takes that innovation and multiplies it many-fold. But it is our tax dollars that really create innovation.... Government invests in the things that are not profitable. For many of the discoveries for diseases that are not profitable, it's government that makes that happen."
"A Really Strong Voice"
Another impassioned speaker was Case Western Reserve University MD/PhD candidate Gloria Tavera, who is board president and co-founder of an organization called Universities Allied for Essential Medicines, which "pushes universities to ensure that the cures that their scientists discover are available at prices that people can afford…. No one should be sick because they are poor, or poor because they are sick," she told the crowd.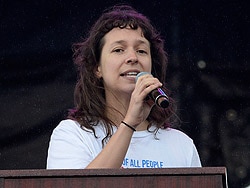 In an interview, Tavera, whose research involves the role of Helicobacter pylori in stomach cancer in South and Central America, told Medscape Medical News that universities are doing a large part of the "first-in-class innovative biomedical research that leads to new drugs. We need to make these drugs more affordable to people in low and middle-income countries."
Noting some steep and often unaffordable drug prices in the United States as well, she commented, "I hope people get sufficiently enraged and sufficiently empowered to actually get out there and push for these solutions as policy, because we have a really strong voice as scientists and as physicians."
Another speaker, march honorary co-chair Lydia Villa-Komaroff, PhD, co-founding member of The Society for the Advancement of Chicanos/Hispanics and Native Americans in Science, contributed to the basic research in the 1970's that led to the development of recombinant human insulin, by demonstrating that it could be made in bacteria.
"Basic science underlies the medical advances that allow us to lead longer, healthier lives," she noted in her speech, adding that her original research in bacteria that eventually led to the development of insulin used today by millions of people with diabetes was funded in part by the federal government.
She told Medscape Medical News, "I think physicians have a very good understanding of the importance of basic research to the treatments that they use for patients…. But for those who worry about whether or not we should do a march, or whether there's any question whether we should support basic, basic research, I think the insulin story is particularly instructive…. We never know what will happen from basic research."
"Science Is Not an Alternative Fact"
Another honorary co-chair and speaker at the march, Mona Hanna-Attisha, MD, director of the Hurley Pediatrics Program and assistant professor of pediatrics at Michigan State University, gained prominence in 2015 when she exposed the water contamination crisis in Flint, Michigan, after detecting that the number of children with elevated levels of lead in their blood had doubled following a switch of the city's water source from the Detroit River to the Flint River in April 2014.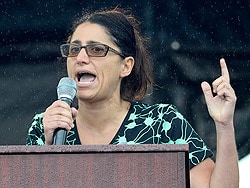 "The Flint water crisis is not over. We still can't drink unfiltered water from our taps. Flint is what happens when we dismiss science, when we dismiss experts, when we dismiss people, and when saving money is more important than public health," she said.
She's marching for the children of Flint, she said. "Science is not an alternative fact, and it is time for all of us to fight back to those who deny and degrade science. It's time for all of us to step out of our clinics, our classrooms, and our labs. We need to make ourselves known into halls of government. We need to hear all of your voices. Today I march for science and for our smart, our strong, our beautiful and resilient Flint kids. They inspire me to continue to use science every day to make sure their tomorrows are bright as ever."
Physician Marchers Talk of Need to Keep Fighting for Patients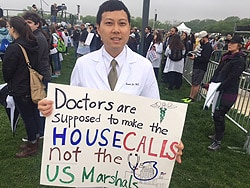 Physicians who attended the march as participants were no less fervent. Eugene Gu, MD, now a second-year general surgery resident at Vanderbilt University, was doing research in April 2016 on fetal tissue, aiming to find treatments for congenital heart and kidney defects, when two armed US marshals showed up at his door and delivered him a congressional subpoena. The action, part of a congressional panel investigating Planned Parenthood, derailed his research and that of the startup company he founded, Ganogen.
"Nobody is doing any fetal tissue research now. It's too scary in this political environment," he told Medscape Medical News.
But he hasn't stopped fighting, he said. "I hope that if we have enough support and show that there are a lot of people supporting scientists and physicians and the importance of our research, that we can continue our research in the future. It's a tall order, but whenever there's a lot of adversity in life, you can't give up, you can't lie down, you have to keep on fighting and helping your patients."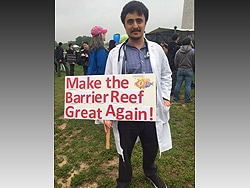 Marco Brenciaglia is a third-year medical student from St. George's University in Grenada who studies the Zika, chikungunya, and dengue viruses. Climate change is a health issue, he told Medscape Medical News, noting that the increasing number and density of mosquitos and ticks are spreading the diseases he studies. "The effects of climate change are so incredibly widespread, so it's not just that it's a bit warmer and we have beach weather in New England in the winter…. The spread of disease is related to the climate. You can't disregard the earth and expect humans to survive."
Retired Rockville, Maryland, ophthalmologist Gerald Rogell, MD, commented to Medscape Medical News, "It's profoundly discouraging that it's necessary to have this march in the 20th century. Until just recently, it would have been unbelievable that our government could be dominated by people so completely scornful of scientific findings and so ready to run the country based on irrational beliefs and wishful thinking." But, he added, "It's really great that we still have freedom of assembly and freedom of speech at this critical time."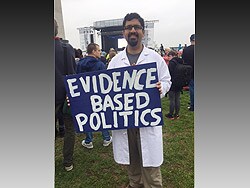 Hemal N. Sampat, MD, an internal medicine and pediatric hospitalist at Massachusetts General Hospital, listed three reasons why he's marching: First, "science has always had detractors, but we've reached a point in this country where opposition to science has virtually become national policy," both in terms of budget cuts and administration officials who minimize science, he said. "We're here to speak out against that."
Dr Sampat also wants to reverse the mistrust of science he encounters daily in his practice, such as parents who are hesitant to have their children vaccinated. "I think that this distrust has spread and we need to work on getting that trust back."
Third, he'd like to see more scientists, including physicians, involved in politics. "National policy is set by people in law and business…. We need our perspective as well. I'm hoping that we get more involvement in national, state, and regional politics from people in science and medical fields."
Just the Beginning
Toward the end of the rally and just prior to the actual march, co-organizer Caroline Weinberg, MD, MPH, had a chance to stop briefly and speak with Medscape Medical News, noting, "It's really encouraging and incredible that so many people came out in the rain just because they felt the need to defend and support science."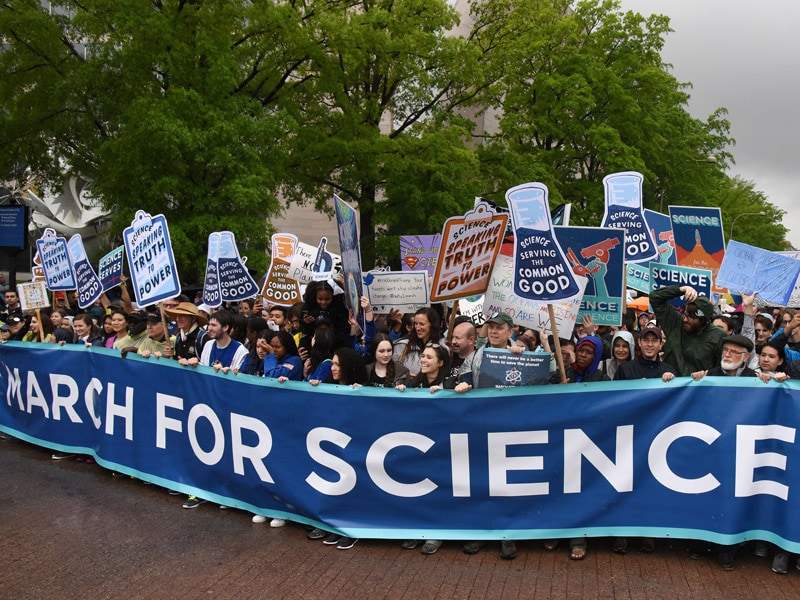 Dr Weinberg said that the March for Science organization isn't ending today, but will now roll over "into education outreach and policy, getting scientists into the community to break down barriers and build dialog.... We're constantly marching."
Regarding medicine's role in particular, she said, "We've been very lucky that a lot of the medical societies have partnered with us…. We're going to rely on our partners to make sure to keep this movement going. Doctors who want to get involved and advocate can sign up on our website. We're going to tap all the resources of people who feel passionately about science to really create lasting change."
Dr. Komaroff is on the board of Cytonome. Dr. Gu is CEO and founder of Ganogen. None of the other individuals quoted have disclosed any relevant financial relationships.
Medscape Medical News © 2017

Cite this: Physicians Make Themselves Heard at the March for Science - Medscape - Apr 22, 2017.