Background
In early April, the New England Journal of Medicine (NEJM) held a 1.5-day event in Boston called "Aligning Incentives for Sharing Clinical Trial Data" which was broadcast on the Web. Panels featured clinical trialists, data analysts, and patient participants—the three groups with interests in data—as well as government and funding agencies. To explore the potential benefits of data sharing ahead of the event, NEJM launched the SPRINT Data Analysis Challenge. The National Institutes of Health (NIH)- sponsored SPRINT trial compared intensive (≤120 mm Hg) versus standard blood pressure control in hypertensive patients at high cardiovascular risk. Challenge entrants were invited to analyze the dataset underlying the main publication and identify a novel finding that advances medical science. The three winners presented on day one of the webinar.
Watching the data summit online and following the Twittersphere (#NEJMDataSummit storified), data analysts and trial participants came across as open-data evangelicals, while clinical trialists who expressed concerns about misuse of data and lost career opportunities seemed like the "get off my lawn" old guard. Most trialists were not against the concept of data sharing but wanted an extended period of exclusive access and gatekeepers to control who got access as opposed to a more liberal free-for-all.
Medscape asked some attendees for feedback. Open-data proponent Atul Butte, MD, PhD (UCSF) emailed that he was optimistic and "saw a lot of change in attitudes during the summit." However, research-participant representative Sharon Terry (CEO, Genetic Alliance), who has two children with a rare disease, was "not surprised by the paternalistic, protectionist, conservative stance of the trialists" and "did not sense any transformation in their thinking."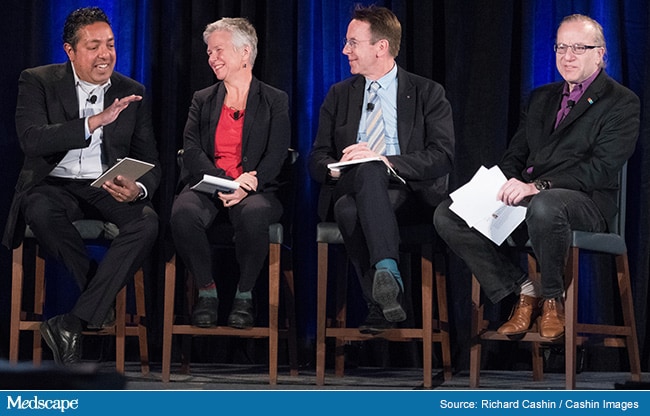 L to R: Atul Butte, Sharon Terry, Rory Collins, and Summit Co-chair Isaac Kohane
Clinical Trialists Know Best
Panelist John J. McMurray, MB ChB (University of Glasgow, UK) consulted fellow clinical trialists ahead of the summit and raised their concern that "some of this [data-sharing] was sounding forced." Or, as Rory Collins, FRS, FMedSci (University of Oxford, UK) quipped, "I once shared some money with a chap at gunpoint." Both he and McMurray emphasized that data sharing already occurs and, in their view, is best done in a collaborative model.
This model was perceived as too exclusive for the "liberals" who doubted that the second-place winners of the SPRINT open data challenge—a group of second-year med students—would be invited to the "old guard" data-sharing party—never mind, citizen scientists.
Indeed, Collins reprimanded the organizers of the SPRINT Challenge for encouraging nonrandomized analyses within a randomized clinical trial (RCT) that he said are "statistically flawed...and can produce misleading results that adversely impact on public health." In an email exchange with Medscape, McMurray pointed out that this caution is not unwarranted. "We saw this happen when irresponsible journals and tabloid newspapers highlighted misleading analyses related to the adverse effects of statins." He lamented that it was hard to explain all the concerns "without sounding defensive at best and paternalistic (or worse), at worst!" McMurray worried that the issue was being painted as self-interest versus public interest.
This appeared to be the judgment of the court of social media, where hesitation about more immediate, liberal data sharing was blamed on fear and paternalism. Dave deBronkart, a cancer survivor and patient rights advocate, asked on Twitter whether the paternalism was (a) unaware, (b) well-meaning, and/or (c) oppression.
Clinical Trials Aren't Perfect
Dr Butte and others see greater access to raw data facilitating the ultimate goal of personalized medicine. They argue that many clinical trials lack relevance to practicing physicians because the patients enrolled do not reflect the people they see in practice. A telling anecdote came from data analyst Nigam Shah, MBBS, PhD (Stanford University), whose physician wanted to use the Framingham Risk Score to gauge the need for a statin. Dr Shah, who is of Indian descent, asked how many Indians were in the Framingham Study. His doctor's answer: "None. Let's apply the Asian correction." "I'm not Asian," was Shah's reply. "I want the data not to doubt it but to use it," he explained to the audience.
I want the data not to doubt it but to use it.
Fittingly, the first-place winner of the SPRINT Challenge, Noa Dagan, MD, PhD (Clalit Research Institute, Tel Aviv, Israel) created an individualized decision-making support tool.
Large RCTs Unlikely to Flip-Flop
Most panelists, even trialists, were unconcerned that data sharing may undermine the main result of a large clinical trial; SPRINT Challenge contestants did identify errors in the original dataset, but they weren't anything that would have changed the primary conclusions. It was noted that such large RCTs undergo multiple analyses (investigator, supporter) prior to publication.
Brian Strom, MD, MPH (Rutgers University) relayed that only 3 of 151 accepted applications for access to CSDR, a repository for data from 13 industry study sponsors, were for the purposes of re-analysis, suggesting little appetite for replication. Data sharing need not be limited to large RCTs; former FDA commissioner Robert Califf, MD (Duke University) saw a benefit for more transparency to expose "small, crappy trials" that shouldn't be done because "they're not answering relevant questions."
It Will Cost Too Much
Strom acknowledged that there is an enormous upfront cost to create a data repository. Ewan Birney, FRS, FMedSci, director of the European Bioinformatics Institute, a European sister to the National Center for Biotechnology Information, estimated annual operating costs of $2 million to $4 million for a repository with 20 to 40 full-time employees.
PJ Devereaux, MD (McMaster University) worried that mandatory sharing of clinical trial data may lead to fewer clinical trials being done in the first place because of limited budgets.
However, open-data proponents predicted that network effects and technical innovations will bring down costs, citing genome sequencing as a prime example. Representatives from the Gates Foundation and the Wellcome Trust added that many funders already bake the costs of data-sharing into their grant submission process. And Michael Lauer, MD (NHLBI) reminded the audience that "the total amount of money that we're talking about as a percentage of the overall enterprise is relatively small."
Costs remained a concern for Dr Califf, however, who described himself as "recently liberated from the government." Regarding the proposed 20% cut in NIH funding, he encouraged people to speak out against the "ridiculous budget submitted by the President," a plea echoed by Esteban Burchard, MD, MPH (UCSF) in one of the closing sessions.
Califf also remarked that industry was ahead of academia in terms of data sharing, a point that was repeated on social media. Not everyone agreed. "Nothing could be further from the truth," rebutted Dr McMurray via email, adding that "industry frequently still does not share with its own investigators." McMurray was also disappointed that the summit "created an artificial dichotomy" between trialists and data analysts (the so-called research parasites from an inelegantly worded editorial[1] by NEJM Editor-in-Chief Jeffrey Drazen, MD). In McMurray's experience, most trialists are analysts or work as part of a team with analysts.
Academic Careers and Lost Publications
Tension between data analysts and trialists is not wholly unfounded. In an interview in Nature , SPRINT investigator Jackson Wright, MD, estimated that a third of the 60 papers planned would likely be "scooped" by releasing the data for the NEJM SPRINT Challenge. "I think the incentives to do these trials will be dramatically lessened if this is going to be the expectation going forward," he said.
How can a healing profession put protecting their career above the essence of that healing?
The period of time that the original data generators have exclusive access was another bone of contention during the NEJM event. Summit co-chair Matthew Might, PhD (Harvard Medical School) described publication as "the coin of the realm" for academic careers, but he and others foresaw ways to overcome this obstacle, such as valuing outputs other than journal articles and giving data generators credit for data sharing. Panelist Heather Pierce (Association of American Medical Colleges) co-authored an article[2] proposing a system of data authorship to facilitate citations for data generators, but admitted that at this stage, the paper "raises as many questions as it answers."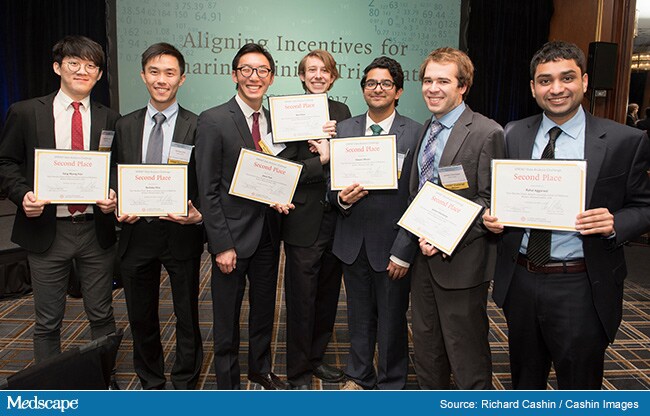 The Renality Check Team. Rahul Aggarwal is on the extreme right.
The pro-sharing panelists did not believe that clinical trialists would become an endangered species; if anything, they saw access to data as spurring interest in the field. SPRINT Challenge runner-up Rahul Aggarwal, who presented on behalf of the "Renality Check" team of seven second-year med students from Boston University (they analyzed intensive blood pressure control in patients with chronic kidney disease) said he and his classmates were now more likely to become researchers. Daniel Weiner, MD, principal investigator for the Boston SPRINT site, also revealed that access to open data kickstarted his research career.
When Medscape asked Sharon Terry if she had any sympathy for the lost credit/publications argument, she responded, "How can a healing profession put protecting their career above the essence of that healing?"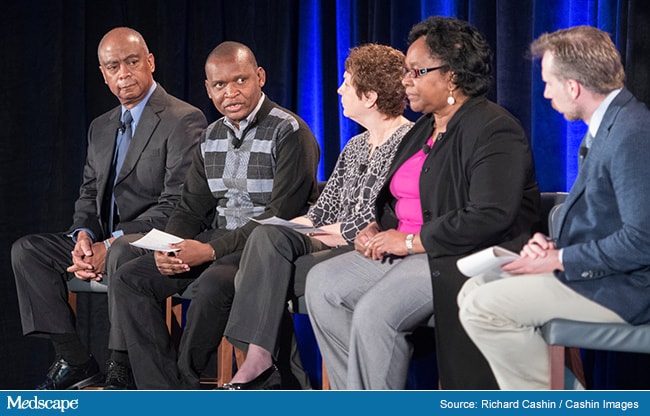 Trial Participant Panel. L to R: Moses Taylor, Benjamin Tsofa, Nancy Nagler, Marcia Manong, and Summit Co-chair Matthew Might
Participants (Not Patients) Want More Sharing
The data summit included the point of view of clinical trial participants (ie, patients) on a number of panels. Most were unaware of the controversies around data sharing, and although they were sympathetic to the need for academicians to get credit for their hard work, they did not want this to be an impediment to greater sharing of their data. These study participants also wanted to get the data themselves in a form that they could understand. Matthew Might summarized the views of the sole all-patient panel as "Share early, share often, share with me, share responsibly, and share understandably."
Liberal data sharing is standard operating procedure in fields such as physics and genetics. Open-data converts from those sciences recognized the concerns of the guarded clinical trialists and offered words of reassurance: "Once everybody does it... you will forget that you had these arguments," promised Ewan Birney. NHLBI Director Gary Gibbons, MD, described more open-data sharing as a public good. "The clinical trialists will appreciate that we probably can't continue to do business as usual," he concluded. To reiterate that point, during the closing session, Dr Drazen requested a word from a Nobel Prize–winning poet and had Bob Dylan's "The Times They Are A-Changin'" played over the speakers.
The archived event is available to watch (with free registration) at the NEJM website.
Information on all presenters, including those quoted above, is available here
Follow Tricia Ward on Twitter: @_triciaward
For more Cardiology follow us on Twitter @theheartorg
© 2017 WebMD, LLC

Any views expressed above are the author's own and do not necessarily reflect the views of WebMD or Medscape.
Cite this: Open-Data Momentum Builds; Trialist Resistance May Be Futile - Medscape - Apr 20, 2017.