The main change in the new guidance for prostate cancer screening is the emphasis that the decision of whether or not to be tested must be individualized for each man aged 55 to 69 years.
The US Preventive Services Task Force (USPSTF) previously recommended against routine screening using the prostate specific antigen (PSA) test, saying that potential harms outweigh benefits.
That recommendation – issued in 2012 – was met with outrage, especially from urologists, who predicted that prostate cancer cases would be diagnosed at a more advanced stage and that prostate cancer deaths would increase.
Now the task force has changed its tune. The new draft recommendations –issued on April 11 and open for public comments until May 8― divide men into two age groups.
For men aged 55-69 years, the task force says that the potential benefits and harms of PSA-based screening are closely balanced. The decision about whether to be screened should be an individual one and should be discussed with clinicians.
This is a C recommendation, which according to USPSTF definitions means "there is at least moderate certainty that the net benefit is small."
For men aged 70 years and older, the potential benefits of PSA-based screening do not outweigh the harms, and these men should not be screened for prostate cancer. (The age cutoff has been lowered in this update; previously, it was 75 years and older). This is a D recommendation, which means "there is moderate or high certainty that the service has no net benefit or that the harms outweigh the benefits."
For patients older than 70 years, the benefits no longer outweigh the potential harms, commented task force member Alex H. Krist, MD, MPH, in an interview. "In fact, there is some evidence to suggest that older men have a greater risk of harm," Dr Krist said, explaining that in older men, prostate cancer tends to be slow growing. Older men are more likely to not suffer consequences from these slow-growing tumors, and the treatments "are more likely to hurt them rather than help them," he added.
These new draft recommendations apply to all men who do not have any signs or symptoms of prostate cancer. They apply to men who are at average risk and to those who are at increased risk, such as African American men and men with a family history of prostate cancer, the task force states.
However, there is concern about extending this recommendation to these two high-risk groups. The task force notes the "striking absence of evidence to guide these high-risk men specifically." Dr Krist noted that only about 4% of men in the large US screening study were African American. "We know that they are at higher risk, but we don't have any data to show that if we do something different, the outcomes will be different," he said. "We really need more studies."
Positive Reaction From Experts
Prostate cancer experts who were approached for comment reacted positively to the updated recommendations.
"I strongly support the new recommendations," said Richard Hoffman, MD, MPH, professor of internal medicine and epidemiology and director of the Division of General Internal Medicine at the University of Iowa Carver College of Medicine, in Iowa City.
"A key message from the task force is that men should be well informed about the potential tradeoffs of screening or not screening and helped to make a decision that is consistent with their personal values," Dr Hoffman told Medscape Medical News. "Although not mentioned by the task force, one way to improve decision making for PSA testing is to provide men with decision aids," he added.
The new update was long awaited, and the task force "got it right ― again!" said Marc B Garnick, MD, professor of medicine at Harvard Medical School and the Beth Israel Deaconess Medical Center and editor in chief of the Harvard Medical School annual report on prostate diseases.
In the new update, the task force "has in fact provided a strong rationale for what is commonly happening in practice today, despite the universal 2012 D recommendations," Dr Garnick told Medscape Medical News.
"Patients should consider shared decision making with their health provider about the harms and benefits of undergoing screening, and treatment if a cancer is found, and that values and preferences of the individual patient should play an important role," he emphasized.
"But, today, as was the case in 2012, the ability to show an overall survival benefit from any screening recommendation still eludes us, and the cancer-specific survival benefit, if one exists at all, is at best very modest," Dr Garnick said.
How modest is illustrated by a graphic produced by the USPSTF, which shows the potential harms and benefits for men aged 55 to 69 years who are screened over a period of 10 to 15 years.
It shows that if 1000 men have the PSA test, 240 will have a positive results, and 100 will have a positive biopsy which shows cancer (but 20-59% of these will be cancer that does not grow, spread or harm the individual). Of the 100 with a positive biopsy, 80 will choose treatment (surgery or radiotherapy), and 60 will suffer serious complications (including incontinence and impotence), with the net results that 3 men (out of the initial 1000) will avoid metastatic disease and 1-2 men will avoid prostate cancer death.
Urologists also welcomed the new document. The American Urological Association (AUA) issued the following statement: "The draft recommendations released today are thoughtful and reasonable, and are in direct alignment with the AUA's clinical practice guideline and guidelines from most other major physician groups – including the American Cancer Society, the American College of Physicians, the American Society of Clinical Oncology and the National Comprehensive Cancer Network, all of which advocate for shared decision making."
However, urologists raised a concern about the recommendation to not screen men older than 70. "While we acknowledge that there is limited evidence in men in this age group, and agree that many older men will not benefit from the test, we believe that selected older healthier men may garner a benefit from prostate cancer screening and should therefore talk to their doctors about the benefits and risks of prostate cancer testing," the AUA said.
New Evidence That Led to Change
In an interview with Medscape Medical News, task force member Dr Krist explained that in the 5 years since the last guidelines were issued, there has been "new evidence to suggest that there is slightly more benefit to screening than we thought before in 2012.
"The important thing that we are trying to emphasize is that there is a real close balance between benefits and harms," he said, but the balance has been tipped slightly toward benefit for the age group aged 55 to 69 by three recent developments.
First, with the longer follow-up from the European European Randomized Study of Screening for Prostate Cancer (ERSPC), "we can see that slightly more men who are screened will not die from prostate cancer than was the case previously (in 2012). It is a slight increase – it has gone from 0.8 men out of 1000 to 1.3 men out of 1000," he said.
Second, also from the European trial, longer-term follow-up shows that 3 men out of 1000 will avoid metastatic prostate cancer because of screening, he said.
Third, there has been an increase in active surveillance (AS) as a first-line treatment approach, and this can have benefits similar to those of treatments such as radiotherapy and surgery and with lower complication rates. In 2012, very few men in the United States who were diagnosed with prostate cancer underwent AS, whereas currently, almost 40% men do so after diagnosis, said Dr Krist. "This was a major factor for the move from the former D recommendation to the current C recommendation, " he said.
After reviewing the documents that support the new update, Dr Garnick told Medscape Medical News that key new factors since 2012 were "both the increasing utilization of active surveillance – to help address the issue of overdiagnosis and the harms overtreatment ― and the potential that the development of metastases could be decreased by treatment compared to active maintenance. This latter assessment emanated from the UK ProtecT study (reported last year), and its context must appreciate that many of the patients enrolled in that study who received no active treatment had cancer characteristics such as high Gleason scores that would generally have prompted interventions here in the US."
In comments to Medscape Medical News, Dr Hoffman noted that the results from the US screening trial ― the Prostate, Lung, Colorectal, and Ovarian Cancer Screening Trial (PLCO) ― "have been appropriately discounted because the study was heavily contaminated. Even though it truly was designed to assess screening, the PLCO investigators now describe the study as a comparison of organized vs opportunistic screening.
"In its previous guideline, the task force was very concerned about the harms from overtreating men with PSA-detected cancers. Many of these cancers were considered overdiagnosed (never would have caused any clinical problems during a man's lifetime), and thus any treatments — which can adversely affect urinary, sexual, and bowel functions — would be unnecessary. The task force now sees the increasing uptake of active surveillance — a strategy of monitoring men with PSA and biopsy and then offering treatment if the cancer progresses — as mitigating the harms of screening related to overtreatment," Dr Hoffman commented.
Primary Care Clinician in the Hot Seat
Because the majority of cancer screening in the United States occurs in the primary care setting, it is the primary care clinicians who are in the hot seat here, although urologists and other specialists are also involved in having these discussions, Dr Krist commented. Clinicians "need to be skilled" at having discussions about the potential benefits and harms of prostate cancer screening, and they need to be able to explain the pros and cons to men while taking into account their individual outlook and concerns. This needs to be a shared decision, and clinicians should not perform a PSA test without first having these conversations, Dr Krist emphasized.
It is an individual decision, he stressed. One man may be very concerned about prostate cancer and decide that potential benefits of testing outweigh the potential harms, whereas another may decide that the potential harms, which may include incontinence and impotence, outweigh any potential benefit. "But you can't know that without having the discussion," he said.
"I have patients who say to me, 'Well, gee, doc, it's just a blood test. Why shouldn't I do it?' " he commented. "But it's not just a blood test," he said. "It can lead to a biopsy and the anxiety of having a high-value PSA, and then decisions on treatment and the drawbacks of those treatments.
"It's a whole pathway," he emphasized: "It's not just a blood test."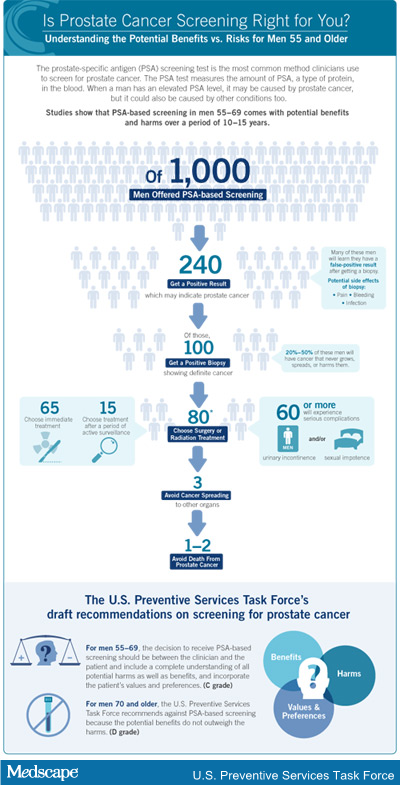 Dr Krist has disclosed no relevant financial relationships. Dr Garnick is editor in chief of the Harvard Medical School Annual Report on Prostate Diseases. Dr Hoffman is a consultant to the Informed Medical Decision Foundation, which has become part of Healthwise in Boise.
USPSTF. Draft Recommendations for Prostate Cancer Screening. Published online April 11, 2017. Full text
Medscape Medical News © 2017

Cite this: 'Individualize' Prostate Cancer Screening, Says USPSTF - Medscape - Apr 11, 2017.