Physicians and Lawyers Disagree Over Tort Reform
The American College of Physicians may have objected to Republicans' efforts to repeal the Affordable Care Act (aka Obamacare)—at least as envisioned by the GOP's American Health Care Reform Act of 2017—but the nation's largest medical specialty organization has come out foursquare in favor of HR 1215. This latest Republican-sponsored medical-liability reform bill, the Protecting Access to Care Act, which is now out of committee and on its way to the full US House of Representatives, would place a $250,000 cap on noneconomic damages.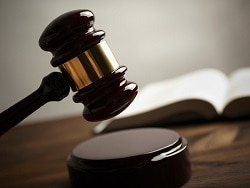 In a letter to the legislation's chief sponsor in the House—Rep Steve King (R-IA)—ACA President Nitin S. Damle, MD, wrote: "This legislation will provide much-needed reforms to our medical-liability laws to reduce the costs associated with defensive medicine and improve patient care."[1]
But Dr Damle added one recommendation: Lawmakers should amend their bill to impose a $250,000 limit on noneconomic damages nationwide, regardless of any state's existing cap, "to level the playing field." Rep King says the bill in its present form would allow state lawmakers to reserve the right to set the cap higher or lower than $250,000.
At least one group critical of the proposal is busy launching a counteroffensive, as a story on Public News Service reports.[2]
The American Association for Justice (AAJ)—formerly known as the Association of Trial Lawyers of America—objects not only to the damages cap but to other features of the GOP bill as well, including provisions that would pay damages above $50,000 in installments, exempt clinicians ordering drugs or medical devices from product-liability or class-action suits, limit trial lawyers' contingency fees, impose shorter statutes of limitations for filing claims, and replace joint and several liability with the Fair Share rule.
(Under joint and several liability, a plaintiff can recover all court-awarded damages from one of several defendants, even if this single defendant is only partially responsible for the injury. The Fair Share rule, on the other hand, divvies up damages among multiple defendants based on their individual percentage of responsibility.[3])
The AAJ hopes to show that public opposition to the GOP legislation is at least as strong as the sentiments that ultimately derailed Republicans' efforts to repeal Obamacare.
As part of its strategy, the AAJ commissioned a polling firm with Democratic ties to conduct a survey of seven states that voted Republican in the most recent presidential election: Alabama, Arizona, Florida, Georgia, Pennsylvania, Texas, and Utah.
The results? A strong majority of voters in all seven states—at least 63%—oppose the bill. Says the AAJ: "This coalition of opposition includes majorities and pluralities of Democrats, Republicans, Independents, women, men, and voters in all three age groups polled."[4]
The highest level of support for the legislation "was just 24%, while the lowest was 15%." At least 58% of polled voters said, the AAJ notes, "they would be less likely to vote to reelect their representative if he or she supported the bill."
Medscape Business of Medicine © 2017 WebMD, LLC

Any views expressed above are the author's own and do not necessarily reflect the views of WebMD or Medscape.
Cite this: Wayne J. Guglielmo. Physicians and Lawyers Disagree Over Tort Reform - Medscape - Apr 17, 2017.