Orthopedists Investing in Opportunities
Orthopedic trauma surgeon Manish "Manny" Sethi, MD, realized a few years ago that he was reaching the limits of how much he could help his patients.
"I was taking care of all these indigent folks—good, hardworking, blue-collar folks—but I still wasn't making the difference I wanted to make," says Dr Sethi, an assistant professor at Vanderbilt University in Nashville, Tennessee.
Too often, the patients come to him sick with diabetes, heart disease, or obesity—conditions he could not do much to address in the operating room. So Dr Sethi has organized health education fairs throughout Tennessee, and runs a nonprofit organization to sponsor them. To Dr Sethi, such volunteer efforts are the best hope for the United States to help millions of people who can't afford doctors, medicine, or surgery.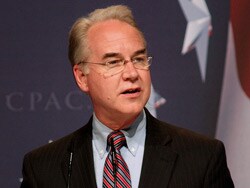 The effort caught the attention of President Donald Trump, who met with Dr Sethi on March 13. It's an illustration of the new opportunity now open for orthopedists to share their ideas on healthcare with the people running the government.
To start with, Tom Price, MD, the new Secretary of Health and Human Services, is a former orthopedic surgeon.
Also, orthopedic surgeons on the whole have invested in the party in power. A 2014 study found that over 75% of campaign contributions from people in the specialty go to Republican candidates.[1]
Orthopedic surgeons on the whole have invested in the party in power.
Orthopedic surgeons have more to give than most people: Their annual compensation for patient care of $489,000 makes theirs the best-paid specialty in all of medicine and also puts them well above the top 0.5% for individual income in the United States.
Finally, physicians in general are better represented in Congress than most professions, with three in the Senate and 10 in the House of Representatives—and all but two of them are Republicans. So what will orthopedists do with this opportunity?
AAOS Remains on the Sidelines in the ACA Debate
At various stages of legislation and court challenges, the American Academy of Orthopaedic Surgeons (AAOS) weighed in on the Affordable Care Act (ACA), supporting some provisions and opposing others.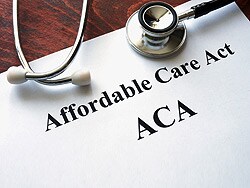 But officially, the AAOS has stayed on the sidelines so far in the debate over the Republicans' chief alternative. "We're not really in support or against the bill; we're trying to understand it better at this point," said Douglas W. Lundy, MD, MBA, a member of the AAOS Council on Advocacy, a few days before House Speaker Paul Ryan (R, Wisconsin) withdrew the bill March 24.
The AAOS's ambivalence mirrors that of the Republicans in Congress. Although most supported the American Health Care Act (AHCA), many objected that it would deprive their constituents of healthcare, that it didn't go far enough in reversing the government's involvement, or that they needed more time to analyze it. Faced with solid opposition from Democrats, the fractured Republicans could not use their majority to pass the bill.
Ryan has vowed to restart negotiations over healthcare reform. In the meantime, the Trump administration still has power to enact changes to the way the existing law is applied. "There are 1,442 citations in #ACA where it says 'The Secretary shall...' or 'The Secretary may...' @HHSGov, we'll look at every single one," Dr Price tweeted on March 17.
Affordability and Accessibility Lacking for Patients
Orthopedists have not lost their opportunity to influence the future of US healthcare. In doing so, they will have to consider their priorities. The AAOS's stated healthcare reform objectives are to "empower patients to control and decide how their healthcare dollars are spent, ensure unencumbered access to specialty care, make health care coverage more affordable, and improve quality of care."
Affordability and access loomed large in the nonpartisan Congressional Budget Office evaluation of the House Republicans' bill. It calculated a loss of healthcare coverage for 24 million fewer people by 2026 compared with what would happen under current law.
That's because the bill would have capped spending on Medicaid, canceled the penalties on individuals who don't have health insurance, and reduced the financial assistance for people who don't qualify for Medicaid but still can't afford premiums on the private market. (It would have changed income-based subsidies to age-based tax credits.)
Orthopedists have not lost their opportunity to influence the future of US healthcare. In doing so, they will have to consider their priorities.
In the wake of the Republican bill's collapse, the Trump administration might still try to carry out some of its provisions. For example, the Internal Revenue Service is not enforcing a provision that requires people to show that they have health insurance when filing their taxes. And the administration has stopped advertising aimed at encouraging people to buy insurance through public exchanges.
By withdrawing support in this way, the Trump administration could reduce the number of healthy people in private markets, discouraging private insurers from participating, and ultimately making it more difficult for people to obtain insurance when they want it.
The administration has also indicated interest in granting more waivers to states in the way that they use Medicaid funding. Advocates argue that the program would be more effective if tailored to the needs of individual states.
"I'm a fan of giving Medicaid back to the states," says Dr Sethi. Not only is Tennessee different from the rest of the country, but West Tennessee is different from East Tennessee, he says. He'd like to see the state experiment with incentives to encourage preventive care—for example, by giving patients a $50 gift card for gasoline in exchange for lowering their A1c from 7% to 5%. "You can't do that because of federal laws," he says.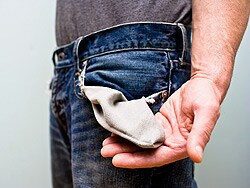 Overall, though, such waivers seem likely to reduce coverage. Some state governors have proposed work requirements or copayments. Of the 20% of Medicaid recipients who are not already working, most would be unable to comply with a work requirement because they are disabled, caring for family members, in school, or already looking for work, according to an analysis by the Kaiser Family Foundation.
Copayments might also strip some people of their Medicaid coverage because after paying for food and rent, they have nothing left at the end of the month, says Richard D. Frank, PhD, a health economist at Harvard University in Cambridge, Massachusetts, who served in the Obama administration. "It takes the concept of personal responsibility and stands it on its end," he says.
The loss of health insurance coverage was the prime reason that the American Medical Association opposed the Republican bill. Scaling back the Affordable Care Act (ACA) might have less impact on access to orthopedic surgery specifically than on access to healthcare in general. About one half of the 20 million people estimated to have gained coverage under the act got that coverage through Medicaid.
It's hard to find any studies examining the effects on access to orthopedic care of increased private insurance coverage through the ACA. But some studies have explored the effects of expanding Medicaid. A survey of urban physicians found that 47% of orthopedists accept Medicaid, compared with 53% of all the doctors surveyed. Several studies have found that people covered by Medicaid have more trouble making appointments with orthopedists than do people with other types of insurance.[2]
In one study, a researcher pretending to have a broken ankle called to make an appointment with orthopedic practices and found that only 36% would see him within 2 weeks when he said he was covered by Medicaid, compared with 89% when he said he was covered by Blue Cross Blue Shield Preferred Provider Organization—a highly significant difference (P = .001). The chances of getting an appointment in states where Medicaid expanded under the ACA were the same as in those where it did not expand. To improve access to orthopedic care for the most underserved people, it would be necessary to increase the number of orthopedists willing to accept Medicaid, perhaps by increasing reimbursement rates, the authors concluded.[2]
Other Republican proposals seem aimed at addressing a different AAOS objective: increasing patients' control over their healthcare. Dr Lundy and Dr Sethi are both intrigued by the idea of health savings accounts. "We hope that this will put patients more in charge of their healthcare," says Dr Lundy.
In theory, these accounts might improve access to care by encouraging people to save money they could use to cover high deductibles, including those for orthopedic surgery. And people who are using their own money might become more savvy consumers of healthcare, Dr Lundy says.
Researchers have found that such plans have either a very small or no effect on increased health insurance coverage.[3] To the extent that these plans add on to existing government subsidies for healthcare coverage, they might indeed give patients more control. But to the extent that they replace those subsidies, the benefits of increased control would accrue only to wealthier and healthier patients, whereas sicker and poorer patients lose control over healthcare because they can no longer afford it.
A third AAOS objective, improving the quality of care, has figured importantly in other recent legislation. The Medicare Access and CHIP Reauthorization Act of 2015 passed with overwhelming bipartisan support, including the vote of Dr Price, who was then in the House of Representatives.
Among other objectives, it aimed to control the cost of reimbursement to healthcare providers by shifting from fee-for-service to value-based reimbursement systems. One such system is bundled payments, in which Medicare pays hospitals for all the services provided for an episode of care with a lump sum.
Controlling the Cost of Reimbursement With Bundles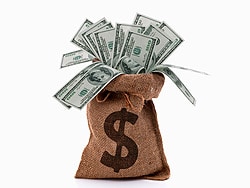 The Centers for Medicare & Medicaid Services (CMS) have made orthopedic procedures among the first to be bundled. Comprehensive care for joint replacement (CJR) bundles the costs of total hip and knee replacements, and CMS has gradually been making the program mandatory for Medicare reimbursement of these procedures in an increasing number of metropolitan areas. More recently, it began rolling out a mandatory bundle for repairs to broken hips and legs: surgical hip and femur fracture treatment.
Some hospitals have reported making more money being paid by bundles than through conventional fee-for-service while improving outcomes, as reported by Medscape. But Dr Sethi and others worry that the program creates an incentive to turn away the more complicated cases: for example, very sick or poor patients, who sometimes require more care.
The bundles face an uncertain future under the Trump administration. As a Congressman, Dr Price said that physicians should have a greater voice in devising such bundles, and his concerns may have influenced CMS's announcement of a 3- to 6-month delay in the rollout of the CJR program.
Another possible concern of orthopedists—though not one expressed in the AAOS position papers—is how healthcare reform could affect their revenues.
Along with a massive reduction in subsidies for people who can't afford healthcare, the Republicans' AHCA included a tax cut of about $600 billion. At least one half of the tax cuts would have gone to the wealthiest Americans. With their high incomes, orthopedists would surely have benefited.
On the other hand, a reduction in the number of people with health insurance could take a bite out of the income for some healthcare providers. For example, Dr Lundy, who specializes in orthopedic trauma at Resurgens Orthopaedics in Atlanta, Georgia (where Dr Price also practiced), bears some of the cost of uninsured patients he treats.
Many other trauma surgeons would escape the cost of treating uninsured patients because hospitals pick up the full tab, as Vanderbilt does for Dr Sethi. The cost of unfunded care to hospitals dropped by $7 billion in 2014 alone after passage of the ACA. "That might be of concern to orthopedic surgeons to the extent that hospitals are their workshops, because hospitals have benefited a lot," says Dr Frank.
Another possible concern of orthopedists—though not one expressed in the AAOS position papers—is how healthcare reform could affect their revenues.
And other Republican proposals might help orthopedists' bottom lines. As a Congressman, Dr Price called for limits on malpractice lawsuits and for allowing physicians to charge patients above Medicare reimbursement.
Dr Price also opposes the Independent Payment Advisory Board, a panel envisioned in the ACA that would cut Medicare spending if it reaches a set threshold.
Sherry Glied, PhD, a health economist at New York University in New York City who served in the Obama administration, speculates that Dr Price might change regulations on accountable care organizations (ACOs). "ACOs can be designed in a way that puts pressure on payment rates and leads practices to favor less intensive specialists," she says. "We might see fewer efforts to push that kind of reform forward."
Perhaps it's no wonder that the AAOS has hesitated to take positions on the Republicans' healthcare reform ideas. The prospects that these proposals could meet the organization's stated objectives look shaky in the light of hard economic analysis. On the other hand, the prospects of benefits to their bottom line look more solid.
Overall, orthopedists have little to worry about when it comes to the impact on their own lives, says Dr Frank. "These were some of the highest-paid, busiest professionals in the medical field before the ACA, and they were some of the busiest, highest-paid professionals after ACA was passed, and I expect they will be some of the busiest, highest-paid professionals going forward. I don't think there are any big things that are going to change that."
In the meantime, at least a few orthopedists will find time for the sort of volunteer work that Dr Sethi sees as an alternative to government programs. "We will be able to do more with less," he promises.
Medscape Orthopedics © 2017 WebMD, LLC

Any views expressed above are the author's own and do not necessarily reflect the views of WebMD or Medscape.
Cite this: Republican Health Policy Offers a Mixed Bag for Orthopedists - Medscape - Apr 12, 2017.