WASHINGTON, DC — Transcatheter aortic-valve replacement (TAVR) with valve-in-valve implantation after a failed surgical prosthesis (SAVR) is not only an effective alternative to further surgery, it may be safer than native-valve TAVR, new research suggests[1].
Using data from the Society of Thoracic Surgeons (STS)/American College of Cardiology (ACC) Transcatheter Valve Therapy (TVT) Registry, the investigators found that in-hospital mortality, stroke, major bleeding, and new permanent pacemaker rates were significantly lower in the valve-in-valve group vs the native-valve group.
Those who underwent valve-in-valve implantation also had significantly lower mortality, any stroke, and heart-failure (HF) hospitalizations 1 year after the procedure.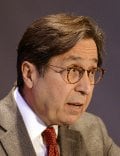 Lead author Dr E Murat Tuzcu (Cleveland Clinic, OH) reported during his presentation at the American College of Cardiology 2017 Scientific Sessions that valve-in-valve appeared to be the safer choice—but valve size will be important for patient selection.
However, "We have to be careful in drawing conclusions that one is safer or better than the other," cautioned session panelist Dr Gregg W Stone (Columbia University Medical Center, New York-Presbyterian, NY). "I think the best thing to say at this time is that there's no signal for harm" for the valve-in-valve procedure.
Stone later expounded to heartwire from Medscape that whenever there's a nonrandomized trial, the strength of the conclusions need to be looked at closely.
"I think the real purpose of them looking at these outcomes was just to make sure there were no major concerns compared with the standard outcomes we get with transcatheter valve replacement," he said.
First Comparative Analysis?
Tuzcu noted that the investigators wanted to conduct this study because "comparative data about valve-in-valve and native-valve TAVR has not been available." Because national coverage decisions require that all commercial TAVR procedures report to the TVT registry, "this allowed us to analyze data from a large US TAVR population."
The analysis first identified 47,297 high-risk patients from 394 sites who had a total of 48,060 admissions between November 2011 and September 2015. The final 2:1 sample included 1495 patients who underwent native TAVR (54% men; mean age 84 years) and 750 patients who underwent valve-in-valve TAVR (61% men; mean age 79 years).
"Patients in the valve-in-valve group were more symptomatic and more frequently had bypass surgery in the past. But the native-valve group were significantly older," noted Tuzcu.
In-Hospital and 1-Year Outcomes for Native- vs Valve-In-Valve Groups
Outcome
Valve-in-valve (%)
Native TAVR (%)
P
In-hospital
All-cause mortality
2.3
4.1
0.03
Any stroke
0.4
2.1
0.002
Valve Academic Research Consortium (VARC) major bleeding
3.9
6.4
0.01
New permanent pacemaker
3.2
10.9
0.01
New atrial fibrillation
2.8
6.0
0.001
1 Year
All-cause mortality
13.3
23.1
<0.001
Any stroke
2.0
4.3
0.002
HF hospitalization
12.3
15.6
0.02
"In-hospital stroke was fivefold higher in the native-valve group," Tuzcu pointed out. "Their hazard ratio for stroke at 1 year was 0.41, and the 1-year mortality hazard ratio was 0.49." The mortality rates were similar after researchers stratified for age older or younger than 80 years.
In addition, length of hospital stay was about 5 days in each group, but more patients were discharged directly home after undergoing valve-in-valve TAVR (77.9% vs 65.4%, respectively; P<0.001).
While in-hospital echocardiography showed higher mean gradients after valve-in-valve vs native TAVR (16 mm Hg vs 8 mm Hg, respectively; P=0.03), moderate or severe aortic regurgitation was less frequent (2.8% vs 9.5%, P<0.05).
"Post–valve-in-valve TAVR gradients were highest in significantly stenotic prosthesis and smaller transcatheter valves of 21 mm or less," said Tuzcu.
He added that this procedure "should be considered as the treatment of choice for inoperable and probably for high-risk patients." But, "careful patient selection by taking into account size of the surgical prosthesis and mode of failure will be important in achieving optimal results."
Tuzcu noted that future studies will need to directly compare the valve-in-valve procedure with redoing surgical AVR "for definitive conclusions."
Important Option
"So a repeat procedure is safer than a first procedure? Is there too much residual confounding going on here?" asked panelist Dr Robert A Harrington (Stanford University, CA) after the presentation.
"I think there are several reasons for our findings, but the point is: this procedure is safe," said Tuzcu.
"I think one of the problems we're having is that this is not scenario we're usually faced with. What we're faced with is whether these patients should have TAVR or surgery. And that's very different from the question that wasn't really answered here," said fellow panelist Dr Howard C Herrmann (Hospital of the University of Pennsylvania, Philadelphia).
Also, "I think all of this was predicated on how well you risk-adjusted the comparison," noted Herrman, who added that he was also concerned that they looked at outcomes only up to 1 year.
Stone later commented to heartwire that, overall, the presentation was reassuring in regard to valve-in-valve TAVR. "There was certainly no major safety signal seen. But I think suggesting that there's lower mortality in that procedure is probably not warranted based on the type of trial that was conducted."
Instead, he noted that native TAVR was used more as a standard with which to see if valve-in-valve was safe instead of as a true comparator. That said, "the bottom line is: the critical outcomes were good with a relatively short-term follow-up. I think a valve-in-valve procedure is an important option for patients."
The study was funded by the American College of Cardiology Foundation's National Cardiovascular Data Registry and the Society of Thoracic Surgeons National Database. Tuzcu has reported no relevant financial relationships. Stone has reported receiving consultant fees/honoraria from Ablative Solutions, BackBeat Medical, Coherex, Guided Delivery Systems, Medical Development Technologies, Miracor, Neovasc, Reva, TherOx, Vascular Dynamics, and V-Wave; and ownership interest/partnership/principal in Aria, Biostar family funds, Cagent, Caliber, Medfocus family funds, Micardia, Qool Therapeutics, and Vascular Nonotransfer Technologies. Herrmann reports consultant fees/honoraria from Edwards Lifesciences, Lerrink Swan, and Wells Fargo; research funding or grants from Abbott Vascular, Boston Scientific, Edwards Lifesciences, Medtronic, MitraSpan, and St Jude Medical; other funding from the Massachusetts Medical Society; and ownership interest/partnership/principal in Micro-Interventional Devices.
For more from theheart.org, follow us on Twitter and Facebook.
Heartwire from Medscape © 2017 

Cite this: Valve-in-Valve TAVR as Safe as Native-Valve TAVR: Registry - Medscape - Mar 27, 2017.