WASHINGTON, DC — A large randomized test of two embolic-protection devices was halted prematurely after failing to show that they affected the risk of clinical or radiographic cerebral infarction associated with surgical aortic-valve replacement (SAVR)[1]. Still, the devices clearly functioned as intended, capturing potentially embolic debris released by the procedure, which seemingly reduced the risk of some secondary-end-point signs.
And that was enough, apparently, to impress an array of expert observers that one or both of the two devices in the Neuroprotection in Patients Undergoing Aortic-Valve Replacement study should be explored further in SAVR and transcatheter aortic-valve replacement (TAVR) trials.
Those future trials might include higher-risk patient subsets in hopes of showing a clear benefit that would promote greater reimbursement options and more use by clinicians, Dr Michael Mack (Baylor Health Care System, Dallas, TX) told heartwire from Medscape after presenting the study here at the American College of Cardiology (ACC) 2017 Scientific Sessions .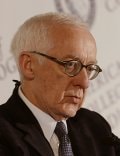 For now, however, the odds ratio (OR) for clinical or radiographic central-nervous-system (CNS) infarction at 1 week was 1.06 (95% CI 0.60–1.87, P=0.84) for the single-blind controlled comparison of the Embolic Protection Cannula (CardioGard Medical) and a corresponding 1.40 (95% CI 0.81–2.40, P=0.22), for the EMBOL-X (Edwards Life Sciences) intravascular filter.
The use of the protection devices was not associated with less clinical stroke or cerebral-infarct volume by MRI or with fewer neurocognitive deficits by 90 days. On the other hand, fewer patients using the devices than controls experienced delirium after the operation with both devices, significantly so (P=0.03) with the Embolic Protection Cannula, which sucks up particulate debris, and almost significantly (P=0.07) with the Embol-Xintra-aortic filtration device, a filter that traps debris.
The study had randomized patients diagnosed with calcific aortic stenosis (AS) with planned SAVR to receive one of the devices or the other during the procedure or to have "standard management" without an embolic-protection device. The devices were put into place twice, before engaging the cross clamp and right after its removal.
But enrollment to the trial was halted at 383 patients, only 77% of projected, due to futility, a forecast that there wouldn't be statistical power enough to find a significant difference in the primary end point.
Delirium as an End Point
Mack and observers at the ACC sessions pointed to the apparent reduction in delirium as firm evidence that debris capture during SAVR prevents adverse neurologic effects.
"I would suggest that the delirium itself was potentially a marker of embolic phenomenon," said Dr David E Thaler (Tufts Medical Center, Boston) said as a discussant following Mack's presentation of the trial. "Why else were there so few subjects with delirium if it weren't due to the embolus protection?"
He added, "Although overall this appears to be a negative study, I'm very excited by this as a vascular neurologist. It's got to be a good thing to stop all that junk from going up into the head."
Mack agreed, stopping short of calling it certain. "It intuitively makes sense."
To heartwire , Mack pointed out that neurovascular emboli in other settings are known to cause dementia over the long term, but it's less clear whether procedure-related emboli do the same thing. Yet it's widely believed by authoritative people, he said, that potentially embolic debris released from SAVR and TAVR can and likely does indeed hit the brain.
"How Can This Be Good for Your Brain?"
The recent SENTINEL trial, he observed, saw that the netlike Sentinel TCEP (Claret Medical) embolic-protection device captured a lot of debris during TAVR but apparently did not limit new cerebral damage or preserve cognitive function. Yet at the trial's presentation at the recent TCT-16 sessions, and later under scrutiny by an advisory panel of the FDA, Mack pointed out, experts who acknowledged the trial's negative outcome were largely convinced that debris is well worth capturing, during TAVR at least.
"And that's clearly going to have an impact in neurocognitive outcomes in the future," according to Dr Alistair Phillips (Cedars-Sinai Medical Center, Los Angeles, CA), an assigned discussant speaking to the media about the reduction in delirium seen in the current SAVR trial. "Clearly, it's got to be related to the reduction in particles that will be going to the brain."
Speaking to heartwire , Dr Raj Makkar (Cedars-Sinai Medical Center) observed that a reduction in delirium probably isn't enough for a formal recommendation to use the devices; that would require positive safety and efficacy studies.
But, "what is important is that you are capturing debris," echoed the interventional cardiologist. "How can this be good for your brain? I think if the device is easy to use, and you're showing that you're capturing a lot of debris, you [would be] more inclined to use it than not use it."
Primary and Secondary Outcomes in the Neuroprotection in Patients Undergoing Aortic-Valve Replacement Study
| | | | | |
| --- | --- | --- | --- | --- |
| End points | CardioGard (n=118), % | Control (n=120), % | Embol-X (n=133), % | Control (n=132), % |
| Primary end point* | 32.7 | 34.8 | 27.1 | 34.8 |
| Clinical stroke <7 d | 5.1 | 5.8 | 8.3 | 6.1 |
| Clinical stroke <3 d | 3.4 | 5.0 | 6.0 | 5.3 |
| Clinical ischemic stroke, acute kidney injury, death (approximate) | 21 | 24 | 33 (P=0.08 vs control) | 23 |
| Delirium at 7 d (approximate) | 6 (P=0.03 vs control) | 15 | 7.5 (P=0.07 vs control) | 15 |
*Freedom from clinical or radiographic CNS infarction at 7 days
Neither device was associated with improvements in clinical stroke, volume of CNS infarcts by MRI, or neurocognitive test results at 90 days, Mack reported. On the other hand, the delirium reduction was stronger with the CardioGuard cannula, and the EMBOL-X filter was associated with significantly more acute kidney injury (AKI) (P=0.02) and arrhythmias (P<0.01) compared with its control group.
"If there was a trend toward benefit in one [embolic-protection device] vs the other, it was toward the CardioGuard device," Mack told the media.
To heartwire he observed, "There may be a bit a safety signal with the Embol-X device," pointing to the difference in AKI and some other secondary end points. "You may actually be dislodging plaque by putting the device in," sending debris into the aorta with embolization to the kidneys.
The trial was funded by a grant from the National Institute for Neurological Disorders and Stroke, the National Heart, Lung, and Blood Institute, and the Canadian Institutes of Health Research. Mack discloses receiving research grants from Edwards Lifesciences, Abbott Vascular, and Medtronic. Thaler discloses receiving consultant fees or honoraria from AGA Medical/St Jude/Abbott. Phillips reports no relevant financial relationships. Makkar reports consultant fees/honoraria from Abbott Vascular, Medtronic, Cordis; other relationships with Entourage Medical; research grants from Edwards Lifesciences and St Jude Medical; and salary from Cedars-Sinai Medical Center.
Follow Steve Stiles on Twitter: @SteveStiles2. For more from theheart.org, follow us on Twitter  and Facebook .
Cite this: Embolic 'Protection' at Surgical Aortic-Valve Replacement: Data Disappoint but Optimism Reigns - Medscape - Mar 24, 2017.