Updated April 5, 2017
Introduction
In this series on leading-edge developments in the field of infectious diseases, Dr John Bartlett comments on the wide array of infectious disease threats to human health that appeared in 2016 and have continued to be problematic in 2017. This second article in the series focuses on new antibiotics, bioterrorism, and the latest on vaccines.
New Antibiotics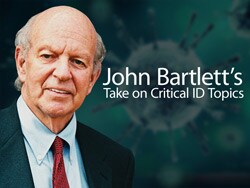 Concern about antibiotic resistance has been magnified by the paucity of new antibiotics to fill the ever-widening gap between pathogen treatments and available drugs. This was officially recognized by Dr David Gilbert, who coined the phrase, "bad bugs, no drugs."[1] In 2004, that slogan was officially adopted by the Infectious Diseases Society of America. In 2013, Dr Gilbert and his colleagues came up with the concept of "10 × '20" progress—the development of 10 new antibiotics by 2020.[2]
The lack of pharmaceutical development of these agents is easily understood. In contrast to many other drug categories, antibiotics are given for relatively short courses and are relatively inexpensive. Physicians are encouraged to refrain from unnecessary antibiotic use, owing to justifiable concerns about resistance; the practice is often referred to as "use it and lose it." From 2003 to 2010, only one new antibiotic was approved by the US Food and Drug Administration (FDA). However, in the past 7 years, eight new antibiotics have been approved.
The new agents, year of FDA approval, indication, and response to need for addressing resistance are indicated in the Table.
Table. Antibiotics Approved by the FDA Since 2010
Antimicrobial Agent
FDA Approval
Indication/Target Pathogen
ESKAPEa
Fidaxomicin
2011
Clostridium difficile infection
No
Ceftaroline
2010
Community-acquired pneumonia; acute bacterial skin and soft tissue infection (ABSSI)
Yes
Bedaquiline
2012
Tuberculosis
No
Dalbavancin
2014
Staphylococcus aureus; ABSSI
Yes
Tedizolid
2014
S aureus; ABSSI
Yes
Oritavancin
2014
S aureus; ABSSI
Yes
Ceftolozane/tazobactam
2014
Intra-abdominal infection
Yes
Ceftazidime/avibactam
2015
Intra-abdominal infection; urinary tract infection
Yes
a ESKAPE pathogens: Enterococcus faecium; S aureus; Klebsiella pneumoniae; Acinetobacter baumannii, Pseudomonas aeruginosa; Enterobacter cloacae[3]
The list of new antibiotics is quantitatively impressive, but is disappointing in terms of responsiveness to contemporary needs, such as the rapidly evolving concern about resistant Gram-negative bacilli (GNB),[4] including carbapenem-resistant GNB, the most worrisome pathogen. These and other resistant bacteria have fueled the ominous prediction that we could be facing the "postantibiotic era," with the potential for 50 million deaths annually.
Nonetheless, it is encouraging that the pharmaceutical industry has stepped up interest in antimicrobial development. Other drugs—tigecycline, colistin, polymyxin, and aminoglycoside—are available to treat many resistant GNB, although previous use has been limited by toxicity.
Solithromycin. The most recent new antibiotic is solithromycin,[5] a novel macrolide for intravenous and oral use in the treatment of community-acquired pneumonia (CAP). Several new agents in the pipeline address specific challenges of antibiotic resistance, including intravenous minocycline for Acinetobacter species, Stenotrophomas, and Burkholderia species; new polymyxins that are not nephrotoxic; meropenem/RPX7009 for carbapenem-resistant pathogens; and plazomicin with activity against extended-spectrum beta-lactamase-producing GNB. [Editor's note: In November 2016, solithromycin narrowly won FDA advisory panel approval, but in December, the FDA rejected Cempra, Inc.'s new drug applications for oral and intravenous solithromycin for bacterial CAP in adults. Instead, the FDA recommended a comparative study to exclude the possibility of serious drug-induced liver damage. On March 28, 2017, Cempra announced that it was withdrawing its marketing authorization application seeking European Medicines Agency approval for solithromycin.]
Antiviral therapy. The relatively new field of antiviral therapy, previously considered untouchable, has had substantial success over the past 40 years. This includes antivirals for HIV, hepatitis C virus, hepatitis B virus (HBV), and influenza. The latest addition to this category is tenofovir for the treatment and prevention of perinatal HBV transmission.[6,7]
Medscape Infectious Diseases © 2017 WebMD, LLC

Any views expressed above are the author's own and do not necessarily reflect the views of WebMD or Medscape.
Cite this: John Bartlett's Take on Critical Infectious Disease Topics: Part 2 - Medscape - Mar 30, 2017.