WASHINGTON, DC — Perioperative administration of the calcium-sensitizing inotropic levosimendan in a randomized phase 3 trial did not improve clinical outcomes better than placebo in patients with poor LV ejection fractions undergoing cardiac surgery that included cardiopulmonary bypass (CPB) support[1].
The agent appeared "effective and safe as an inotrope to increase cardiac output in patients at risk for perioperative low cardiac-output syndrome," according to Dr John H Alexander (Duke Clinical Research Institute, Durham, NC), presenting the trial at the American College of Cardiology (ACC) 2017 Scientific Sessions.
But that wasn't associated with improvements in the trial's co–primary end points: 30-day death or dialysis, perioperative MI through day 5, or mechanical assist-device use; and 30-day death or mechanical assist-device use.
Whereas levosimendan is approved in more than 60 other countries, it remains investigational in the US while Tenax Therapeutics, which sponsored the Levosimendan in Patients with Left Ventricular Systolic Dysfunction Undergoing Cardiac Surgery Requiring Cardiopulmonary Bypass (LEVO-CTS) trial, seeks FDA approval.
In the 70-site trial conducted in the US and Canada, published in the New England Journal of Medicine to coincide with Alexander's presentation at the ACC sessions, 849 predominantly male and white patients undergoing cardiac surgery received either levosimendan or placebo (n=440) perioperatively.
The surgeries consisted of isolated CABG in 66.3% and CABG plus mitral-valve surgery in 11.7%; the remainder were spread across five other types of surgery. Many patients had multiple morbidities, and the median left ventricular ejection fraction was 27%.
Levosimendan was given as an infusion of 0.2 µg/kg/min 20 minutes prior to surgery and continued for 1 hour, followed by 0.1 µg/kg/min for 23 hours. Median aortic cross-clamp time was 78 minutes, and median CPB time was 112 minutes.
On study end, the two randomization groups showed identical rates of the four-part primary end point of 30-day death or dialysis, perioperative MI through day 5, or mechanical assist-device use: 24.5% each, for an adjusted odds ratio (OR) of 1.00 (99% CI 0.66–1.54, P=0.98).
The two-part primary end point of 30-day death or mechanical assist-device use was seen in 13.1% of patients who received levosimendan and 11.4% of controls (adjusted OR 1.18, 96% CI 0.76–1.82; P=0.45).
The incidence of low cardiac-output syndrome (P=0.007) and secondary inotrope use at 24 hours or beyond (P=0.017) were significantly lower among levosimendan patients. Levosimendan recipients showed a cardiac output of 2.86 L/min/m2 compared with 2.68 L/min/m2 for those who received placebo (P<0.0001). Rates of safety end points, including hypotension, did not differ significantly between groups.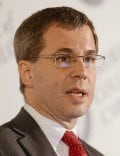 Following Alexander's presentation of the trial, panelist Dr Alexandra Lansky (Yale School of Medicine, New Haven, CT), said, "I think it's important to point out that you've got a very heterogeneous patient population in this study. It's a very broad group of patients going for surgery."
Pointing to some secondary end points that seemed to favor the calcium sensitizer, Lansky said she was struck by the "very, very strong mortality signal."
By 90 days, 4.7% of actively treated patients and 7.1% of those on placebo had died (adjusted hazard ratio [HR] 0.64, 95% CI 0.37–1.13; P=0.123), the group reports, pointing out that secondary-end-point analysis should be considered "exploratory" because there were no differences in the primary end points.
Levosimendan, she said, is a "very promising drug obviously accepted in many parts of the world."
For use outside the US, "Levosimendan is a good inotrope. It increases cardiac output and, the way we dosed it in LEVO-CTS, it's safe. It might reduce mortality," Alexander told heartwire from Medscape.
He and his colleagues saw trends for improved outcomes with levosimendan in patients with the lowest ejection fractions and with placebo for those with the higher ejection fractions.
"We have better safety data with levosimendan than we have with other inotropes. Given the absence of hard clinical-outcome certainty, I'm not sure I would use it prophylactically in everybody. I might wait until you're worried about somebody's cardiac output, either going into surgery or after surgery where you really want to put them on an inotrope, and then I think levosimendan is a reasonable option."
Tenax Therapeutics funded this research. Alexander reports research support from Boehringer Ingelheim, Bristol-Myers Squibb, CSL Behring, the US Food and Drug Administration, the US National Institutes of Health, Pfizer, and Tenax, plus consultant fees from Bristol-Myers Squibb, Cempra, CryoLife, CSL Behring, Pfizer, Portola, and the US Veterans Administration. Disclosures for the coauthors are listed on the journal website.
Follow Larry Hand on Twitter: @LarryHand16. For more from theheart.org, follow us on Twitter and Facebook.
Heartwire from Medscape © 2017

Cite this: LEVO-CTS: No Levosimendan Protection at Low-EF Cardiac Surgery - Medscape - Mar 22, 2017.