WASHINGTON, DC — Taking the proprotein convertase subtilisin/kexin type 9 (PCSK9) inhibitor evolocumab (Repatha, Amgen) on top of statins does not affect memory or other cognitive problems—at least for up to 2 years, suggests new research from Evaluating PCSK9 Binding Antibody Influence On Cognitive Health in High Cardiovascular Risk Subjects (EBBINGHAUS)[1], a substudy of the recently released FOURIER outcomes trial.
FOURIER was arguably the biggest presentation here at the American College of Cardiology (ACC) 2017 Scientific Sessions. After reporting that evolocumab significantly decreased risk for major CV events, Dr Marc Sabatine (Brigham and Women's Hospital, Boston, MA) teased that the cognitive data were part of a positive safety profile. This was backed up the following day when EBBINGHAUS's primary results were presented by Dr Robert P Giugliano (Brigham and Women's Hospital).
Including nearly 2000 FOURIER participants, the substudy showed no significant differences up to 19 months between those receiving subcutaneous injections of evolocumab 140 mg every other week or 420 mg monthly plus continued statin use and those on matching placebo, according to four cognitive functioning measures, a patient questionnaire, and physician reports.
In exploratory analyses, cognitive function was also not affected by LDL-C status, even for those who had an end-of-study level of <25 mg/dL.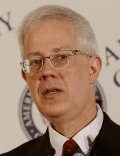 "The findings should remove some concerns that patients have voiced, based on their looking up of 'Dr Google,' " Giugliano told heartwire from Medscape. Could there eventually be a J-curve? "I don't know, but we didn't see any problems down to a cholesterol achieved at 19," he answered.
When asked for comment, ACC 2017 cochair Dr Jeffrey Kuvin (Dartmouth-Hitchcock Medical Center, Lebanon, NH) said the study addressed some pressing issues.
"We've wondered two things: is there an agent-specific issue with PCSK9 inhibitors and cognitive function? And is there an LDL threshold where we start to see cognitive changes? This is only one study, but it seems well validated and [shows] that there is no significant signal for changes, at least in the battery of tests that they used," said Kuvin, who was not involved with the research.
"I'd say these results are very reassuring," he added. "As a clinician, our first job is to not harm people. While there had been some potential signals [for adverse cognitive effects] in some other data, these new data reinforce with scrutiny that we are not seeing any significant risk."
Past Cognitive Concerns
The US Food and Drug Administration added a safety alert to statin labeling in 2012 because of cognitive concerns from "case series and two small, 6-month randomized controlled trials," noted Giugliano. But the Statin Cognitive Safety Task Force announced 2 years later that analyses from large-scale randomized trials did not support those findings.
Still, concerns about statins and memory impairment spilled over during the development of PCSK9 inhibitors, "even though monoclonal antibodies such as evolocumab are simply too large to cross the intact blood-brain barrier," said Giugliano.
Nonetheless, a meta-analysis published in 2016 suggested that patients receiving this new class of medication were more at risk for adverse cognitive events. But event rates were <1%, and "the results represented unadjudicated and diverse terms and were not correlated with degree of LDL-C lowering," reported Giugliano.
The FOURIER trial included 27,564 patients in 30 countries who had clinically evident vascular disease. Its EBBINGHAUS substudy is the first randomized trial to focus on comparing these outcomes after treatment with a PCSK9 inhibitor vs placebo.
This analysis included 1974 patients (72% men; mean age 63 years) who were on moderate or high-intensity statins. In addition, 75% had had an MI prior to the study's start and 20% had had an ischemic stroke. Mean follow-up was about 19 months.
"Pretty Good Track Record"
The validated Cambridge Neuropsychological Test Automated Battery (CANTAB) was used to examine both executive function (such as paying attention and remembering and organizing details) and reaction time at baseline, weeks 24 and 48, and every additional 48 weeks.
Using an electronic tablet, patients searched for blue boxes hidden within a series of red boxes—with the instruction to not return to the same area once a blue box was found. Lower scores represented better times or improvements.
Change from baseline on the spatial working memory strategy index (SWMsi) of executive function was the primary end point. SWM between errors, paired associates learning, and reaction time were secondary end points.
Raw scores on the SWMsi did not differ between the evolocumab and placebo groups at baseline (17.8 for each) or at end of study (17.5 vs 17.6, respectively). "The treatment differences were well below the upper bounds of the noninferiority boundary," noted Dr Giugliano.
There were also no significant between-group differences on the other three SWM tests, on the patient questionnaire on memory and executive function (everyday cognition) at the end of the study, or on investigator-reported cognitive adverse events.
"The evidence thus far is that, at least with this combination of therapy, this medication seems to be efficacious in terms of lowering LDL and seems to be safe in terms of side-effect profile, including cognition. And importantly, it improves cardiovascular end points," Kuvin commented to heartwire .
"That's a pretty good track record so far. There's more research to be done, but I think we can go home to our patients and say that we may have some new tricks up our sleeves."
More Research, Answers Needed
After the presentation, panelist Dr Deepak L Bhatt (Brigham and Women's Hospital) said that this was a highly anticipated presentation at the ACC meeting and provided "a missing piece of the LDL puzzle."
"You've advanced the field by reassuring us that pharmacologically lowering LDL levels appears to be safe," said Bhatt.
"In this secondary-prevention population, with an average age of 63, the outcomes were very safe from a cognitive perspective. But what if we were to move this strategy of very low LDL levels to primary prevention, say in a 40-year-old woman for the next 40 years? What might you extrapolate from this study in terms of longer-term neurocognitive strategy?"
In answer, Giugliano admitted that a limitation of the study was that the participants were followed for only about 20 months, "and of course we treat patients with hyperlipidemia for decades, if not lifetimes."
Sabatine had reported earlier that an open-label extension trial will evaluate safety issues in 6000 of the FOURIER participants. Giugliano added that all of the EBBINGHAUS participants will be rolled over into that analysis and it will continue "for as long as we have support to continue. I think we should follow for a decade or more."
And regarding possible use for primary prevention? "I think additional research is needed into that."
The study was funded by Amgen. Giugliano has received consultant fees/honoraria from the ACC, Amgen, Boehringer Ingelheim Pharmaceuticals, Bristol-Myers Squibb, CVS Caremark, Daiichi Sankyo, GlaxoSmithKline, Lexicon, Merck, Pfizer, Portola, and St Jude Medical and research funds/grants from Amgen. Bhatt has reported consultant fees/honoraria from Elsevier Practice Update Cardiology; other funding from Belvoir Publications, Cardax, Clinical Cardiology, Elsevier, HMP communications, the Journal of Invasive Cardiology, Medscape Cardiology, Merck, Regado Biosciences, and Slack Publications/Cardiology Research Foundation; and research/research grants from Amarin, Amgen, AstraZeneca, Bristol-Myers Squibb, Eisai, Ethicon, FlowCo, Forest Laboratories, Ischemix, Medtronic, Pfizer, PLx Pharma, Roche, Sanofi, Takeda, and the Medicines Company. He noted that although he was from the same center as Giugliano, he had nothing to do with this research and had not seen the results prior to their presentation. Kuvin has reported no relevant financial relationships.
For more from theheart.org, follow us on Twitter and Facebook.
Heartwire from Medscape © 2017

Cite this: No Cognitive Impairment on Evolocumab in EBBINGHAUS Study - Medscape - Mar 21, 2017.