WASHINGTON, DC — Observational data presented at the American College of Cardiology 2017 Scientific Sessions show the frequency and severity of subclinical leaflet thrombosis is greater with transcatheter than surgical aortic valves and that oral anticoagulation, but not dual antiplatelet therapy (DAPT), is protective[1].
Among 890 patients in the RESOLVE and SAVORY registries with interpretable 4D computed tomography (CT) scans, subclinical leaflet thrombosis was present in 3.6% of 138 patients treated with surgical aortic valves (SAVR) and 13.4% of 752 patients treated with transcatheter aortic valves (TAVR).
Subclinical leaflet thrombosis was seen in 14.9% of patients on DAPT compared with 3.6% on oral anticoagulation (P<0.0001). Warfarin and novel oral anticoagulants (NOACS) were equally protective (4.3% vs 2.8%).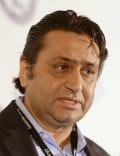 "What you can take away from this is that dual antiplatelet therapy isn't doing a whole lot. So for your old, frail patient who is more likely to bleed, don't feel terrible about not being able to give that patient a dual antiplatelet therapy. That's the first practical punchline that I would take from our findings into clinical practice," senior author Dr Raj Makkar (Cedars-Sinai Medical Center, Los Angeles, CA) told heartwire from Medscape.
For younger patients, however, who have fewer comorbidities and are increasingly being treated with TAVR, prescribing oral anticoagulation may be a more important consideration, he said.
Among 58 patients with leaflet thrombosis and follow-up CT scans, the thrombosis resolved in all 36 patients on warfarin or NOACS for 3 months but persisted or progressed in 20 out of 22 patients not on anticoagulation (P<0.0001).
Moreover, reduced leaflet motion recurred in four of eight patients in whom anticoagulation was discontinued but in none of the 15 patients maintained on anticoagulation (P=0.008).
"These data really call into question whether we should extend the period of anticoagulation for valve replacement," panelist Dr David H Adams (Mount-Sinai Hospital, NY, NY), commented to heartwire . "We certainly need more data."
Fellow panelist Dr Alexandra Lansky (Yale University, New Haven, CT) told heartwire the study is "very important and very impressive," noting that subclinical valve thrombosis started out as an incidental finding only a few years ago, but the data are not enough to change anticoagulation use in daily practice.
"What we need to wait for is the clinical trials; there are many, many ongoing clinical trials looking at anticoagulation, NOACs, Coumadin, etc, and we really need to wait for that to really see whether that's important and the way to go," she added.
The late-breaking study, published simultaneously online in the Lancet, enrolled 657 patients from the RESOLVE registry at Cedars-Sinai Heart Institute and 274 patients from the SAVORY registry at Rigshospitalet in Copenhagen. In all, 16 valve designs were studied, including Edwards-Sapien/Sapien XT/Sapien 3 (Edwards Lifesciences) Evolut/CoreValve (Medtronic), Lotus (Boston Scientific), Portico (Abbott), Perimount (Carpentier-Edwards), and Magna (Carpentier-Edwards). The median time from SAVR to CT scanning was 163 days vs 58 days from TAVR to CT.
The overall incidence of subclinical leaflet thrombosis (>50% reduced leaflet motion on CT) occurred in 11.9% of patients, which compares with rates of 13% to 40% in an earlier report[2] by Makkar.
Depending on the type of TAVR device, the frequency of reduced leaflet motion varied from 0% to 30% and appeared to increase with each new iteration.
When the issue was raised during a press briefing on the study, Makkar was quick to shut down any speculation and said the study was not designed to look at differences between the valves and valve numbers were too small to make any meaningful conclusions.
Also unknown is the effect of reduced leaflet motion on valve durability after several years. Makkar noted that more patients with reduced leaflet motion had an increase in aortic-valve gradient of more than 20 mm Hg or a new increase in gradient of 10 mm Hg. But at the same time, 86% of patients with reduced leaflet motion did not have an increase in valve gradient.
"We can speculate that this may have an impact on long-term durability, but I think it's going to be very, very hard to prove it," Makkar told reporters.
Importantly, stroke rates were similar between patients with and without thrombosis (5.7% vs 2.8%; P=0.10), but rates of transient ischemic attack (5.7% vs 0.9%; P=0.0005) and composite stroke or TIA (10.4% vs 3.4%; P=0.001) were higher in patients with leaflet thrombosis.
Makkar stressed that the findings do not prove causality, only an association, and that further evaluation is needed in randomized, controlled trials such as GALILEO and ATLANTIS.
Lansky told heartwire , "It seems like with the stroke and TIA that it really is a population thing because you see the increased TIA/stroke rate from the time of the procedure; so it's really not causative, and I think he made a very strong point about that."
Panelist Dr Robert O Bonow (Northwestern University, Chicago, IL) said, "There's lots of interest in what this means clinically," but "I'd be real careful in saving we have a true difference between TAVR and SAVR, given the small numbers of patients; and even though time didn't appear to be a significant factor, the patients getting surgery got CT at a much later date."
He went on to ask whether the guidelines should be changed, to which Makkar responded, "I think what our findings do is stimulate the discussion, but ultimately the changes have to come from clinical trials."
Current US and European guidelines recommend DAPT as the standard of care after TAVR but do not recommend routine anticoagulation after TAVR.
When asked who should be screened for subclinical leaflet thrombosis, Makkar told the crowd, "We are far from saying that everybody who gets TAVI should be screened" but that the threshold for suspicion "should become somewhat lower as you move to younger patients."
He added, "If you've got a new TIA or a stroke, if there's new-onset heart failure or an increase in gradient, even a small increase in gradient, you should have low threshold to do a CT scan."
As for how long anticoagulation should be given, Makkar said, "What we've shown here is that at least 3 months of treatment did not seem adequate, because at least half of the patients had return of this finding," and again he suggested that ongoing clinical trials using NOACs for about 1 year should provide further answers.
Drs Jeroen Bax (Leiden University Medical Center, Netherlands) and Gregg W Stone (Columbia University Medical Center, NY, NY) echoed those sentiments in an accompanying editorial[3]: "In our estimation, changes in the guidelines of the type and timing of imaging surveillance and therapy after SAVR and TAVR are premature on the basis of current knowledge. Nonetheless, this study has provided important new information to guide future investigation."
Makkar reported consultant fees/honoraria from Abbott Vascular, Medtronic, Cordis; other relationships with Entourage Medical; research grants from Edwards Lifesciences and St Jude Medical; and salary from Cedars-Sinai Medical Center. Disclosures for the coauthors are listed in the paper. Adams reported other relationships with Edwards Lifesciences and Medtronic and research grants from Medtronic and NeoChord. Lansky reported consultant fees/honoraria from Keystone Heart and speaker's bureau participation for AstraZeneca, Eli Lilly, and Merck. Bonow reported serving on the data safety monitoring board for the Harvard Clinical Research Institute and other relationships with Gilead and JAMA. Bax reported institutional research grants from Biotronik, Medtronic, Boston Scientific, and Edwards Lifesciences. Stone reports personal consulting fees from St Jude Medical and Toray, Matrizyme, Ablative Solutions, Claret, Reva, V-wave, Vascular Dynamics, Miracor, Neovasc, Medical Development Technologies, BackBeat Medical, Valfix, and TherOx, all unrelated to the study; and reports equity in Cagent, Qool Therapeutics, Caliber, Aria, the Biostar family of funds, the MedFocus family of funds, Guided Delivery Systems, Micardia, Vascular Nanotransfer Technologies, and Pulnovo; and reports royalties to his institution from Abbott Vascular for sale of the MitraClip.
Follow Patrice Wendling on Twitter: @pwendl. For more from theheart.org, follow us on Twitter and Facebook.
Heartwire from Medscape © 2017

Cite this: Higher Subclinical Leaflet Thrombosis Risk With TAVR Than SAVR, Dual Antiplatelets Not Protective - Medscape - Mar 21, 2017.