WASHINGTON, DC — The first randomized controlled trial to examine the feasibility of moderate exercise, such as brisk walking, for patients with hypertrophic cardiomyopathy provides reassurance that this type of exercise can improve cardiovascular fitness[1]. There were no adverse events, but the trial was not designed to establish long-term safety, researchers caution.
Specifically, in the Randomized Exploratory Study of Exercise Training in Hypertrophic Cardiomyopathy (RESET-HCM) of 136 patients with the inherited disease, patients who followed a 4-month, structured but unsupervised moderate-intensity exercise-training program had a small but significant increase in exercise capacity compared with their peers who kept their usual exercise habits.
The moderate regular exercise did not trigger ventricular arrhythmia and sudden cardiac arrest or appropriate defibrillator shock, and none of the patients died.
Dr Sara Saberi (University of Michigan, Ann Arbor) presented the findings here at the American College of Cardiology (ACC) 2017 Scientific Sessions, which were simultaneously published online in the Journal of the American Medical Association.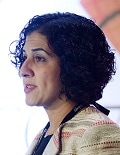 The study "provides support for a regimen of unsupervised brisk walking 4 to 7 days per week for a minimum of 30 minutes, as a targeted intervention for patients with hypertrophic cardiomyopathy," researchers report.
"We're not talking about training for the Olympics; we're talking about habitual exercise" to keep weight under control, keep diabetes, hypertension, and coronary artery disease at bay, and prevent sleep apnea, as patients with hypertrophic cardiomyopathy are not immune to those negative consequences of a sedentary lifestyle, Saberi told heartwire from Medscape.
"In clinic I encourage my patients to exercise habitually," she said. Patients are fearful, based on what they hear about sudden cardiac death in young athletes, which is understandable, but this study should allay some of those fears.
"I think it really comes down to reassuring patients that moderate exercise is safe and not harming their heart," which this study provides, Dr Martin S Maron (Tufts Medical Center, Boston, MA), a session panel member, said to heartwire.
The findings "represent an important beginning in using data from randomized clinical trials to guide exercise recommendations for patients with hypertrophic cardiomyopathy," Drs Anjali T Owens and Thomas P Cappola (University of Pennsylvania Perelman School of Medicine, Philadelphia) echo in an accompanying editorial[2]. The exercise "'prescription'...was simple, practical, and easily implemented in clinical practice."
Fearful Patients, Conservative Clinicians
As there have been no randomized trials to help inform treatment decisions, many physicians caring for patients with hypertrophic cardiomyopathy recommend extremely conservative physical-activity restrictions, and many patients are fearful of doing any exercise at all.
Thus Saberi and colleagues aimed to see if moderate-intensity aerobic training could improve exercise capacity in patients with hypertrophic cardiomyopathy without causing harm.
From 2010 to 2015, they randomized 136 adults with hypertrophic cardiomyopathy. The patients were 18 to 80 years old, with a mean age of 50, and 42% were women.
Many patients had a high risk of an adverse event: 17% had obstructive hypertrophic cardiomyopathy; 34% had an implantable cardioverter-defibrillator; and 4% had a history of sustained ventricular tachycardia or aborted sudden cardiac arrest.
All but one patient underwent genetic testing: 43% did not have any variants in nine sarcomere genes, 10% had a variant of uncertain significance, and 43% had at least one disease-causing mutation in one of these genes.
The primary outcome was change in peak VO2 from baseline to week 16 (a measure of exercise capacity) and secondary outcomes included quality of life and exercise performance measures.
All patients received a pedometer and heart-rate monitor.
Structured, Unsupervised Exercise Program
Patients in the exercise-training group received a 1-hour consultation with an exercise physiologist and were given an individualized exercise program, in which they could cycle, walk/jog, swim, or use an elliptical trainer, but not do strength or interval training.
They were instructed to do 20 minutes of exercise, three times in the first week, at 60% of their heart-rate reserve (based on their baseline cardiopulmonary exercise test) and a perceived moderate intensity.
For week 2 to 4, they were instructed to up their exercise time by 5 to 10 minutes a week (up to 60 minutes) and exercise 4 to 7 times a week at 70% of their heart-rate reserve and a perceived moderate intensity. They were to maintain this exercise regimen for the rest of the 16-week study.
Patients in the usual-activity group were instructed to continue with their current exercise practices.
Patients' activity was tracked using heart monitor data, pedometer data, activity logs, and weekly phone calls.
About four in 10 patients in each group reported that they did not regularly exercise before enrollment.
By 16 weeks, 28% of patients in the usual-activity group and 93% of patients in the exercise-training group regularly exercised.
The most common types of exercise were walking, jogging/running, swimming, using an elliptical trainer, and cycling.
Patients had a mean peak VO2 of 22 mL/kg/min at study entry, which increased by a mean +1.35 mL/kg/min among participants in the exercise-training group and +0.08 mL/kg/min among the other participants, a between-group difference of 1.27 mL/kg/min that represented an absolute increase of 6%.
The improvement in peak VO2 was similar to the 4% increase in peak VO2 in heart-failure patients in HF-ACTION.
There were no differences in cardiac remodeling or quality of life (based on self-reported questionnaires), apart from improvements related to improved physical function, but these were not adjusted for confounders.
"Participants in the exercise-training intervention exercised more frequently and purposefully than those in the usual-activity group, suggesting that an exercise consultation to establish an individualized exercise-training program for patients with hypertrophic cardiomyopathy may be considered in clinical practice to promote a healthy, active lifestyle." Saberi and colleagues summarize.
Simple Exercise Prescription, Future Potential Genetic Therapies
The trial was not powered to assess safety, and given the rarity and infrequency of major adverse events in patients with hypertrophic cardiomyopathy compared with those with chronic heart failure, it would require a much larger trial, Saberi and colleagues note.
Thus, establishing the safe level of exercise for patients with hypertrophic cardiomyopathy is "still a work in progress," as Owens and Cappola write.
"Therapeutic strategies are under development to directly target the sarcomere and hold promise," they continue. "But it is intriguing, and hopeful, to consider that a simple intervention such as recreational exercise might positively influence the course of certain inherited heart diseases."
This study was supported by a research grant from the Michigan Institute for Clinical & Health Research, University of Michigan Frankel Cardiovascular Center McKay Research Grant and Inaugural Grant, and an anonymous donor. Saberi and colleagues reported no relevant financial relationships. Cappola reported receiving grants from the National Heart, Lung, and Blood Institute and serving on a data and safety monitoring board for Novartis. Owens reported no relevant financial relationships.
For more from theheart.org, follow us on Twitter and Facebook.
Heartwire from Medscape © 2017  Medscape, LLC

Cite this: Brisk Walking Can Help in Hypertrophic Cardiomyopathy: RESET-HCM - Medscape - Mar 18, 2017.