WASHINGTON, DC — (Updated with commentary) The             SURTAVI         trial hit its noninferiority end point, making it the second prospective     randomized trial to show transcatheter aortic-valve replacement (TAVR) is     comparable to surgery in severe aortic-stenosis patients deemed     intermediate risk[1].
Using mostly first-generation Medtronic CoreValve and some newer    Evolut R bioprosthesis valves, the primary end point of all-cause     death or disabling stroke at 24 months was estimated at 12.6% for TAVR and     14% for surgery (Bayesian analysis posterior probability of noninferiority     >0.999).
"The guidelines were just updated and for intermediate-risk, TAVR is now a     2a, but with this data it will need updating and should even get a class 1     indication. These are outstanding data," lead author Dr Michael J Reardon     (Methodist DeBakey Heart and Vascular Center, Houston, TX) said to an     overflow crowd that began assembling hours in advance of the late-breaking     clinical-trial session here at the             American College of Cardiology (ACC) 2017 Scientific Sessions.
Commenting to                 heartwire     from Medscape, Reardon said, "The field has already accepted this, the     patients have already accepted this, so I think we're going to continue to     see an acceleration; 2017 will be the first year where we see more TAVRs     done in the US than isolated aortic valves. That's a landmark year."
The findings reinforce the data presented at ACC 2016 from    PARTNER 2A, which     showed noninferiority for TAVR using the Sapien XT valve (Edwards     Lifesciences).

The study, published simultaneously in the    New England Journal of Medicine, involved 1746 intermediate-risk     patients (mean age 79.8 years) at slightly lower risk than those in PARTNER     2A (mean STS predicted risk of mortality 5.8% vs. 4.4%).
The data were not strong enough, however, for TAVR to claim statistical     superiority over surgery, despite a disabling stroke rate strongly favoring     TAVR over surgery at 2 years (2.6% vs 4.5%).
Reardon told the crowd that 30-day survival rates were excellent in both     groups but that the mortality curves flattened out to near zero after about     4 months and remained there for all patients.
He noted that SURTAVI has by far the best surgical outcomes seen in any of     the randomized trials and that "they're unlikely to be matched, much less     beaten." Despite this, "TAVR stood toe-to-toe with surgery," with a 2-year     all-cause mortality rate of 11.4% vs 11.6% for surgery.
Where TAVR fell decidedly short was in a 30-day rate of new pacemakers four     times that for surgery (25.9% vs 6.6%).
Invited panel discussant Dr David Cohen (St Luke's Medical Center, Kansas     City, MO) told heartwire that the rate is     actually 29% if one factors out patients who already had pacemakers at     baseline.
"It's quite a high rate, and one I think most of us would find in current     practice to be unacceptably high," he said.
Cohen agreed with Dr Reardon's claim that the newer Evolut R valve, used in     only 16% of patients in the study, allows for more precise implantation     than the CoreValve and that pacemaker rates have come down. Still, he said,     longer follow-up data from this and other trials are needed, given the     costs of implantation and the reasonable expectation that these patients     will live another 12 to 15 years.
Having a pacemaker did not affect mortality, Reardon noted.
What Patients Want
At 30 days, TAVR had significantly less acute kidney injury stage 2 or 3     (1.7% vs 4.4%), atrial fibrillation (12.9% vs 43.4%), any stroke (3.4% vs     5.6%), need for transfusion (0 units 58.9% vs 87.5%), and superior quality     of life, "all the things your patients want," Reardon said.
Conversely, surgery was associated with less life-threatening or major     bleeding (9.3% vs 12.2%) and lower rates of residual aortic regurgitation.
Echocardiographic studies showed that the mean aortic-valve gradient     was significantly lower (7.8% vs 11.8% at 2 years) and the effective AV orifice area significantly larger (2.2 cm2 vs 1.7 cm    2 at 2 years) in the TAVR group than in the surgery group at all     time points after the procedure.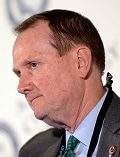 This is important for patients in terms of their ability to exercise,     Reardon explained and told heartwire that while     not presented, 6-minute-walk scores were better in the TAVR group at 30     days and remained better at 1 year.
"This is very good news as we move toward the younger population," he told     the crowd.
Commenting to heartwire , ACC president Dr Richard     Chazal (Heart and Vascular Institute, Lee Memorial Health System, Fort     Myers, FL) said, "I think it's fascinating that the hemodynamics of this     valve appeared superior to the surgically implanted valves and because     there's a limited follow-up in this study, one would wonder whether this     could have implications long term that could be offset by the increased     aortic insufficiency that we've seen in TAVI patients."
He said longer-term trials are needed to determine valve durability but     said most patients will likely side with TAVR rather than undergoing a     major surgery.
During a press briefing highlighting the study, Dr Roxanna Mehran (Mount     Sinai Medical Center, NY, NY) said the Bayesian analysis was important to     inform outcomes and bring devices to market earlier, but added, "I want to     see the actual 2-year events to ensure that the posterior probability was     met."
Other unknowns are the antithrombotics these patients should be on, the     durability of the valves, and the importance of stroke.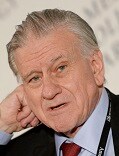 Session chair Dr Valentin Fuster (Mount Sinai Medical Center, NY, NY)     cautioned that as TAVR moves lower down the risk scale cardiologists should     not confuse the intermediate-risk results as a green light to treat     patients earlier in life.
Two low-risk TAVR trials are currently under way, but Reardon told     heartwire that enrollment "may be really, really hard" given the positive     results achieved in SURTAVI and PARTNER.
He added, "When we went to the high-risk trial, these were people that     surgeons didn't really want to operate on. It was like going to your     partner and saying 'Can I switch call days with you?' And he didn't really     want his call day switched.
"When we went to intermediate-risk it was kind of like saying, 'Can I take     your car and drive to the store and back?' and if he really likes you,     he'll give you his car. You get to low-risk and it's kind of like saying,     'Can I sleep with your wife?' No!"
        SURTAVI was funded by Medtronic. Reardon reported research grants from Medtronic. Disclosures for the coauthors are listed on the journal website.  Cohen reported consultant fees/honoraria from Abbott Vascular, Cardinal Health, Edwards Lifesciences, Medtronic, and St Jude Medical; research grants from Abbott, AstraZeneca, Biomet, Boston Scientific, Cardiovascular Systems, Daiichi-Sankyo, Edwards Lifesciences, Eli Lilly, Medtronic, Merck; and serving on the speaker's bureau for AstraZeneca. Mehran reports research grants from Abbott Vascular Research, AstraZeneca, AUM Cardiovascular, Bayer Healthcare Pharmaceuticals, Beth Israel Deaconess Medical Center, Bristol-Myers Squibb, CSL Behring, Medtronic, Novartis Pharmaceuticals, OrbusNeich, the Medicines Company, and Watermark Research Partners; and consultant fees/honoraria from AstraZeneca, Boston Scientific, Cardiovascular Systems, Medscape, Merck, Shaghai BraccoSine Pharmaceutical, and the Medicines Company. Chazal and Fuster report no relevant financial relationships.    
Follow Patrice Wendling on Twitter: @pwendl. For more from theheart.org, follow us on Twitter and    Facebook.
Heartwire from Medscape © 2017 

Cite this: SURTAVI: TAVR, Surgical Aortic-Valve Replacement Stand Toe-to-Toe in         Intermediate-Risk Patients - Medscape - Mar 17, 2017.