Case Presentation
A healthy 9-year-old African American girl was brought to the pediatric ophthalmology clinic because of a growth in her right eye. The patient said that she felt that there was something pushing on her eye, especially when she blinked, and it occasionally caused blurry vision. Her guardian stated that the abnormal growth had been there for as long as they could remember and denied any progressive growth over time.
On physical exam, the patient was comfortably sitting in her chair. Her visual acuity was 20/25 in her right eye and 20/20 in her left eye. No refractive error was found on exam. She had full extraocular movements and was orthotropic at distance. Pupils, anterior segment, and posterior segment exams were normal.
External exam showed a well-demarcated pinkish-white concave lesion with fine hairs temporally in her right eye. The mass was soft, with no secretions. No proptosis was noted (Figure 1 and Figure 2).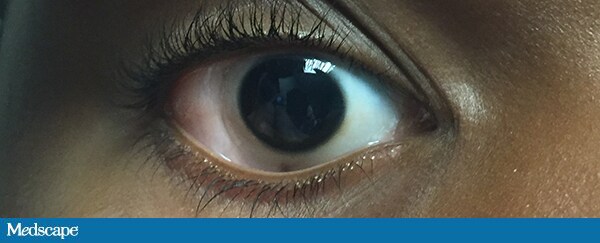 Medscape Ophthalmology © 2017 WebMD, LLC

Any views expressed above are the author's own and do not necessarily reflect the views of WebMD or Medscape.
Cite this: A 9-Year-Old Child With an Abnormal Growth in Her Eye - Medscape - Mar 09, 2017.