A neurosurgeon in Dallas, Texas, who once described himself as a "stone cold killer" was sentenced to life in prison on February 20 for maiming a woman named Mary Efurd in a spinal procedure.
Just 6 days earlier, a Dallas County jury found 45-year-old Christopher Duntsch, MD, guilty of aggravated assault and injury to the elderly. What made the woman's surgery an assault and the sentence so severe were Dr Duntsch's botched operations beforehand that left two patients dead and others paralyzed or in constant pain.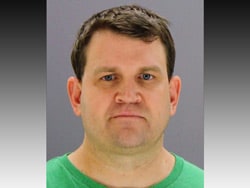 A few bad outcomes might constitute only malpractice, "but the fact that he continued to go on hurting patient after patient, that's what turned this into a criminal case," said Dallas County Assistant District Attorney Michelle Shughart in a news conference after the sentence was handed down.
By the time Mary Efurd, then 74 years of age, went on the operating table in July 2012, Dr Duntsch knew his surgical track record was terrible, but he recklessly went ahead with a spinal fusion procedure, according to state prosecutors. Now unable to use her legs fully, Efurd spends most of her time in a wheelchair.
She lost roughly a third of her blood supply during the operation and experienced weakness, numbness, and severe pain in her legs afterward. Hospital officials immediately pulled Dr Duntsch off the case.
His replacement, Robert Henderson, MD, discovered that Dr Duntsch had implanted spinal hardware into muscle instead of bone, amputated a nerve root, and skewered another with a screw, according to court records. Dr Henderson testified that he was so shocked by the surgery that he checked out whether Dr Duntsch was really a trained surgeon or even a physician.
Dr Duntsch completed a neurosurgery residency at the University of Tennessee (UT) at Memphis, Dr Henderson soon learned. However, his training experience apparently foreshadowed the rest of a train-wreck career. Dr Henderson said in a court deposition that he was informed by a UT residency director that Dr Duntsch had entered an impaired-physician program during his time there after allegations of cocaine use.
"The Best Spine Surgeon in Dallas"
In a stretch of less than 2 years at a string of Dallas hospitals, Dr Duntsch performed 49 surgeries on 39 patients, prosecutors said in a court brief last year. They counted 24 patients who had not benefited from their procedures or were worse off, 21 who had chronic pain afterward, 10 who required revision surgery, 4 who experienced spinal cord damage that resulted in full or partial paralysis, and 2 patients who died. The mayhem came to an end when the Texas Medical Board temporarily suspended his license in June 2013 and then revoked it that December.
One Dallas general surgeon who claimed first-hand knowledge of Dr Duntsch and his procedures described him to the Texas Medical Board in a June 2013 letter as "the most careless, clueless, and dangerous spine surgeon" he had seen. He recalled one procedure in which Dr Duntsch was "functioning at a first- to second-year neurological resident level but had no apparent insight into how bad his technique was." Rather, Dr Duntsch called himself "the best spine surgeon in Dallas," according to the general surgeon. "I found Dr Duntsch extraordinarily arrogant."
Dr Duntsch's self-regard also emerged in an email to a former colleague that made its way into the court record.
"You cannot understand that I really am building an empire and I am so far outside the box that the earth is small and the sun is bright," he wrote. "Anyone close to me thinks I likely am something between god, Einstein, and the antichrist. Because how I can do anything I want and cross every discipline boundary like it's a playground and never ever lose."
Dr Duntsch said other things in the email that appeared not just grandiose but also incriminating: "I am ready to leave the love and kindness and goodness and patience that I mix with everything else that I am and become a cold-blooded killer." In another section of the email, he called himself a "stone cold killer that can buy or own or steal or ruin or build whatever he wants."
He was originally charged in 2015 with aggravated assault causing serious bodily injury — the weapons being his hands and surgical gear — to Mary Efurd and four other patients. One of them was Floella Brown, who died of a stroke 6 days after Dr Duntsch attempted an anterior cervical fusion only to pierce a vertebral artery with a screw (another one of his patients bled to death after a micro-laminectomy, but he was not charged in connection to that).
By the time Dr Duntsch's case went to trial, the charges were narrowed down to aggravated assault and injury to the elderly involving Efurd. Prosecutors argued that Dr Duntsch chose to operate on her despite knowing he had already injured numerous patients. Dr Duntsch's attorneys countered that their client was simply a poor, inexperienced surgeon doing the best he could.
In the press conference after the sentencing, Dallas County Assistant District Attorney Justin McCants told reporters that the surgeon who was ready to become a cold-blooded killer "can no longer hide behind the guise of healing."
"He will forever be kept at bay," said McCants, "and not be allowed to harm anyone."
Follow Robert Lowes on Twitter @LowesRobert
Medscape Medical News © 2017 WebMD, LLC

Send comments and news tips to news@medscape.net.
Cite this: 'Killer' Surgeon Gets Life for Maiming Patient - Medscape - Feb 22, 2017.