Clinical Presentation
A 37-year-old woman presented to the clinic with longstanding myopia and a 2- to 3-year history of proptosis of the left eye. She had no eye pain and denied double vision.
She had no fever, chills, cough, congestion, or signs of systemic infection. She denied any recent weight loss, diarrhea, heart palpitations, diaphoresis, or heat intolerance.
The patient had a history of hypertension and no surgical history. Her family history was significant for cataracts. She did not drink alcohol or use tobacco. The patient was taking hydrochlorothiazide and oral contraceptive pills and using lubricating eye drops for dry eyes.
Best-corrected visual acuity was 20/20 in the right eye and 20/100 in the left eye with a refraction of -6.00 D sphere in the right eye and -16.00 D sphere in the left eye. Color vision testing with Ishihara pseudoisochromatic color plates was 10/10 in both eyes. Amsler grid testing was normal in both eyes. Pupils were brisk in each eye with no relative afferent pupillary defect. Automated perimetry showed two points of reduced sensitivity around the blind spot in the right eye and reduced sensitivity throughout the field in the left eye (Figure 1). Extraocular movements of both eyes were full, and she was orthotropic in all positions of gaze. Intraocular pressures were 12 mm Hg in both eyes. Exophthalmometry measurements were 17 mm and 20 mm in the right and left eyes, respectively. There was no resistance to retropulsion of the globes.

Slit lamp examination of the anterior segment was normal.
Optical coherence tomography (OCT) of the retinal nerve fiber layer showed folds in the retina and choroid in the left eye (Figure 2). OCT of the macula showed some macular thinning in the left eye (Figure 3).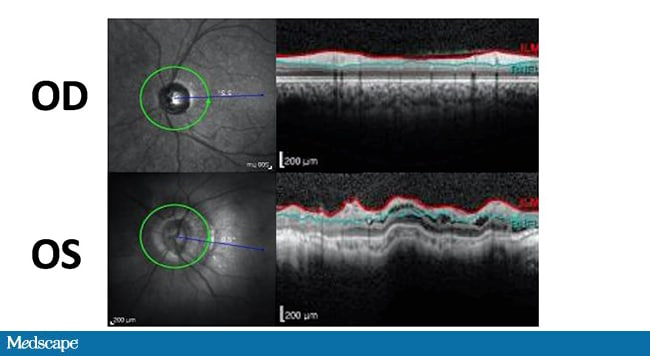 Medscape Ophthalmology © 2017  WebMD, LLC

Any views expressed above are the author's own and do not necessarily reflect the views of WebMD or Medscape.
Cite this: A 37-Year-Old Woman With Decreased Vision and Proptosis - Medscape - Feb 21, 2017.