Spinal Manipulation: A Valid Technique?
In her office at McMaster University in Toronto, Anita Gross, MSc, has logged paper after paper showing that spinal manipulation can help control neck pain. "The evidence keeps growing and growing," she says.
Gross, a physiotherapist and associate professor of rehabilitation science, helped write a 2015 Cochrane review of the literature and is already at work on updating that paper.[1]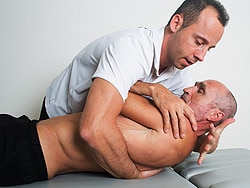 Mounting evidence also supports spinal manipulation for low back pain, says Roger Chou, MD, professor of medicine at Oregon Health & Science University in Portland, Oregon, who led a similar review for the Agency for Healthcare Research and Quality last year.[2]
Orthopedists can confidently refer many neck and back patients for this type of treatment when surgery is not indicated, these and other experts agree. The findings counter decades of accusations of quackery mounted against healers who massage or manipulate patients' muscles or joints.
But other therapies, particularly exercise, may work just as well. And the research so far leaves big questions unanswered. For example, does one technique for spinal manipulation work better than another? What is the mechanism of these techniques? Are patients better off being treated by physical therapists, chiropractors, osteopathic physicians, massage therapists, or some other category of practitioner? How long should a patient keep trying spinal manipulation before deciding that no more benefits are likely?
Osteopathic vs Chiropractic Approaches
Spinal manipulation—along with manual therapy involving other anatomical structures—has evolved over thousands of years, starting with bone-setting practices that probably preceded recorded history. Mention can be found in ancient Egyptian and Chinese texts, as well as in the writings of Hippocrates.[3,4]
Two prominent traditions in the United States arose in the late 19th century, when Andrew Taylor Still, MD, a physician and surgeon, founded osteopathy and osteopathic medicine, and Daniel David Palmer, a practitioner of magnet healing (a pseudoscientific alternative medicine practice), founded chiropractic.
These founders cited different influences: Palmer ascribed his knowledge to visitations from the spirit world,[5] whereas Dr Still made a more conventional study of both allopathic and alternative medicine current in his day. (Because Dr Still's publications preceded Palmer's, some authorities have speculated that Palmer based his approach on Dr Still's.[3]) The founders of both modalities believed that they could treat not only joint and muscle pain, but also many other apparently unrelated ailments.
Perhaps because of the differences in their founders' inspirations, chiropractic and osteopathy have diverged. In the United States, osteopathic medical schools now resemble allopathic medical schools, although musculoskeletal manipulation therapy remains part of the curriculum. Osteopathic physicians in the United States have the same scope of practice as medical doctors. Many don't practice manual therapy at all, and most of those who do confine those therapies to treatment of musculoskeletal and neuromuscular disorders. In many other countries, there are osteopaths who practice manual therapies but not medicine.
Chiropractors in most US states cannot prescribe drugs or perform surgery. Some focus entirely on manual therapy, whereas many others incorporate other modes of alternative medicine into their practices, such as herbal medicine or acupuncture. Some chiropractors confine themselves to musculoskeletal and neuromuscular disorders, especially for back pain, but others treat a broader range of disorders.
Physical therapists and physiatrists may also use manual therapy, including spinal manipulation, among other techniques.
Medscape Orthopedics © 2017 WebMD, LLC

Any views expressed above are the author's own and do not necessarily reflect the views of WebMD or Medscape.
Cite this: Spinal Manipulation for Back and Neck Pain: Does It Work? - Medscape - Feb 15, 2017.