Vice President Mike Pence today told throngs of anti-abortion protestors in Washington, DC, that the election of President Donald Trump, "who stands for the right to life," is a big reason why "life is winning again in America."
Pence is the highest-ranking elected official to speak at the annual March for Life, which marks the anniversary of the Supreme Court decision Roe v Wade in 1973 that legalized abortion across the country. "President Trump actually asked me to be here today," Pence said.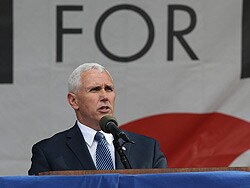 In contrast to blizzard conditions that shortened last year's march, today's event enjoyed some sunshine and tolerably cool temperatures. And like the weather, the political fortunes of the anti-abortion movement have improved, as speaker after speaker mentioned at a noonday rally.
Pence pointed to Trump's executive order on January 23 that reinstates the so-called Mexico City Policy, which denies foreign aid to nongovernmental agencies (NGOs) that offer abortion or abortion counseling as a part of family planning. The president also expanded the policy to include other NGO health services that may involve abortion.
And next week, Pence said, Trump would announce an anti-abortion nominee for a vacancy on a now-deadlocked Supreme Court "who will uphold the God given liberties enshrined in our constitution in the tradition of the late and great Antonin Scalia." Pence also touted "pro-life majorities" in both chambers of Congress.
"It's the best day I've ever seen for the March for Life in more ways than one," he said.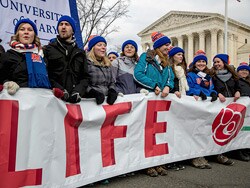 "We Have a Pro-life President"
Other speakers also celebrated what they consider a turning point for their movement. Sen. Joni Ernst (R-IA) recounted how Congress had passed legislation to transfer funds from Planned Parenthood to community healthcare centers not involved in abortion only to have former President Barack Obama veto it.
"Back then, we didn't have a president that respected life, and he stopped us," said Ernst. "Thankfully, today is a different story. We have a pro-life president."
Ernst said that next week she would reintroduce the measure to defund Planned Parenthood, which was repeatedly slammed at the march as a murderous, profit-driven organization. Supporters of Planned Parenthood say that defunding would deprive poor women of other healthcare services, such as birth control and cancer screenings.
Yet another speaker, Rep. Chris Smith (R-NJ), said he would introduce a bill to ban abortions of "pain-capable unborn babies." House Republicans have tried to follow the lead of 10 states that outlaw the procedure at 20 weeks of gestation based on the disputed premise that fetuses that young can experience pain. The American College of Obstetricians and Gynecologists counters that the weight of scientific evidence indicates that fetuses probably do not experience pain before the third trimester.
This year's March for Life came just 6 days after an estimated 500,000 people in the Women's March on Washington demonstrated here for women's rights, including abortion rights, and others deemed threatened by the Trump administration. Several March for Life speakers took pains to describe their event as pro-women, too. "We as a pro-life community honor the civil liberties, independence, and strength of a woman, all women," said Ernst.
A spokesperson for the March of Life organization told Medscape Medical News that the event had at least tens of thousands of participants. In a passing comment on crowd estimates, March for Life President Jeanne Mancini said at the rally that the only number she cared about was the 58 million Americans who were aborted since 1973.
The assembled anti-abortion demonstrators, overwhelmingly white, were in high spirits, cheering when Trump's name was mentioned and sometimes chanting 'USA, USA, USA." A number of them wore red "Make America Great Again" caps.
At the start of the rally, a musical group called Transform DJ whipped up the crowd with a song that reflected the high hopes of the anti-abortion movement in the Trump era. "Our voice is getting stronger," the group sang. "Our voice is getting stronger."
A male singer in a white knit cap told the crowd, "Next year we'll gather here, but it's going to be a victory march."
Follow Robert Lowes on Twitter @LowesRobert
Medscape Medical News © 2017 WebMD, LLC

Send comments and news tips to news@medscape.net.
Cite this: Anti-abortion March: VP Pence Says 'Life Is Winning' - Medscape - Jan 27, 2017.